Tyga's arrest warrant to be canceled after rapper and landlord reach settlement, lawyer says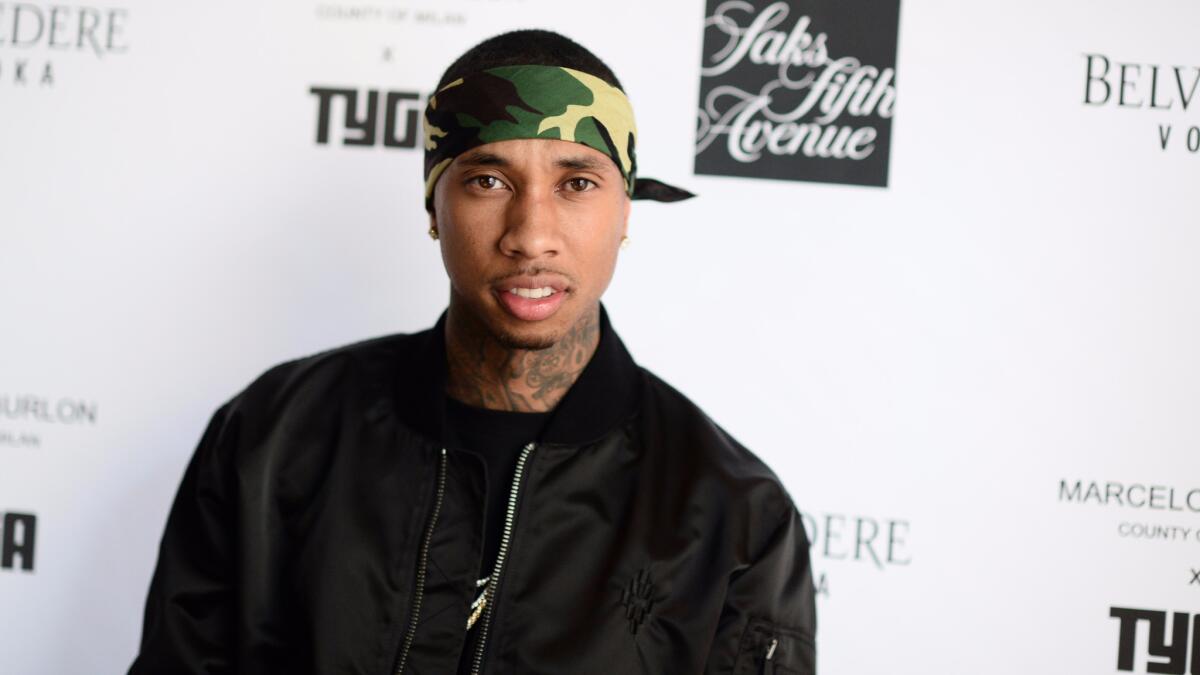 The rapper Tyga and his former landlord have reached a settlement in their legal dispute over the performer's rental of a Malibu mansion, clearing the way for a Los Angeles County judge to revoke an arrest warrant issued for him earlier this week after he failed to show up for a court hearing.
A confidential settlement was finalized Thursday "to the mutual satisfaction of all parties," said lawyer Danny Abir, whose firm, Abir Cohen Treyzon Salo LLP, represents the landlord, Gholamreza Rezai.
The landlord is "very satisfied" with the settlement, Abir said.
Tyga was scheduled to be questioned Tuesday under oath about his financial affairs and assets because he had yet to pay a judgment of more than $480,000 stemming from a lawsuit filed by Rezai in 2012.
The interrogation probably would have pried open the private business affairs of the 26-year-old "Rack City" rapper, who has been romantically involved with the youngest of the Kardashian-Jenner clan, Kylie Jenner.
When Tyga did not show up in court, Los Angeles County Superior Court Judge Nancy L. Newman signed off on the arrest warrant, with bail set at $10,000, according to Abir.
The pending warrant posed a significant problem for Tyga, who is traveling out of the United States and would probably face arrest on his return, Abir said. Lawyers plan on notifying the judge of the settlement on Friday, setting the stage for her to cancel the warrant.
The case traces to 2011, when Tyga rented a Malibu mansion overlooking the Pacific Ocean for $16,000 a month, according to court papers. He missed a monthly rental payment before breaking his lease early, court papers allege.
Tyga, whose legal name is Michael Ray Stevenson, left behind a home in need of repairs, said Boris Treyzon, another of the landlord's attorneys.
The master bedroom had been outfitted with a stripper's pole and the home's intercom system was disconnected. The hardwood floors, gate opener and glass-tiled shower were damaged, according to court papers.
"He leased a house that he wanted to use as his primary residence, then he completely trashed it," Treyzon said. The original lawsuit filed in 2012 that led to the judgment also named Tyga Music.
In March, the judge approved a default judgment totaling $480,285, which covers compensation for the alleged vandalism, rent owed and legal fees. The judgment has a 10% yearly interest, Treyzon said.
After Tyga did not pay, the landlord's attorneys sought a debtor's examination — a hearing in which a person has to answer under oath about his property, assets and financial affairs.
A publicist for Tyga could not be reached for comment. It's unclear what attorney or law firm was representing him.
For more news in California, follow @MattHjourno.
ALSO
'Criminal Minds' guest actor stole $60,000 from show's former star Shemar Moore
Instructor in deadly tandem jump lacked FAA license, skydiving group says
Four injured when truck drives through MacArthur Park; driver in custody
Sign up for Essential California for news, features and recommendations from the L.A. Times and beyond in your inbox six days a week.
You may occasionally receive promotional content from the Los Angeles Times.