Los Angeles lawmakers approve plan that would allow Uber and Lyft pickups at LAX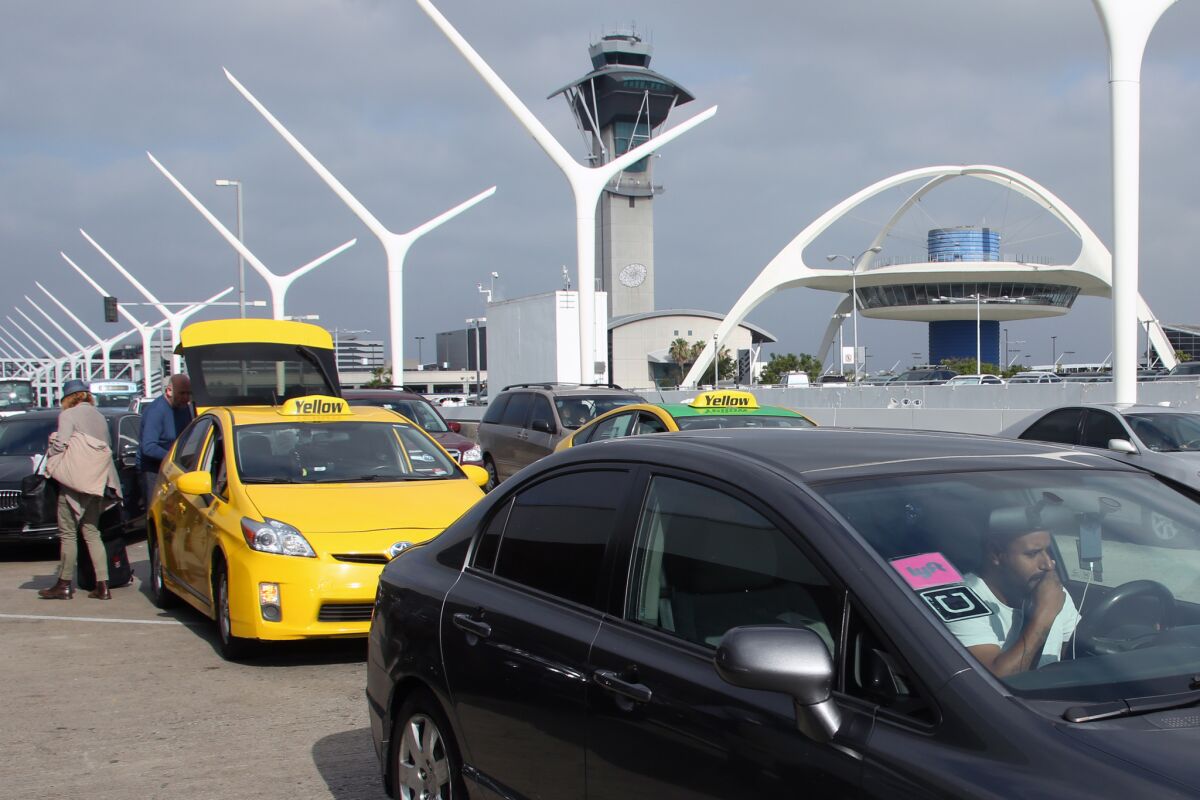 In a nod to consumer demands and the realities of disruptive technology, Los Angeles became the largest city in the nation Tuesday to open the door for ride-hailing services like Uber and Lyft to fully operate alongside taxis at its airport.
After weeks of debate over the potential risks of app-based ride companies, the L.A. City Council approved a policy that would allow Uber and Lyft to apply for permits to pick up passengers at Los Angeles International Aiport, a service they're currently barred from providing.
"People are baffled that they can take ride share to the airport but can't take one home," said Councilman Mike Bonin, a vocal advocate of Uber and Lyft whose Westside district includes the airport. He said the policy will improve the LAX experience for passengers who have "suffered too long with too few choices."
Fueled by lobbying spending by taxi companies and their new, rapidly growing competitors, lawmakers discussed for weeks whether the background checks used by Uber and Lyft to screen their tens of thousands of drivers put customers at risk.
Taxi companies have complained that the start-ups have an unfair competitive advantage because their drivers are held to less stringent standards than licensed cabbies.
Council members Gil Cedillo, Mitch O'Farrell, Nury Martinez, Paul Krekorian, Paul Koretz and Curren Price voted against allowing the permit policy to move ahead. All but Price voiced concerns with the background checks that Uber and Lyft currently perform. The final vote was 9-6.
"I see no reason whatsoever why the rush," O'Farrell said, urging his colleagues to send the permit policy back to the airport with requests for changes. "What we have on the table, in my view, is a series of inequalities, and a double standard. I can't in good conscience support that."
The City Council agreed to ask the California Public Utilities Commission, the state agency that regulates Uber and Lyft, to add fingerprinting as a part of the required background check process for all for-hire drivers, including those operating limousines, shuttles and ride-hail cars. L.A. cabbies already are fingerprinted and checked against FBI criminal databases.
Airport officials have said that Uber and Lyft operate less like taxi services and more like shuttle or limousine companies, whose drivers do not undergo background checks to work at LAX.
In a last-minute amendment, council members instructed the city attorney to explore the city's legal authority to require fingerprint background checks for ride-hailing services if state regulators fail to act.
"Yes, no system is perfect — I can accept that — but that doesn't equalize the two systems," Cedillo said, urging a fingerprinting requirement. "In fact, one is better."
The last remaining hurdle will be finalizing the contracts between the companies and the city.
The companies must be able to prove that their apps can provide data the city seeks, including the number of trips that their drivers take onto airport property and how many cars are inside the terminal area at any given time.
If that process goes as smoothly as Mayor Eric Garcetti and other proponents hope, Uber and Lyft could be operating at LAX in a matter of weeks.
NEWSLETTER: Get essential California headlines delivered daily >>
The City Council action is a major setback for the taxi industry. LAX, the busiest airport on the West Coast, is viewed as one the last strongholds of lucrative fares for Southern California's struggling cabbies.
Representatives for Uber and Lyft argued during the City Hall debate that their background checks are as good as the fingerprint-based FBI screenings they are being pressured to adopt.
Concerns intensified last week when the top prosecutors for Los Angeles and San Francisco said they had found 25 Uber drivers with serious criminal records, including murder, assault and driving under the influence.
Interested in the stories shaping California? Sign up for the free Essential California newsletter >>
"It is incredibly unfair to demonize the hundreds of thousands of people who drive for Uber and Lyft as criminals and rapists," Bonin said during Tuesday's meeting. He added that some features of the background checks that the companies already use could be stronger than screenings used for taxi drivers.
Several council members, citing the popularity of the services and some consumer information features built into the services' apps, said they were satisfied with the background checks and other security features that the companies currently use, including a rating system for drivers and passengers.
"Safety is a complicated issue," Councilman Bob Blumenfield said. "It's not as simple as background check, no background check."
For more Los Angeles transportation news, follow @laura_nelson on Twitter.
ALSO:
Uber's driver screening practices fuel political debate on rider safety
4 Uber drivers cited at LAX have serious criminal records
At L.A. City Hall, it's the visionary vs. the lawmakers
The stories shaping California
Get up to speed with our Essential California newsletter, sent six days a week.
You may occasionally receive promotional content from the Los Angeles Times.