UC Berkeley settles lawsuit alleging events policy discriminated against conservative speakers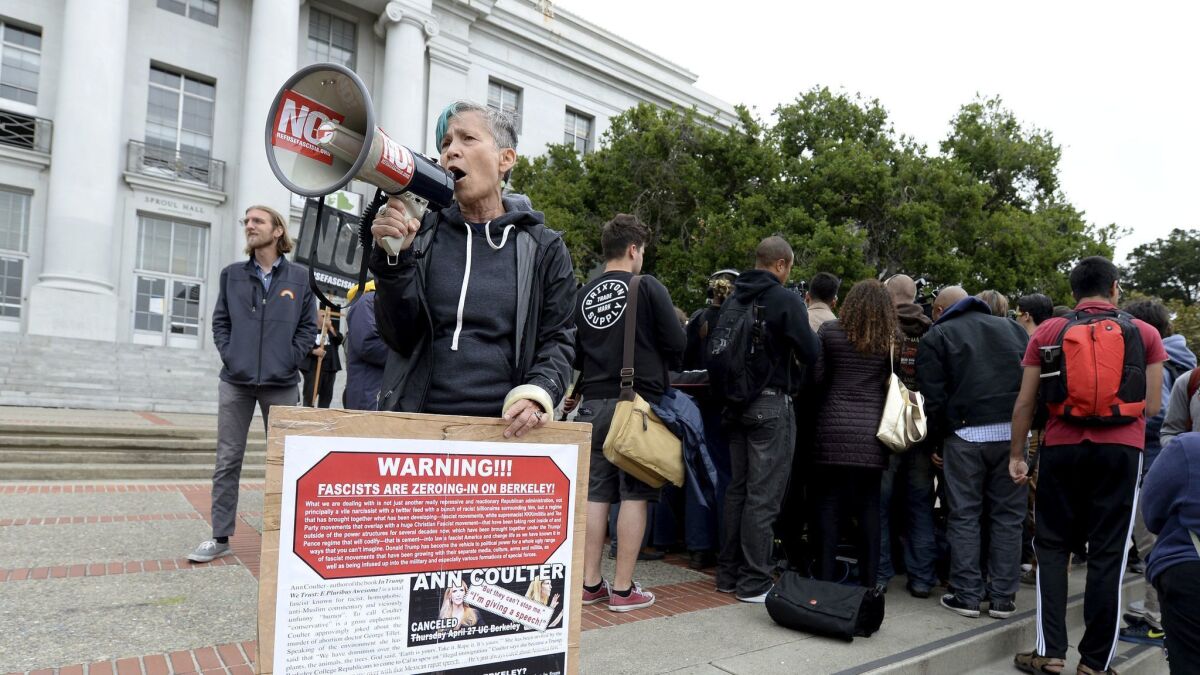 UC Berkeley is changing its campus events policy as part of a settlement following allegations that the university discriminated against conservative speakers.
The Young America's Foundation sued the university in April 2017, alleging the campus used "secret" policies to quash the free speech rights of conservative speakers — including moving speeches to unpopular dates and times — while giving preferential treatment to more liberal guests.

For the record:
5:20 p.m. Dec. 3, 2018A previous version of this article stated that UC Berkeley had eliminated a policy that could have imposed charges on event organizers for security. In fact, there was no change in policy. The university charges event organizers for security only when they request security or choose not to use classrooms or student-managed venues for their events.
A federal judge dismissed the initial suit, and the organization filed an amended complaint in conjunction with a student group, the Berkeley College Republicans.
The claims stemmed from a series of high-profile conservative speakers who canceled appearances following violent demonstrations by far-left protesters on campus.
In February 2017, a planned event featuring right-wing provocateur Milo Yiannopoulos was shut down by angry protests, fueling a free speech debate on college campuses.
The controversy continued in April, when conservative commentator Ann Coulter pulled out of a planned event at UC Berkeley. Coulter had been invited by student groups to speak on immigration policy as a counterpoint to a Clinton administration advisor. The address became a rallying point for conservative groups when administrators first canceled Coulter's visit, then rescheduled it to an unpopular date, citing unspecified threats of violence.
Coulter had pledged to show up to the rescheduled event anyway, even contemplating an outdoor address. But she discarded that idea in the face of continued threats, the university's refusal to find her a building for her speech and the withdrawal of sponsors.
As part of the settlement, UC Berkeley is now clarifying several points in its event policy, including adding language to determine what constitutes a major campus event. The approval process for promotional materials also has been altered and the term "complexity" was removed as a criterion for major events — although the university said that specification was never actually applied to an event on campus, university spokesman Dan Mogulof said.
Many of the changes reiterate the existing policy, Mogulof said, and the university denies any discrimination existed.
"One would be hard-pressed to find any changes that would result in a change to how we support our student groups."
A fee schedule for security costs to student organizations will be made public. The cost of additional security needed because of excessive disruptions will continue to be paid by the university, Mogulof said.
"We are gratified that our major event policy has been validated," Mogulof said. "During the spring semester and the current semester, it has been that very policy that has enabled the campus to work effectively with the Berkeley College Republicans as they hosted numerous events featuring prominent conservative speakers without incident or interruption."
The university also will pay $70,000 in expenses incurred by the Young America's Foundation during the nearly two-year legal battle.
The Young America's Foundation said it was pleased with the settlement, saying it eliminates the campus' "heckler's veto," which allowed protesters to shut down events, and its "high-profile speaker policy."
"This landmark victory for free expression means UC Berkeley can no longer wantonly treat conservative students as second-class members of its community while ignoring the guaranteed protections of the First Amendment," the organization said in a statement.
alejandra.reyesvelarde@latimes.com
Twitter: @r_valejandra
---
The stories shaping California
Get up to speed with our Essential California newsletter, sent six days a week.
You may occasionally receive promotional content from the Los Angeles Times.