UC system aiming to reduce world hunger, improve food research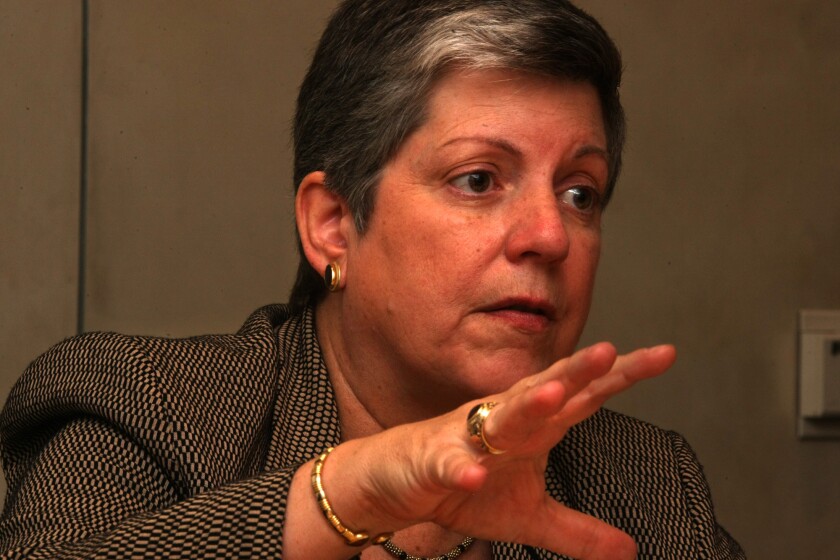 The University of California system is launching an effort to expand and focus research to help reduce world hunger, improve nutrition and aid farmers coping with climate change.
UC President Janet Napolitano, in comments to be delivered Tuesday morning, will explain that the system's 10 campuses, its large agricultural programs and the Lawrence Berkeley National Lab that UC manages will participate in the University of California Global Food Initiative.
Building on UC's already strong research on such varied topics as soils, citrus fruit and water purity, the effort will work "toward putting the world on a path to sustainably and nutritiously feed itself," according to a UC announcement.
Many of the details remain to be worked out, but UC campuses are expected to take lead roles in one or more of the topics, depending on the expertise of their faculty, and the interests and needs of their communities.
Among other things, the UC president's office will fund three $2,500 student fellowships on each campus for undergraduates or graduate students to work on research or related internships.
While faculty work on worldwide issues of climate and crop yields, UC aims to improve its internal policies on feeding its own students and staff, officials said. Campuses are supposed to boost collective purchasing power to encourage sustainable farming practices, expand practices to reduce food waste and add more food pantries and farmers markets.
Napolitano is scheduled to discuss the initiative at the Martin Luther King Jr. Middle School in Berkeley, where students grow and cook organic food as part of the Edible Schoolyard project. She will be joined by Alice Waters, founder of the Edible Schoolyard project and owner of the famed Chez Panisse restaurant in Berkeley.
Later in the day, Napolitano is set to present details to a Sacramento meeting of State Board of Food and Agriculture and is scheduled to visit a student-run garden at UCLA's Sunset Canyon Recreation Center.
Follow me @larrygordonlat.
---
The perils of parenting through a pandemic
What's going on with school? What do kids need? Get 8 to 3, a newsletter dedicated to the questions that keep California families up at night.
You may occasionally receive promotional content from the Los Angeles Times.