UC lays the groundwork for a possible tuition increase at its two-day regents meeting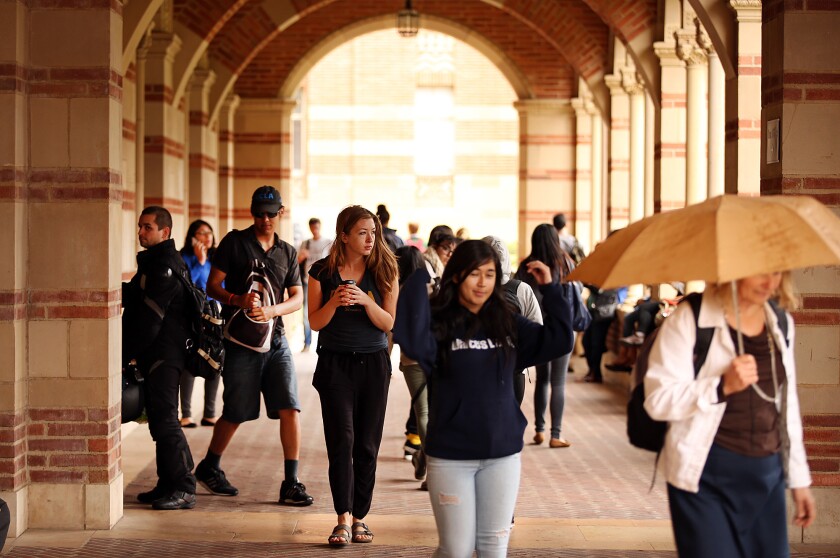 The University of California will lay the groundwork for a possible tuition increase for the first time in six years at a two-day regents meeting beginning Wednesday.
UC officials say any increase — which could amount to about $280 for the 2017-18 school year — would be covered by financial aid for three-fourths of the 10-campus system's 252,000 students.
A decision on tuition won't be made until January. But UC officials plan to brief regents at their San Francisco meeting on next year's budget plan and the university's financial aid program. That program, which receives one-third of its funding from tuition, awards an average $16,000 to more than two-thirds of undergraduates.
Student leaders have voiced strong opposition to any tuition increase, saying many of their peers already are struggling to afford decent housing and nutritious food. A UC survey this year found 4 in 10 students lacked consistent access to high-quality, healthful and varied meals.
Giovanni D'Ambrosio, UC Student Assn. campus organizing director, said he struggled for food last year while working two jobs to make ends meet. At least three of his friends are couch surfing because they can't afford their own apartments, he said.
At the same time, he said, students were upset to see chancellors at UC Davis and UC Berkeley spend public funds to burnish their online images and take overseas trips — and then receive lucrative pay deals from the university this year after announcing they would step down.
"UC can't keep relying on students to bail them out for misuse of funds," said D'Ambrosio, a UC Berkeley sophomore. "We want to see a rollback of tuition, not an increase. UC can't keep skirting around its responsibility to provide for students' basic needs."
Nathan Brostrom, UC's chief financial officer, said the university must find a way to deal with escalating demands to enroll more students, graduate them more quickly, repair aging facilities and deal with rising pension and retiree healthcare costs — all at a time of limited state dollars.
UC lost one-third of its $3 billion of state support after the 2008 recession. Steady increases since then have restored that funding. But the state's share of education costs for each student remains much lower than before — 41% last year from 72% in 2000.
Officials also are considering increases in tuition for out-of-state students of possibly 5%. The student services fee may also be increased by 5%, with half of the money used to improve student mental health services.
In other matters, regents will consider tightening rules on sexual harassment committed by their fellow board members even if it occurs outside university business. Under a proposal by board Chairwoman Monica Lozano, regents who violate university policies on ethics and sexual harassment could be subject to sanctions. In addition, all regents will be required to take sexual harassment training every other year.
Lozano made the proposal after disclosures that Regent Norman J. Pattiz made comments about the bodies and breasts of women working with his PodcastOne company in Beverly Hills.
Regents also will discuss UC's fundraising, which amounted to a record $2.1 billion this year.
To read the article in Spanish, click here
ALSO
Remedial classes might be the biggest roadblock to success for community college students
L.A. targets full-time community college students for free tuition
Here are some tax breaks and loan options to help pay for college
---
The stories shaping California
Get up to speed with our Essential California newsletter, sent six days a week.
You may occasionally receive promotional content from the Los Angeles Times.