The U.S. tracked border activists, journalists and attorneys. Is it legal?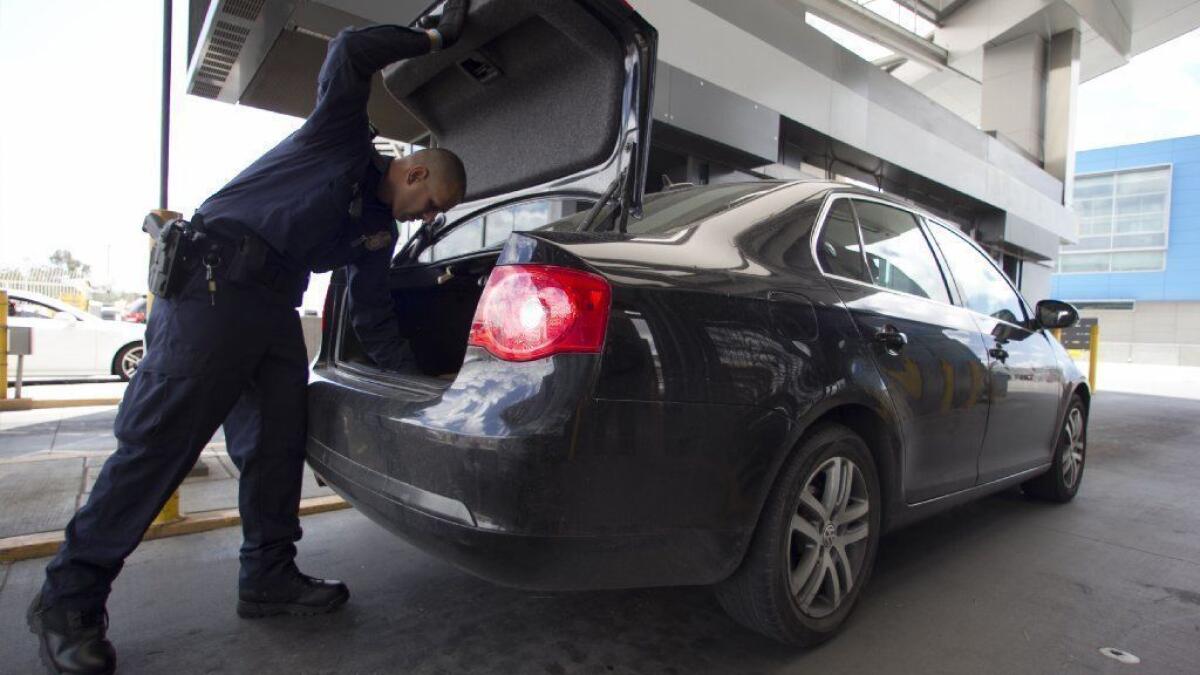 San Diego Union-Tribune
Reporting from San Diego —
Confirmation that the U.S. government has compiled dossiers on human rights activists, journalists and lawyers interacting with the migrant caravan in Mexico has reignited an age-old clash between civil liberties and government authority.
What U.S. Customs and Border Protection is calling a valid duty to gather cross-border intelligence and investigate criminal activity is being labeled as harassment by those who have been targeted.
Activists and freelance journalists named in the leaked dossiers, published last week by San Diego's NBC7, have reported being stopped and searched when they cross back into the U.S.
Some have been detained and repeatedly questioned about their work, personal lives, funding sources, interactions with caravan members and observations at Tijuana migrant shelters.
Whether border authorities are on firm legal ground in this instance is not exactly clear.
Two former CBP commissioners told the San Diego Union-Tribune that intelligence gathering is squarely within the agency's mission.
"I don't think the gathering of the information is surprising or objectionable," said Alan Bersin, who served as CBP commissioner under President Obama and other high-level positions in the U.S. Department of Homeland Security, including the agency's so-called "border czar."
But determining whether a line was crossed will require a fact-specific investigation for each person involved.
"If they are simply being brought in to be harassed," Bersin said, "that would not be a legitimate use of border authority."
Critics have raised concern over potential violations of the federal Privacy Act, a law that prevents the government from keeping dossiers recording individuals' 1st Amendment activities unless there is a specific law enforcement purpose.
The incident has also raised questions about the degree of cooperation from the Mexican government. Some people on the list had alerts on their passports and have been unable to enter Mexico in recent months.
Intelligence gathering
Intelligence work is not typically associated with the agency that staffs the country's borders. But it is a vital part of any law enforcement job, said former acting CBP Commissioner David Aguilar, who served the bulk of his career in Border Patrol, rising to chief of the agency under President George W. Bush.
At the border, it means anticipating where the next threats may be looming, whether it be a drug load or migrant breach or terror suspect.
Intelligence-led policing is considered best practice when it comes to managing the border these days, said Chris Wilson, deputy director of the Mexico Institute at the Wilson Center, a nonpartisan think tank.
"The alternative to intelligence-based enforcement is having every trunk opened every time someone crosses the border," Wilson said. "That's not feasible when you have San Ysidro as the most heavily trafficked port of entry in the Western Hemisphere."
That intelligence apparatus kicked into high gear with the amassing of thousands of Central American migrants heading to the U.S. border, most seeking to claim asylum. Even when the group was still deep in Mexico, U.S. officials said they were able to identify many migrants with criminal records.
The U.S. was also seeking to identify who was behind the caravan — the organizers, funders, decision-makers. Migrant activist organizations, including Pueblo Sin Fronteras, turned out to play a large role.
When the bulk of the caravan reached Tijuana in November, San Diego's ports of entry became a frequent waypoint for many human rights activists, volunteers, social workers, journalists and attorneys.
On Thanksgiving weekend and on New Year's Day, some in the caravan made attempts to rush the border. Both incidents involved chaotic clashes with Border Patrol agents, who claim they were targeted by rock throwers. Agents fired tear gas in response. Some witnesses denied seeing rocks thrown.
Dozens of people made it across the border and were arrested in each incident.
What made the incidents unusual was the high visibility of the crossings, with many witnesses including activists and journalists. There were also reports that some bystanders helped or encouraged the illegal crossings.
CBP authorities said the two incidents prompted the agency to begin to identify people "who may have information relating to the instigators and/or organizers of these attacks," saying the effort to collect such information is "standard law enforcement practice."
A CBP official said in another statement that the breaches were "criminal events."
The investigation adds to a growing debate over the roles of activists in migrant flows: At what point does humanitarian aid become criminal aiding and abetting?
Many of those people found out they were targets of inquiry during routine crossings at the port of entry. Rather than be waved through, they were detained, sometimes for hours, and questioned, according to interviews with the Union-Tribune and other news outlets including the Los Angeles Times, the Intercept and NBC7. For some, it wasn't a one-time deal, but nearly every time they crossed, they said.
Some are members of well-known human rights groups, including Border Angels and Al Otro Lado.
Freelance photojournalist Ariana Drehsler, who covered the caravan for Buzzfeed News and United Press International, told NBC7 she was pulled into secondary screening three times and questioned at length about what she was seeing in the Tijuana shelters. She was even asked if she rented or owned her home.
The overwhelming inner suspicion that activists and journalists were being singled out was confirmed with the publication of the 59-person list last week — a document apparently shared with Mexican authorities that includes photos, names and roles in relation to the caravan. Dossiers with expanded personal information were also created, the unnamed DHS official who leaked the documents told NBC7.
DHS' Office of the Inspector General acknowledged last week that it has already opened an investigation to "ensure that all appropriate policies and practices were followed."
Some journalists and attorneys, including a freelance photojournalist on the dossier, were denied entry at airports when trying to travel to Mexico. They were told an alert had been placed on their passports.
Wilson, the border scholar, said Mexico has screened passengers arriving on non-domestic flights through U.S. terror-watch lists to prevent terrorists from using Mexico as a staging ground. "Now we are seeing it happening as people leave the United States to enter into Mexico. What it looks like, to a certain extent, is the utilization of counter-terrorism and anti-drug law enforcement for this totally different end."
Wilson wonders whether the denial of entry was the result of an automated national security alert system, or something more calculated.
"The question is whether or not there was awareness of this going on in the highest levels of Mexican government," Wilson said.
The Mexican government on Thursday issued a statement saying it did not do "illegal surveillance" and would ask the U.S. to clarify any possible cases of "illegal spying."
Warrantless searches
The drama has been unfolding in a zone that gives expansive authority to the government.
Agents at the border have the right to search any person, as well as their belongings and electronics, without a warrant. The searches are deemed reasonable based on the government's paramount national security and customs and immigration interests, overriding expectations of privacy when crossing the border, courts have ruled.
"The border is this amazing place where governments have very strong rights based on sovereignty and the ability to decide who and what enters the country," Wilson said.
Still, CBP says it operates under policies and procedures that "prohibit discrimination against arriving travelers."
Last year, the American Bar Association, concerned about potential violations of attorney-client privilege in such warrantless searches, worked out an agreement with CBP on how to appropriately handle such situations. It includes consulting with CBP senior counsel and separation of privileged material.
Some advocates and journalists who said they were targeted either had their electronics confiscated from them or were asked to leave them behind on a table during questioning. Some said it was unclear if officers actually looked through the devices.
Privacy Act
While searches are allowed, 1st Amendment experts say the dossiers are a wholly different issue, especially if the journalists, advocates and attorneys are being targeted for their work.
"It's using the border in an incredibly opportunist way to target journalists who do information gathering that [DHS] would not be able to do otherwise," said Carrie DeCell, a staff attorney at the Knight First Amendment Institute in New York.
The federal Privacy Act was passed in 1974, setting guidelines on what information the government can gather and maintain on U.S. citizens, and how. It gave special protection to 1st Amendment activities.
The law came after public acknowledgment of the FBI's long-running operation, dubbed COINTELPRO, to observe, infiltrate and discredit domestic political activist organizations in the 1950s and '60s.
The law prohibits agencies from the collection and maintenance of records describing how any individual exercises their right to free speech and association "unless pertinent to and within the scope of an authorized law enforcement activity."
To meet that threshold, there needs to be specific and articulable facts that the person or group may be engaged in activity that poses a threat or is involved in a crime.
But it is not always so clear cut.
One case disputing where that line is drawn is being waged in the 9th U.S. Circuit Court of Appeals.
In 2004, the FBI created a memorandum on the political views, funding sources and journalism activities of Eric Garris and Justin Raimondo, editors of the website AntiWar.com. The FBI said the information gathering was a "threat assessment" after a list of terror suspects was published on the website. The list had already been published on other sites.
The FBI's San Francisco office declined to open a full investigation into the journalists, concluding there was no threat. The journalists asked the FBI to expunge the records from official files, but the FBI refused.
The U.S. district court in San Francisco ruled in favor of the FBI, finding their collection was authorized law enforcement activity.
The journalists have appealed.
Kristina Davis writes for the San Diego Union-Tribune.
Sign up for Essential California for news, features and recommendations from the L.A. Times and beyond in your inbox six days a week.
You may occasionally receive promotional content from the Los Angeles Times.