30 more women sue USC over former gynecologist as new interim president welcomes freshmen to campus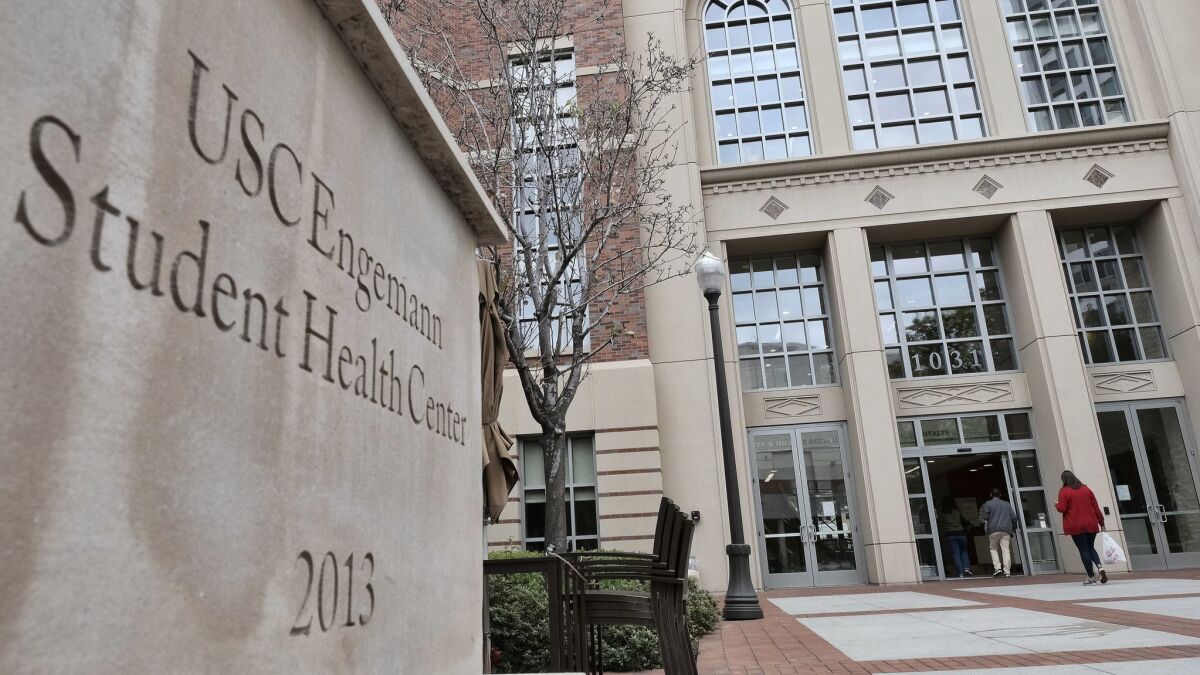 An additional 30 women sued USC on Wednesday, claiming that the university failed to protect them from abuse and mistreatment by the longtime campus gynecologist, Dr. George Tyndall.
The new claims bring the total number of patients suing USC to more than 340 and come as students return to the Los Angeles campus for the start of the fall semester.
Interim President Wanda Austin, a graduate of USC's engineering school who was selected last week to steer the university during a search for a permanent successor to C.L. Max Nikias, was set to address incoming students Thursday.
"I will tell everyone gathered that the university's senior leadership is fully committed to bringing about change that will renew us — in both purpose and action," Austin wrote in a letter issued Wednesday to alumni, students and staff. "My decision to serve as interim president was motivated by my love for, and dedication to, our great university."
In the latest lawsuit, former patients ranging in age from 22 to 52 accused Tyndall of touching them inappropriately, making lewd remarks and performing vaginal exams without gloves.
Among the plaintiffs, all of whom were anonymous in court papers, a former graduate student now living in Taiwan alleged that around 2014 and 2015, Tyndall groped her breasts and made harassing comments. The doctor told her, "Taiwan's ob-gyn doctors always have a lot of fun with girls," according to the lawsuit.
Another former patient said that during a 1998 pelvic exam, Tyndall probed her vagina "for several minutes" and told her that she would "need a man with a big penis to satisfy her," according to the lawsuit.
FULL COVERAGE: USC former gynecologist Dr. George Tyndall accused of inappropriate behavior »
Tyndall, 71, has denied any wrongdoing and said his exams were always appropriate. His defense attorneys echoed his denials in statements to The Times.
"Dr. Tyndall takes all allegations seriously, but he continues to maintain that he engaged in no criminal conduct, and that his medical examinations were always within the standard of care for such examinations," said Leonard Levine, a criminal defense lawyer.
N. Denise Taylor, who is representing Tyndall in scores of civil lawsuits, said she was confident that her client's exams were "within the standard of care in the community during the relevant time periods."
USC has indicated it wants to resolve the cases as a group and without a lot of legal wrangling. Chairman Rick Caruso of the university's board of trustees recently told The Times he wanted to see the cases settled "as quickly as possible."
Allegations of misconduct by Tyndall were brought to light by a Times investigation published in May.
The Times reported that an internal USC investigation concluded that Tyndall's behavior during pelvic exams was outside the scope of current medical practice and amounted to sexual harassment of patients. But in a secret deal last summer, top administrators allowed Tyndall to resign quietly with a financial payout.
The university did not inform Tyndall's patients. Nor did USC report him at the time to the Medical Board of California, the agency responsible for protecting the public from problem doctors.
USC contended that it was under no legal obligation to report Tyndall but did so in March. A statement from the university said that "in hindsight," USC should have reported him earlier.
The allegations against Tyndall prompted hundreds of former patients to come forward and recount their experiences with the gynecologist. USC's handling of Tyndall also sparked a faculty uprising against Nikias, leading to his formal resignation last week.
Twitter: @MattHjourno
The stories shaping California
Get up to speed with our Essential California newsletter, sent six days a week.
You may occasionally receive promotional content from the Los Angeles Times.