USC PhD student accused of fatally stabbing professor on campus
Hundreds of mourners listen to a speaker during a remembrance ceremony honoring slain USCprofessor Bosco Tjan.
(Allen J. Schaben / Los Angeles Times)
Father Richard Sunwoo of Caruso Catholic Center, left; Varun Soni, dean of religious life at USC; and the Rev. James Burklo, associate dean of religious life embrace.
(Allen J. Schaben / Los Angeles Times)
Mourners listen to USC graduate student Helga Mayzar speak.
(Allen J. Schaben / Los Angeles Times)
USC graduate student Helga Mayzar hugs fellow mourners after speaking at a ceremony honoringprofessor Bosco Tjan.
(Allen J. Schaben / Los Angeles Times)
Mourners embrace during a remembrance ceremony for USC psychology professor Bosco Tjan.
(Allen J. Schaben / Los Angeles Times)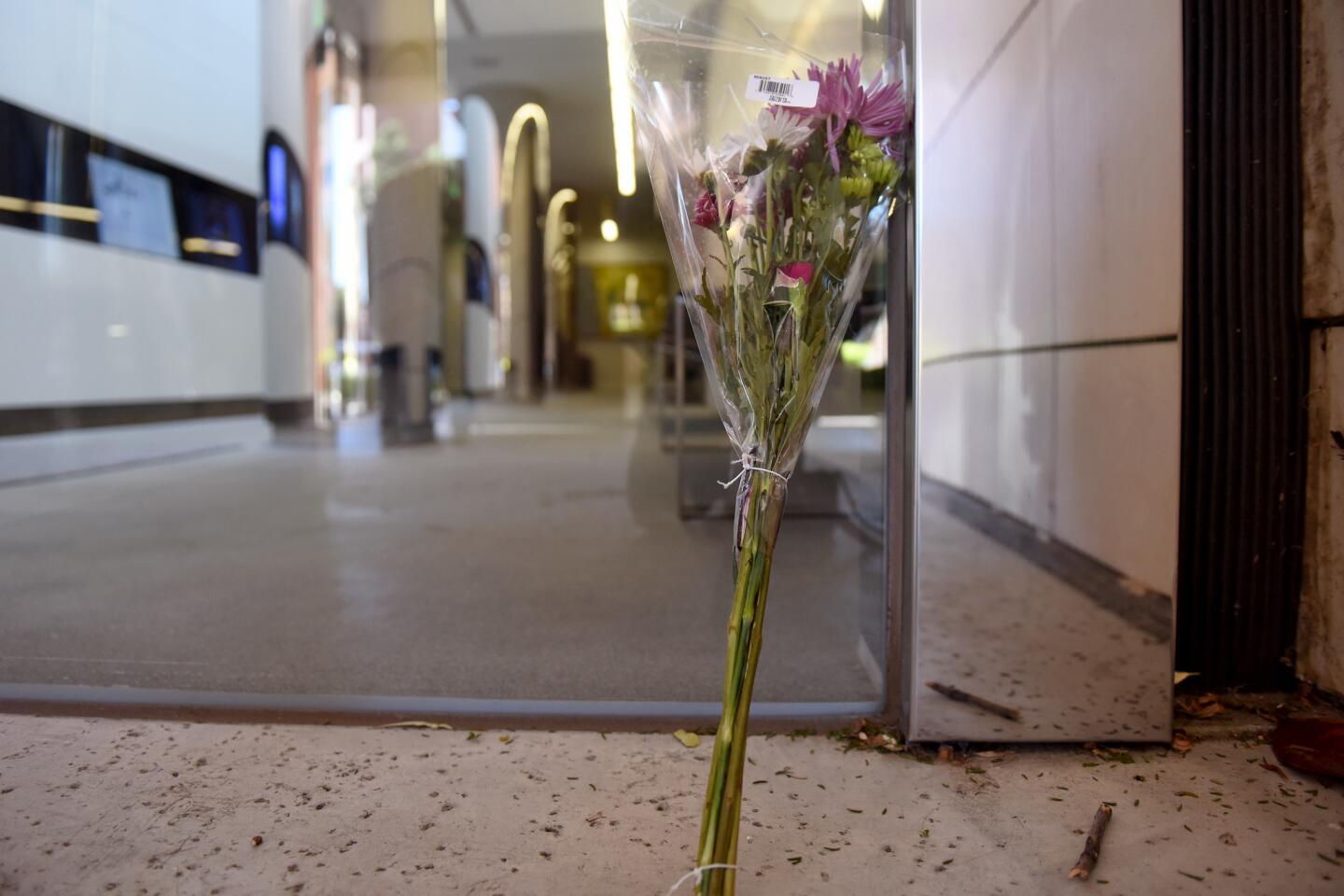 Flowers are placed outside the Seeley G. Mudd building on the USC campus where USC psychology professor Bosco Tjan was stabbed to death.
(Michael Owen Baker / For The Times)
A student walks by the Seeley G. Mudd building on the USC campus where USC psychology professor Bosco Tjan was stabbed to death.
(Michael Owen Baker / For The Times)
People walk by the Seeley G. Mudd building Saturday on the USC campus where USC psychology professor Bosco Tjan was stabbed to death Friday night.
(Michael Owen Baker / For The Times)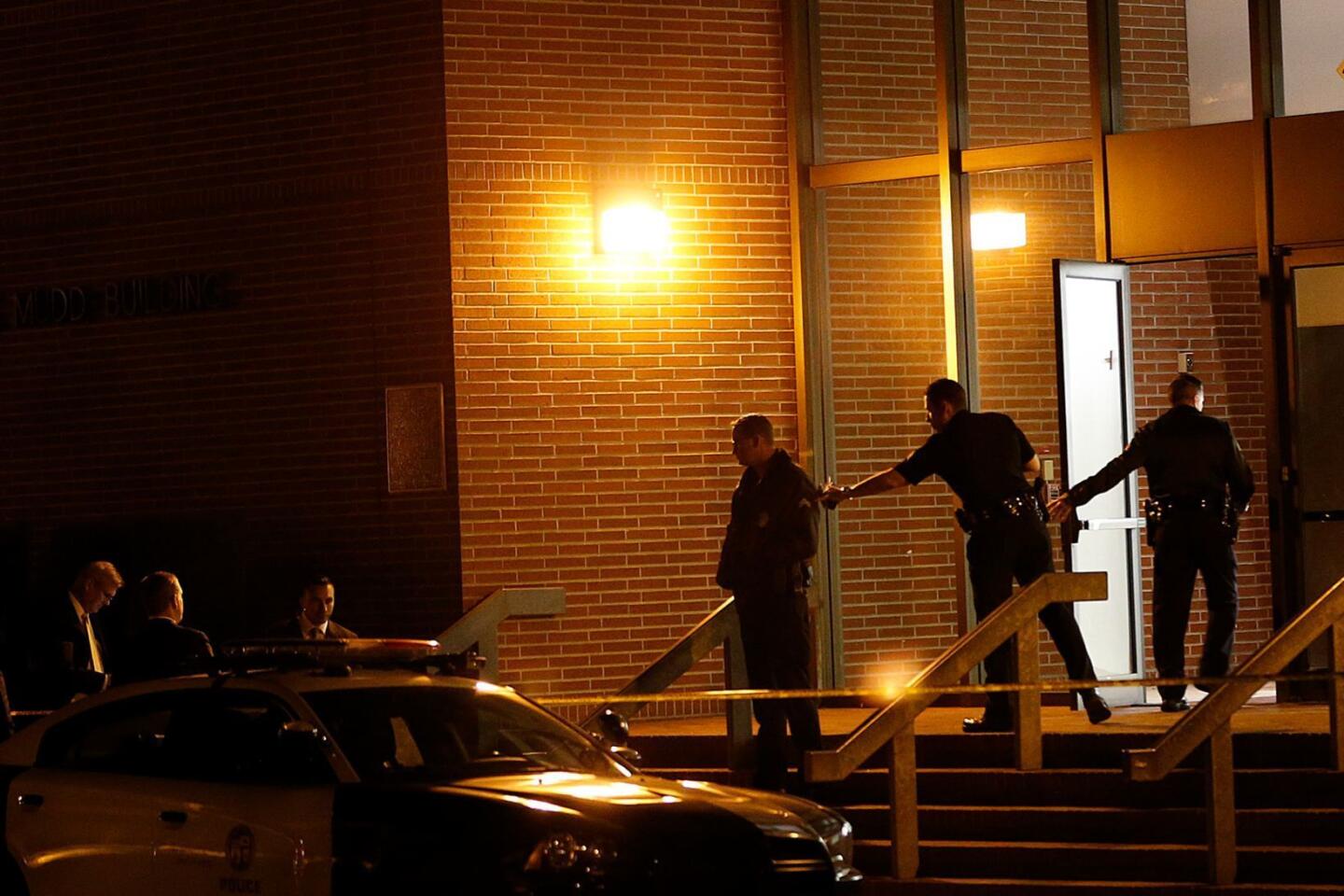 An LAPD officer enters the Seeley G. Mudd Building on the USC campus, where a male professor was stabbed to death.
(Mel Melcon / Los Angeles Times)
Yellow crime scene tape is seen near the entrance to the Seeley G. Mudd building on the USC campus.
(Mel Melcon / Los Angeles Times)
LAPD Detective Meghan Aguilar addresses the media near the entrance to USC's Seeley G. Mudd building after the on-campus slaying.
(Mel Melcon / Los Angeles Times)
A USC psychology professor was stabbed to death inside a campus building Friday by a 28-year-old student who was taken into custody, Los Angeles police said.
Bosco Tjan, a co-director of the Dornsife Cognitive Neuroimaging Center who joined the faculty in 2001, was identified as the victim by USC President C.L. Max Nikias.
"As the Trojan family mourns professor Tjan's untimely passing, we will keep his family in our thoughts," Nikias said in a prepared statement. He said counseling would be available for students.
Authorities said they arrested Jonathan David Brown, a Los Angeles resident, and booked him in jail. Brown is a PhD student in the lab that Tjan ran, according to a USC website.
Police received a 911 call from USC around 4:30 p.m. about a victim with multiple stab wounds, said LAPD Det. Meghan Aguilar. Responding firefighters found Tjan's body inside the Seeley G. Mudd building in the southwest corner of the campus.
Tjan was stabbed in the chest, authorities said. Brown was apprehended at the scene and taken into custody without resistance, they said.
"We want to make clear this was not a random act," Aguilar said. "This victim was targeted by the suspect."
Aguilar said police were interviewing possible witnesses at the campus police station across the street from the Mudd building, which houses the psychology department and classrooms used for biology, chemistry and other science courses. Clusters of students passed by the building, but walkways through the area were cordoned off.
Earlier, in immediate response to the stabbing, USC issued a campuswide alert about police activity on campus. "No danger to USC or the community," the text said. "Stay away from area."
There were no signs that the stabbing death had rekindled the widespread concerns about campus safety that flared after the high-profile slayings of students from China in 2012 and 2014 prompted USC to adopt more extensive security measures.
Murad Houry, a senior pre-med student, said the attack did not make him feel less safe. He said it only made him more aware of how violence can occur anywhere and saddened him that some students apparently could be driven to such unimaginable acts.
When he heard the news, he said he immediately thought of the slaying of a UCLA professor earlier this year by one of his students. William Klug, a popular engineering professor, was shot and killed by Mainak Sarkar, 38, a former doctoral student who accused him of stealing his research and giving it to someone else.
"UCLA immediately came to mind," he said. "Another stressed-out student, another professor."
Houry, a resident assistant for many pre-med freshmen who took classes in the Mudd Building, texted all of them to check on their safety. They were fine, he said, but he was preparing to offer support and a listening ear Friday night.
Yesenia Brasby, a freshman pre-med student who had a chemistry class this semester in the building where the stabbing occurred, said she was surprised the violence occurred next door to the police station.
"We feel safe in our little bubble, but that's just not the case. Anything can happen anywhere," she said. With the recent stabbings at Ohio State University and the UCLA shooting, she said, "I feel like I always try to be aware of my surroundings now. Just because there's a gate [on campus] doesn't mean something won't happen inside, on campus."
Zhongtang Li, a teaching assistant and fourth-year doctoral student in chemical engineering from Shanxi, China, said he was stunned when he learned of the slaying after encountering a campus police barricade and having to turn around and walk home.
He said the stabbing seemed more frightening than a shooting because it was up close and personal. Li said he does not feel as safe as before and is second-guessing how he interacts with his own students.
"I think I'm good with my students, but even so, I will be even more careful now on whether I'm going too hard on them," he said.
"I'm worried. It seems like more and more people are losing self-control. ... USC is a good school. The students here work hard to come here. They have a good education — how can anyone act like this?" he said. "I've been here for so long; this is the worst thing to have happened on campus, the hardest to understand."
He said he thinks about the other senseless violence that has occurred in the area. "Random killings off campus, now a stabbing on campus," he said, shaking his head.
"I'm just trying to graduate as soon as possible," he said, walking quickly away.
In July 2014, Xinran Ji — then a 24-year-old engineering student — was bludgeoned to death near campus with a baseball bat and wrench while walking home from a study group. He managed to crawl to his apartment but died in his bed.
Prosecutors say three males and a female targeted him because he was Chinese, and they suspected he had money. All four were charged with one count of murder each, with the special circumstance of murder during an attempted robbery in the attack, which was caught on surveillance cameras.
A jury convicted the female — Alejandra Guerrero, now 18 — of first-degree murder in October. Trials for the three men — Andrew Garcia, 20, Jonathan Del Carmen, 21, and Alberto Ochoa, 19 — are expected to begin next year.
Two other graduate students from China were slain less than a mile from USC in April 2012. Ming Qu and Ying Wu, who were studying electrical engineering, were talking after a night at the library, parked outside the home where Wu lived on a tree-lined stretch of Raymond Avenue just south of Adams Boulevard.
A gunman approached Qu's BMW and opened fire on both students, shooting Qu in the head and Wu in the chest. Qu attempted to run for help and was found collapsed on a nearby porch, while Wu was discovered slumped over in the passenger seat of the car.
Javier Bolden and Bryan Barnes were sentenced to life in prison without the possibility of parole after being convicted of the murders.
The attacks made headlines around the world and prompted USC to beef up safety measures for foreign students. Upgrades include requirements for international graduate students to take "extended safety education" programs, a new international student safety advisory group and campus police training about the different cultures of international students.
Nikias, in a letter to the campus Friday night, praised campus police's response to the attack.
"Our Department of Public Safety officers responded immediately, and apprehended the suspect on the scene," he wrote. "We are extremely proud of our Department of Public Safety officers for their quick response, and our university counselors for immediately offering support at the scene."
Tjan was an expert in adaptations that people make to overcome central vision loss.
According to a USC website, Tjan's laboratory was devoted to studying the "human visual system to address basic and translational questions pertaining to vision loss, restoration, and rehabilitation."
Tjan came to USC in 2001 as an assistant professor and became an associate professor in 2008, according to his LinkedIn profile. In 2014, he was made a professor. He held a doctorate in computer science from the University of Minnesota.
ALSO
After three killings, USC tries to better protect foreign students
Chinese students flock to court as pleas entered in USC beating death
Judge: 'Overwhelming evidence' against 3 accused of killing USC student
---
UPDATES:
11:10 a.m.: This article was updated with more details about the suspect.
8:35 a.m.: This article was updated with the name of the suspect.
5:15 a.m.: This article was updated with biographical information about Bosco Tjan.
4:30 a.m., Dec. 3: This article was updated with more details from USC President C.L. Max Nikias letter.
8:02 p.m.: This article was updated with new details from police.
This article was originally published at 6:15 p.m. Dec. 2.
Sign up for Essential California for news, features and recommendations from the L.A. Times and beyond in your inbox six days a week.
You may occasionally receive promotional content from the Los Angeles Times.