Opponents sue to stop California's vaccination law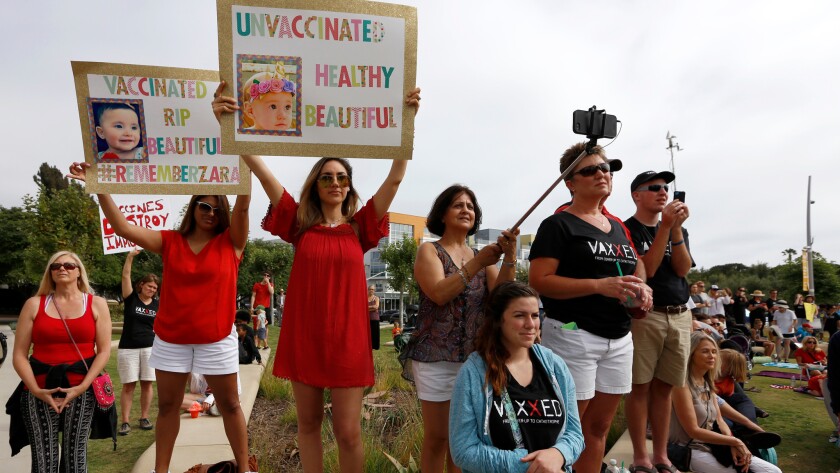 With California's strict vaccine mandate now in place, opponents are fighting to overturn the law in court.
The new law, which took effect Friday, bars parents from citing religion or other personal beliefs as reasons to not vaccinate their kids. SB 277 is one of the toughest mandatory vaccination laws in the country and drew many protesters when it was debated in Sacramento.
A group of parents and the nonprofit Education 4 All filed a suit Friday to overturn the law in U.S. District Court in San Diego. The suit claims that the law violates California children's right to an education under the state's constitution.
See the most-read stories this hour »
"SB 277 has made second class citizens out of children who for very compelling reasons are not vaccinated according to the CDC schedule," the plaintiffs' attorney, Robert T. Moxley, said in a statement. "We are hoping the court will grant us an injunction while the judicial process takes place to see if this law is constitutional, which it most certainly does not seem to be."
The plaintiffs are seeking a preliminary injunction to suspend the law while the case is being decided.
In September, opponents of the law failed to gather enough signatures to put a referendum on the November ballot to overturn the law.
The new law requires children entering school or day care be vaccinated against measles, mumps, whooping cough and other diseases. There are exceptions for people with documented medical conditions, like immune system deficiencies or allergies.
The legislation gained momentum after a measles outbreak at Disneyland in 2014 that infected 150 people. State health officials said that vaccine refusal partly fueled the outbreak.
About 80,000 California students claim personal belief exemptions for vaccines annually.
Peter Tira, a spokesman for the state's education department — which was named in the lawsuit along with the state public health department — said he couldn't comment on pending litigation.
"The superintendent strongly supports the new vaccination law," he said. "We recommend that all parents vaccinate their kids. … It's the law, and it's the right thing to do."
soumya.karlamangla@latimes.com
Follow @skarlamangla on Twitter for more health news.
ALSO
Vaccination aversion has fueled measles and whooping cough outbreaks, study finds
The WHO faces a limited vaccine supply as the worst yellow fever outbreak in decades hits Africa
Meningococcal outbreak in Los Angeles and Orange counties triggers health warning
---
The stories shaping California
Get up to speed with our Essential California newsletter, sent six days a week.
You may occasionally receive promotional content from the Los Angeles Times.