Actor Verne Troyer, Mini-Me in 'Austin Powers' movies, dead at 49
Verne Troyer, the actor who delighted legions of fans with his comically wicked portrayals of Mini-Me, a foil to comedian Mike Myers in the "Austin Powers" spy movie sendups, died Saturday. He was 49.
His death was announced on his official Facebook page, in a statement that began, "It is with great sadness and incredibly heavy hearts to write that Verne passed away today.
"Verne was an extremely caring individual," the statement said. "He wanted to make everyone smile, be happy, and laugh. Anybody in need, he would help to any extent possible. Verne hoped he made a positive change with the platform he had and worked towards spreading that message every day."
In a statement to the Hollywood Reporter, Myers said: "Verne was the consummate professional and a beacon of positivity for those of us who had the honor of working with him. It is a sad day, but I hope he is in a better place. He will be greatly missed."
No cause of death has been announced, but Troyer had struggled with alcohol abuse and had been hospitalized earlier this month with suspected alcohol poisoning.
At that time, posts on his Instagram and Facebook accounts stated "Asking you to keep Verne in your thoughts and prayers. He's getting the best care possible and is resting comfortably. Appreciate the support from family, friends, and fans around the world. We will keep you updated here."
TMZ reported of that incident that one of Troyer's friends had called authorities and described him at that time as extremely upset, drunk and suicidal.
The death notice on Saturday invoked similar themes, stating, "Depression and Suicide are very serious issues. You never know what kind of battle someone is going through inside. Be kind to one another. And always know, it's never too late to reach out to someone for help."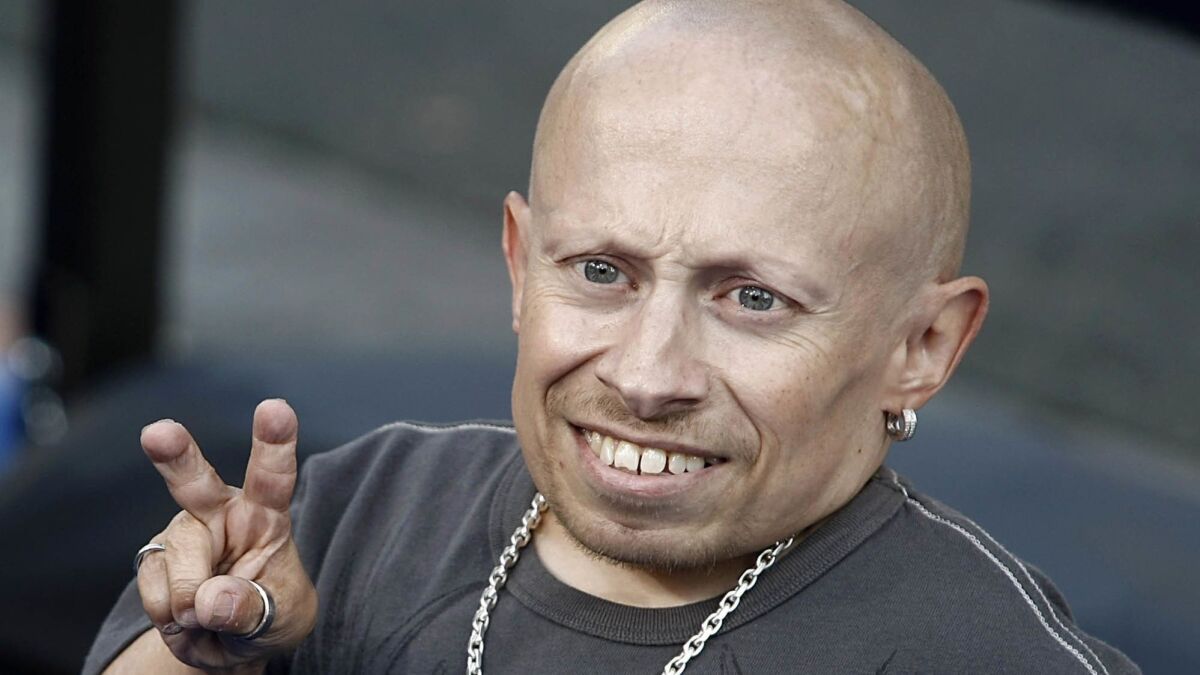 It added: "Verne was also a fighter when it came to his own battles. Over the years he's struggled and won, struggled and won, struggled and fought some more, but unfortunately this time was too much."
Troyer, who was 32 inches tall, portrayed Mini-Me, the right-hand man of Austin Powers' nemesis Dr. Evil (also played by Myers) in 1999's "Austin Powers: The Spy Who Shagged Me." He reprised the role in the 2002 sequel "Austin Powers in Goldmember." His character was described on IMDB as "Dr. Evil's smaller and more concentrated pure evil protege."
He had worked to raise money for the Starkey Hearing Foundation, which actress Marlee Matlin, who is deaf, cited on Saturday.
"So sad to read of the passing of Verne Troyer," Matlin tweeted. "A lovely smile with a caring and big heart, he helped raise money on behalf of @starkeycares for free hearing aids for deaf and hard of hearing people. RIP."
Troyer was born Jan. 1, 1969, in Sturgis, Mich., and was raised about 250 miles north in Centerville, not far from the shore of Lake Michigan. He was one of three children.
His achondroplasia dwarfism never affected the way his parents saw him, he said. They "never treated me any different than my other average-sized siblings. I used to have to carry wood, feed the cows and pigs and farm animals." He was raised for a time in the Amish culture, but left the religion when he got older.
When he was 21, Troyer and his brother moved to Austin, Texas. He found work as a stunt man and made appearances as animals or small children. His first significant movie role was as a stunt double for a 9-month-old baby in "Baby's Day Out" in 1994.
Other credits include "Instinct," "My Giant," "Mighty Joe Young," "Jingle all the Way," "Men in Black," "Bubble Boy" and the goblin Griphook in "Harry Potter and the Sorcerer's Stone," the first entry in the "Harry Potter" film franchise.
His breakthrough role was as Mini-Me. He expressed surprise at the reach of his popularity through the "Austin Powers" films and other roles, telling an interviewer in 2002, "We go to other parts of the world and they know who I am. I go on the internet, and I'm amazed at all these fan sites."
The actor started the now-defunct Verne Troyer Foundation to offer support to other little actors, saying, "Basically, I want to be able to inspire other little people to go to college and reach their goals." Other philanthropic organizations he supported included the American Foundation for AIDS Research, Best Buddies International, Lupus LA and the Muhammad Ali Parkinson Center.
Despite the success of the "Austin Powers" films, roles were harder to come by. In 2004, he joined the cast of "The Surreal Life" reality TV series which revolved around faded celebrities. His off-screen life also had difficulties. in 2008, he became embroiled in a lawsuit with his former girlfriend, Ranae Shrider, over a sex tape they had made.
She said she sold it to a stranger who paid her $5,000 for the tape, the buyer saying he wanted it for private viewing, not public distribution. Troyer sued seeking access to the tape to copyright it to avoid further distribution, but neither the buyer nor the tape could be found.
"She sold it to a private collector, so I think [Troyer's] suit is baseless," Shrider's attorney, Keith Davidson, said at the time. Davidson is the same lawyer who formerly represented adult film star Stephanie Clifford, aka Stormy Daniels, and Playboy bunny Karen McDougal, both of whom are now speaking out about alleged affairs with Donald Trump a decade or more before he was elected president.
Troyer most recently worked as the character Emperor Beezel-Chugg in the film "Hipsters, Gangsters, Aliens and Geeks," which is still in postproduction. The plot is described as "Out-of-work actor stumbles upon key to the universe, is drawn into intergalactic war between clowns and aliens."
There was no immediate information about plans for any memorial service. The note on his Facebook page requested that "in lieu of flowers, please feel free to make a donation in Verne's name to either of his two favorite charities: the Starkey Hearing Foundation and Best Buddies."
Follow @RandyLewis2 on Twitter.com
For Classic Rock coverage, join us on Facebook
---
UPDATES:
5:25 p.m.: This article was updated with more details throughout.
4:15 p.m.: This article was updated with more background about the actor's career.
This article was originally published at 2:51 p.m.
---
The stories shaping California
Get up to speed with our Essential California newsletter, sent six days a week.
You may occasionally receive promotional content from the Los Angeles Times.