Two Purple Heart recipients from Huntington Beach will ride on a Rose Parade float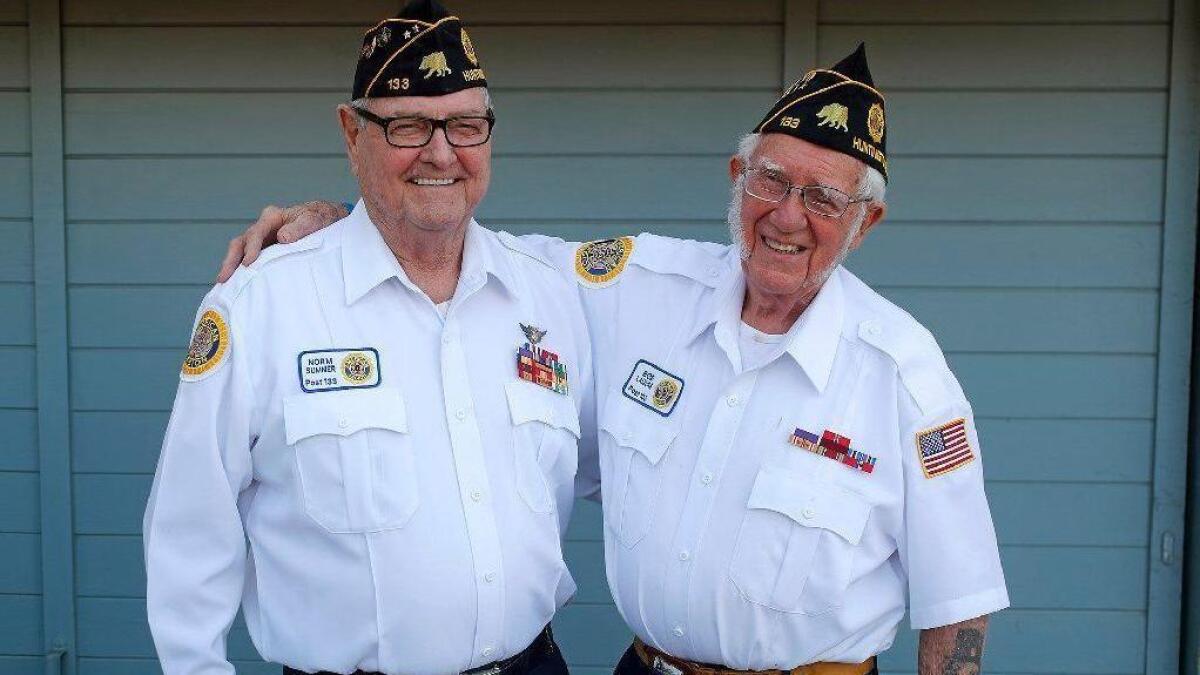 Two Huntington Beach veterans will be aboard a special float honoring recipients of the Purple Heart medal that will be featured in the 129th Rose Parade in Pasadena on New Year's Day.
Alongside five other Purple Heart recipients, Bob Laizure and Norm Sumner, both members of American Legion Post 133, will be riding aboard the Odd Fellows and Rebekahs float.
The float, called "Sacrifice to Serve," features a bald eagle and a large Purple Heart medal.
"I consider it an honor and privilege to be selected for this particular parade," Laizure said. "I want to be as humble about this as I can."
Laizure, 93, who served in the Navy in World War II, said he enlisted in 1943 after graduating from high school in Kansas. He was trained as a radioman but ended up manning an anti-aircraft gun aboard the Maryland, a battleship that survived the attack on Pearl Harbor.
He recently recounted the day a kamikaze pilot struck his ship. He saw the plane flying through the clouds as the ship's anti-aircraft crew unsuccessfully tried to shoot it down as it headed directly toward them.
"I can still see the bore of the propeller and the fuselage," Laizure said.
The kamikaze — one of two that hit the Maryland during its campaign in the Pacific — struck the ship about 15 feet from Laizure's position.
As he watched, Laizure expected he would be killed. The impact of the plane and subsequent explosion of the bomb it was carrying knocked him over. The moment was a blur, but he survived. Some of his gunner crew did not.
"I'm convinced that I had to be unconscious for a while," Laizure said. "I have no memory of the plane hitting the ship or the bomb going off."
What wounded him and earned him the Purple Heart, he said, were the fires.
Laizure left the Navy in 1946 and later worked as a television technician. He eventually started a janitorial supply company, which he sold when he turned 87.
Sumner, 77, joined the Marine Corps in 1958. He trained in San Diego and served on Okinawa. After reenlisting, he became a helicopter crew chief and was sent to Vietnam in 1964.
His helicopter was fired on during a rescue mission. The bullets caused the chopper to fail and ultimately roll down the side of a hill with its crew, including Sumner, still aboard.
Sumner received his Purple Heart afterward, but he said his injuries were much less serious than what many others suffered during the war.
"The Purple Heart, to me, wasn't that important of a medal that I got," he said. "People have died for that medal."
Sumner served two years in Vietnam and left the Marines in 1968 as a staff sergeant with a Silver Star, Bronze Star and a host of air medals.
Once home, Sumner joined the U.S. Postal Service as a clerk and then a mechanic and supervisor. He retired in 1992.
Both Laizure and Sumner have participated in Huntington Beach's Fourth of July Parade.
When talking about his upcoming Rose Parade appearance, Sumner said it's simple.
"We're just a couple of tired old veterans," he said with a laugh.
Zint writes for Times Community News.
---
The stories shaping California
Get up to speed with our Essential California newsletter, sent six days a week.
You may occasionally receive promotional content from the Los Angeles Times.