L.A. County Sheriff Alex Villanueva defends reinstating deputy fired over abuse allegations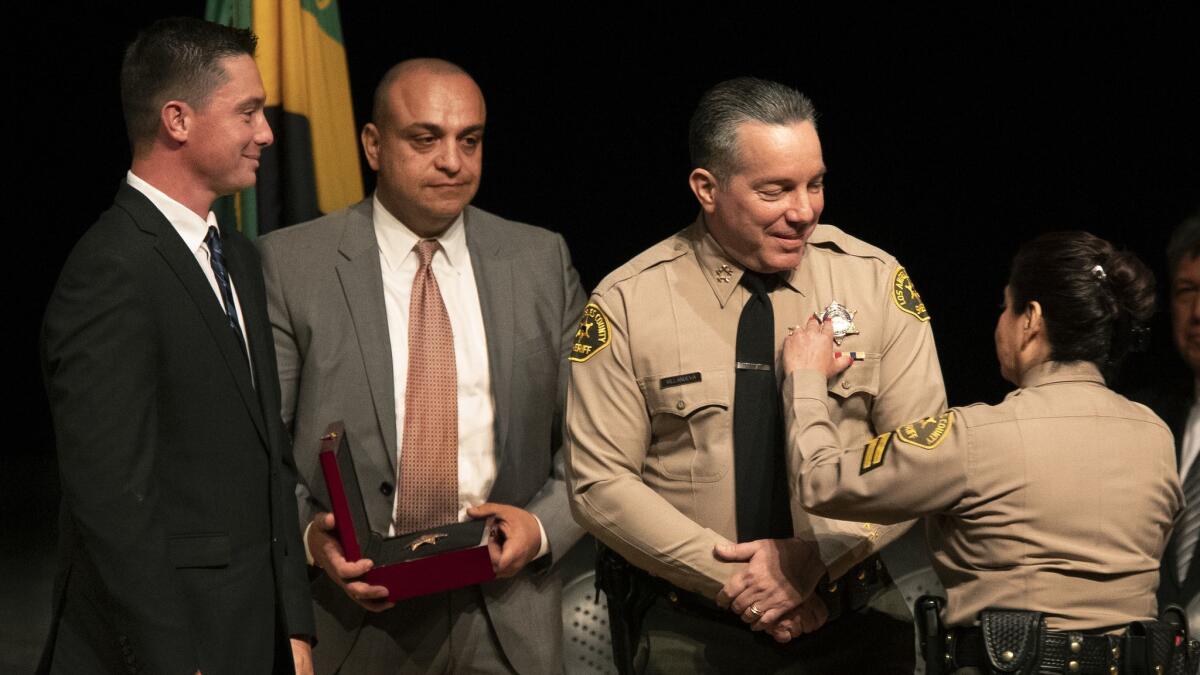 Alex Villanueva is less than two months into his role as Los Angeles County sheriff, but county watchdogs are already expressing concern over some of his moves.
At his first appearance before the Sheriff Civilian Oversight Commission on Tuesday, several commissioners told Villanueva they were troubled by a Times report about his decision to reinstate a deputy who had been fired from the department in connection with allegations of domestic abuse and stalking. The county's inspector general described Villanueva's position on discipline standards relating to domestic violence as "radical."
The deputy, Caren Carl Mandoyan, was relieved of duty in July 2015 and terminated in September 2016 based on allegations made by a woman who also worked as a deputy, according to a lawsuit he filed against the county contesting his dismissal. Mandoyan did not respond to requests for comment.
Mandoyan was an active volunteer on Villanueva's campaign to unseat incumbent Jim McDonnell, often serving as his driver and helping to win support in Villanueva's long-shot bid from rank and file deputies.
Mandoyan's accuser claimed in an application for a temporary restraining order in July 2015 that Mandoyan grabbed her neck, tried to break into her home twice and admitted to surveilling her and listening to her conversations. She alleged the physical assault by Mandoyan, who she said was her ex-boyfriend, happened in September 2014.
In a September 2015 memo from the district attorney's office, prosecutors declined to charge Mandoyan with intimate partner violence, citing a lack of sufficient evidence. The Times generally does not identify people who report being victims of domestic abuse. The woman did not respond to requests for comment.
Villanueva declined to mention Mandoyan by name on Tuesday, but he defended reinstating the fired deputy, saying that the accuser waited nearly a year to report her claims of abuse and that she quit the department just before she was about to testify about her allegations.
"Those are big warning signs about the credibility of the [complainant]," Villanueva said. He said any discipline of deputies over claims of domestic violence should require that related criminal charges are also filed, and that the allegations are connected to employment. He said those criteria didn't apply in this instance.
"We don't operate based on allegations. We operate based on fact, what can be established in a court of law," Villanueva said.
Priscilla Ocen, a Loyola Law School professor and vice chair of the commission, told Villanueva she was concerned about his approach to disciplining deputies, noting that it's not uncommon for survivors of domestic violence to decline to testify.
"If the bar is so high that you want a criminal complaint, and the [complainant] to cooperate with law enforcement, to testify, and to secure a conviction, that bar might not be workable," Ocen said.
The department has traditionally evaluated disciplinary cases using a lower standard of evidence than that required in criminal court.
Commission chairwoman Patti Giggans said the percentage of people who lie about being abused by a partner is low and that many survivors take a long time to come forward. Giggans is also executive director of Peace Over Violence, an organization that works to end abuse against women.
Villanueva has long railed against what he says was a culture of corruption and cronyism that damaged the department and stood in the way of his own advancement.
He said the reinstatement was just one of many disciplinary cases he and his team are reviewing.
Villanueva has proposed creating a "truth and reconciliation" commission to redress what he asserts are past injustices regarding deputy discipline and the department's dealings with the public. Villanueva said his reinstatement of the fired deputy was vetted by an outside lawyer and a panel made up of commanders and a chief, similar to the way the reconciliation body would work.
Several commissioners said they wanted to be consulted on the protocols governing the reconciliation panel before it is put in place.
Los Angeles County Inspector General Max Huntsman said he made a formal request to monitor the reconciliation group's formation and work early on but didn't receive a reply from the Sheriff's Department. He said he was "deeply troubled" that the reconciliation process appeared to have moved forward without allowing him access.
Huntsman has devoted much of his monitoring work to evaluating the department's disciplinary system.
"Your position on only looking at domestic violence incidents if there is a [district attorney] filing I think is a radical one," Huntsman told Villanueva.
Villanueva agreed to brief the commissioners on the development of the reconciliation panel, insisting that he wants to make fair disciplinary decisions.
Also on Tuesday, the commissioners unanimously adopted a resolution opposing a project to turn the Mira Loma Detention Center in Lancaster into a women's jail. Villanueva also opposes the women's jail project, which has been in development for years. Earlier this month, all five Los Angeles County supervisors said they wanted to reevaluate the jail plan, setting the stage for the project to be abandoned.
Sign up for Essential California for news, features and recommendations from the L.A. Times and beyond in your inbox six days a week.
You may occasionally receive promotional content from the Los Angeles Times.