California's heavy water users could face penalties if drought persists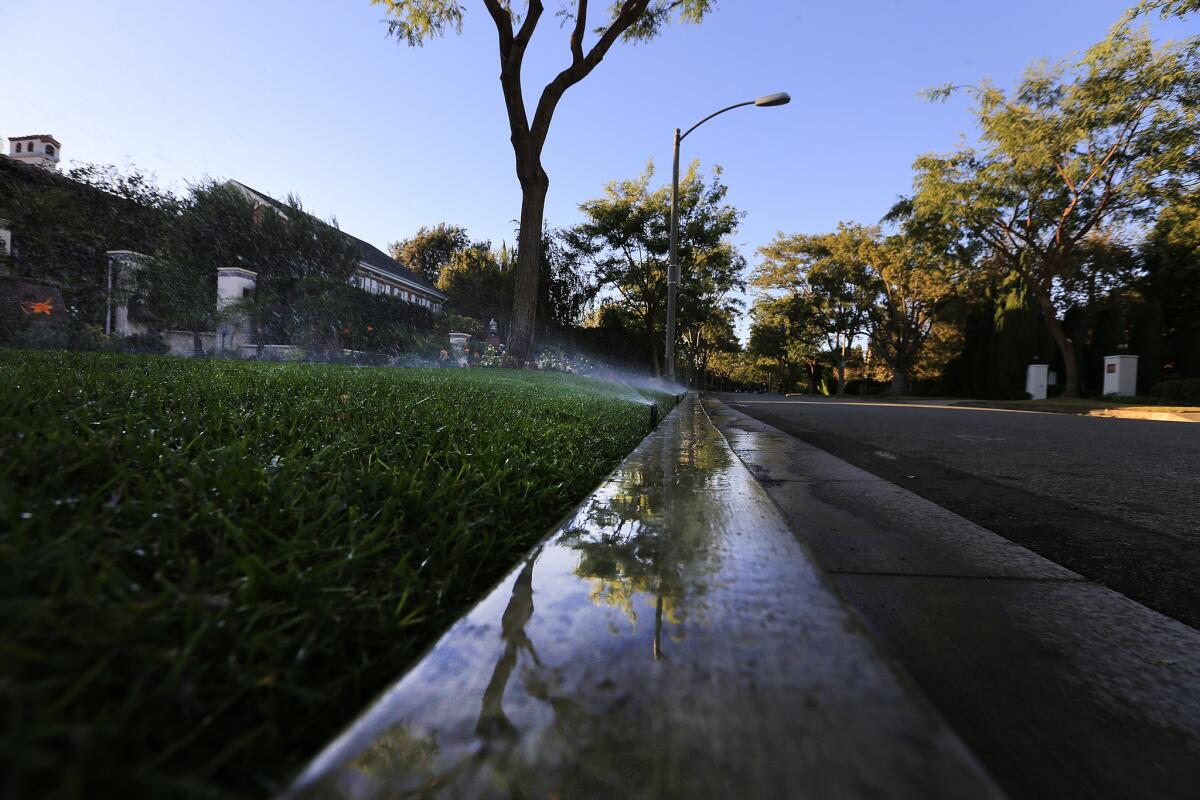 Locked in a multi-year drought, California's urban water suppliers have, for the most part, happily enforced rules that prohibit specific wasteful water practices, such as hosing down driveways and over-watering lawns.
But far fewer agencies have been willing to go beyond state mandates and penalize customers simply for using profligate volumes of water. The names of those heavy users have been mostly kept secret under California public records law.
That's about to change.
Gov. Jerry Brown signed a bill this week requiring water districts to crack down on excessive use anytime a drought emergency is in effect and water conservation is required — as has been the case for much of the last year.
The new law also has the "side effect" of making it easier to expose heavy users, said state Sen. Jerry Hill (D-San Mateo), who wrote the bill.
Under current state rules, residents can be fined $500 for hosing down a sidewalk, among other prohibited actions, but can otherwise use as much water as they want without penalty. Customers must only pay for the water.
Hill said that "doesn't seem fair."
"It's important that all Californians share in the efforts to conserve water during the drought," he said. "It's as basic as that."
Starting Jan. 1, Senate Bill 814 will require urban water suppliers to either establish a rate structure with a built-in way to hammer the wallets of excessive users, or create an ordinance capable of identifying which customers are being wasteful.
The law requires that violators of the new ordinances be penalized, and suggests a fine of up to $500 for every unit (748 gallons) of water used that a district deems excessive.
If a supplier chooses to adopt such an ordinance — a path most are expected to take because of legal concerns about rate setting -- district officials are also required to create a way for customers to appeal their fine.
Information about violators would be subject to disclosure under the California Public Records Act, Hill said.
Unlike the prohibitions on hosing down sidewalks and runoff, however, the penalties for excessive water use apply only when the governor has issued an emergency drought proclamation, a local supplier has moved to mandatory water conservation, or both.
Hill would have preferred that the law extend beyond drought emergencies, he said, but "that was not the sentiment shared by the Legislature or by the water agencies in California."
Water agencies "seem to want to sell as much water as they can pump through their pipes, and that was disappointing," he said.
In a letter to Brown, the Assn. of California Water Agencies joined with nine other suppliers — including several in Orange County — and called on the governor to veto the bill.
The bill is "unnecessary as local agencies can already achieve conservation with their own ordinances," the agencies wrote, calling it "an unwelcome and unwarranted intrusion into the responsibility of local elected officials to establish policy" for customers.
A handful of water suppliers have already crafted their own excessive-water-use rules.
In response to complaints about a Bel-Air resident who used 11.8 million gallons of water in a year, the Los Angeles Department of Water and Power amended its water conservation plan so customers can be fined $1,000 to $40,000 a month for unreasonable use.
Though the amendments took effect in May, a spokeswoman said the DWP has yet to issue any fines for that behavior. DWP officials believe that their ordinance, as well as their new rate structure, puts the agency into compliance with SB 814.
In general, the California Public Records Act bars the release of utility customer information. But the law requires that such information be disclosed if a utility determines that a customer has used its "services in a manner inconsistent with applicable … usage policies."
In response to records requests, the East Bay Municipal Utility District in Northern California released the names of some high-profile customers who had violated its ordinance.
Beverly Hills also penalized excessive users with surcharges, and released a set of warning letters and water bills to The Times in response to a records request. Those documents named customers who the city said had violated its water conservation requirements.
The DWP has so far refused to name profligate users, such as the customer in Bel-Air. But the DWP spokeswoman said information about customers who receive a fine for unreasonable use will be discoverable under the California Public Records Act.
Because the new state law requires local water districts to establish a policy to curb waste, Hill said violators of those policies will no longer be shielded from public information requests.
Twitter: @ByMattStevens
ALSO
Deer roams onto beach, interrupting surfing team tryouts
$10,000 reward offered for suspect accused of shooting at state game warden while poaching
Victims identified after fatal fire at adult-care facility in Temecula
Sign up for Essential California for news, features and recommendations from the L.A. Times and beyond in your inbox six days a week.
You may occasionally receive promotional content from the Los Angeles Times.