Weinstein cites 'casting couch' defense as he faces rape charges in New York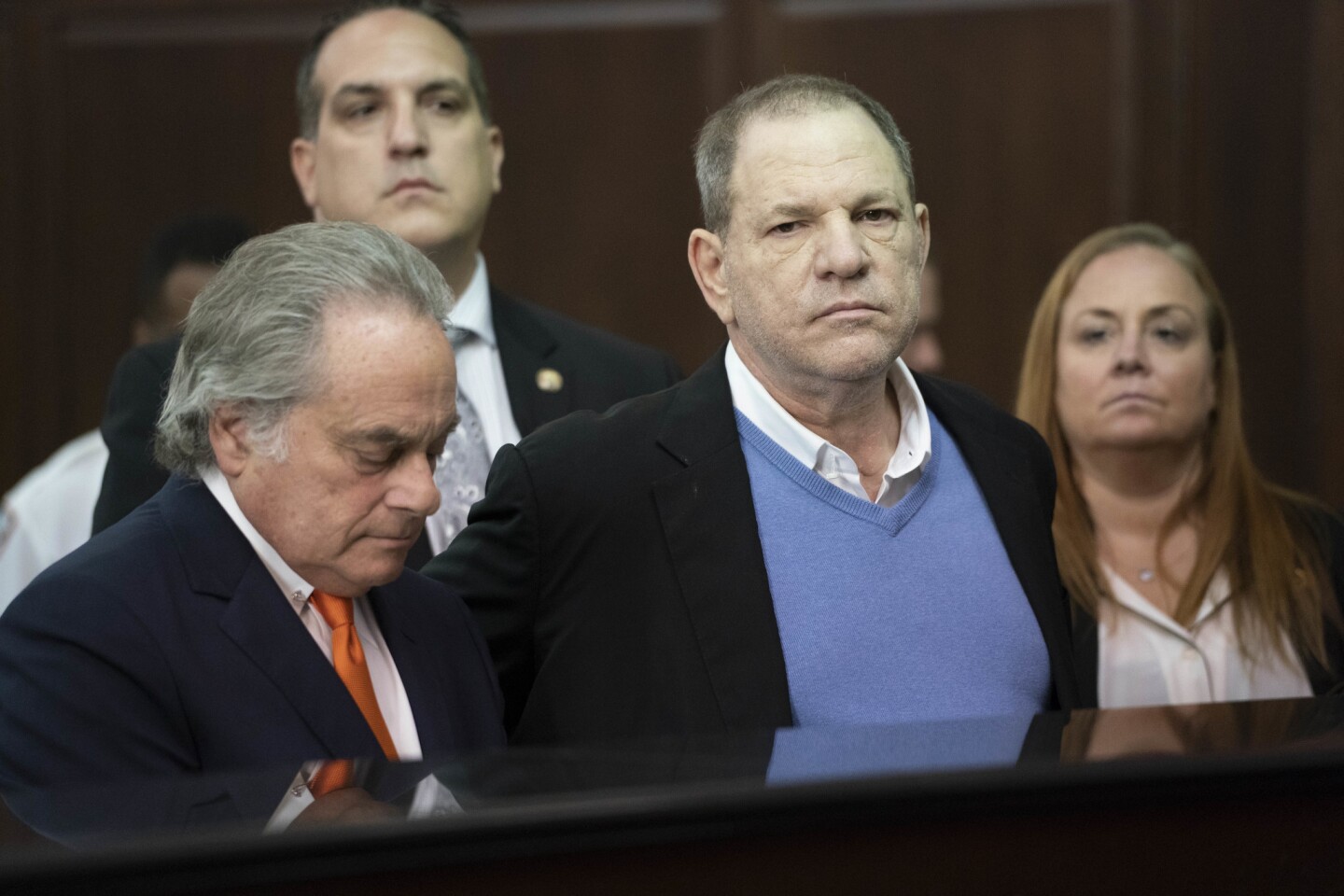 Harvey Weinstein, center, appears with his attorney Benjamin Brafman before a judge Friday morning in Manhattan, where he was charged with rape and other sex crimes.
(Steven Hirsch / Pool )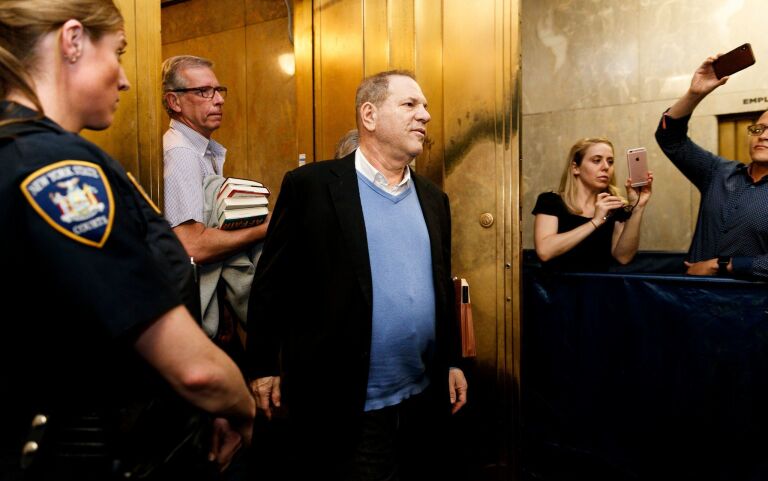 Harvey Weinstein leaves court after being charged with multiple sex crimes in New York.
(Justin Lane / EPA/Shutterstock)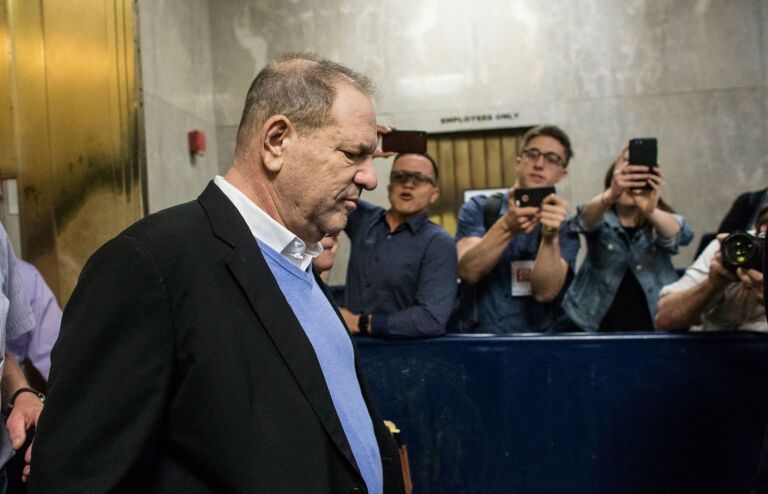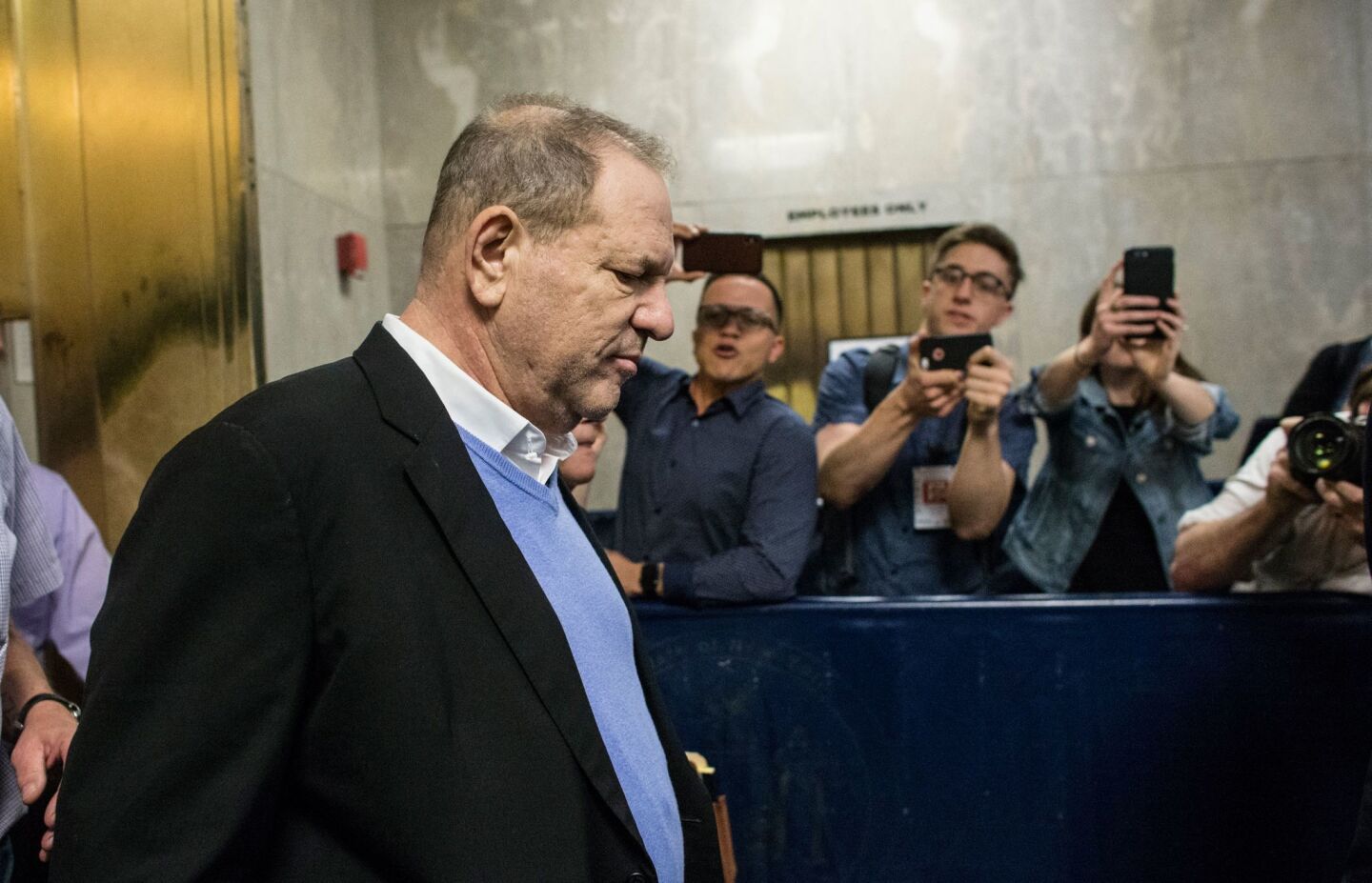 Harvey Weinstein was released on bail after being charged with multiple sexual crimes in New York.
(Kena Betancur / AFP/Getty Images)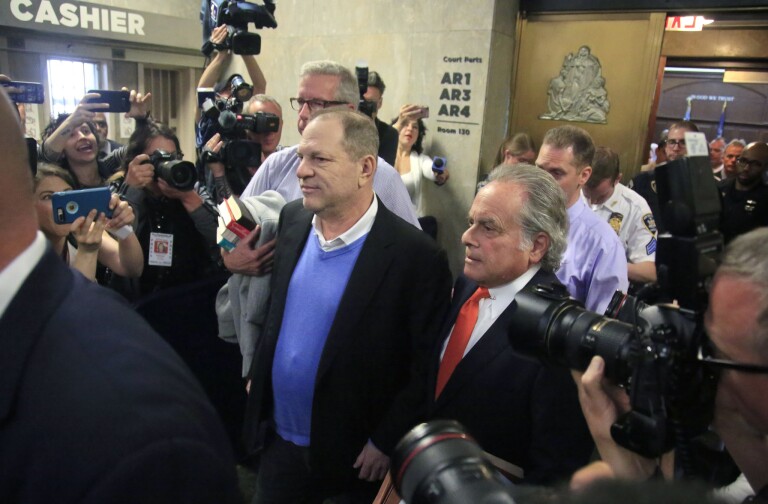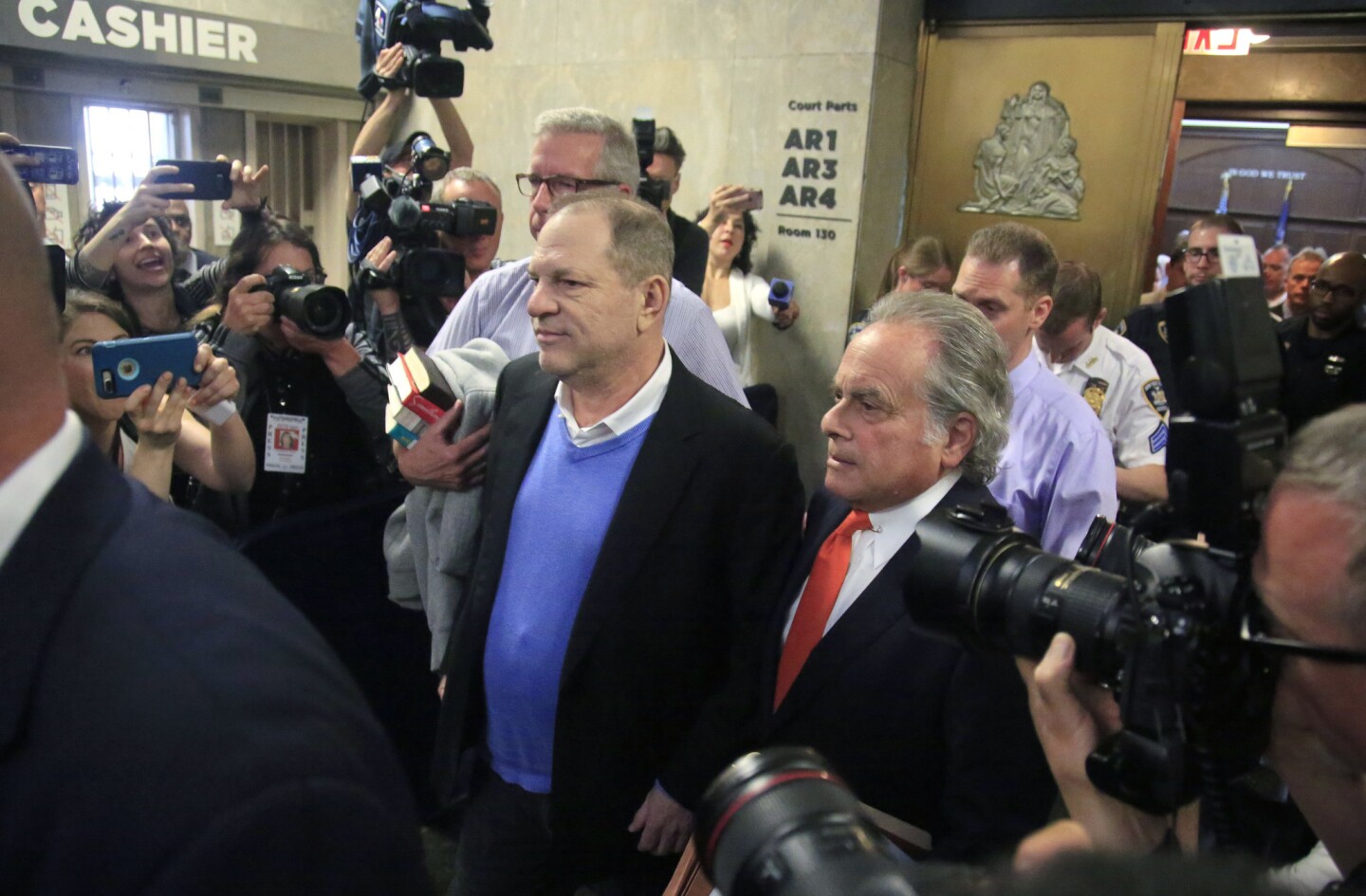 Harvey Weinstein, center, heads for the exit with his lawyer Benjamin Brafman after posting bail at Manhattan Criminal Court.
(Bebeto Matthews / Associated Press)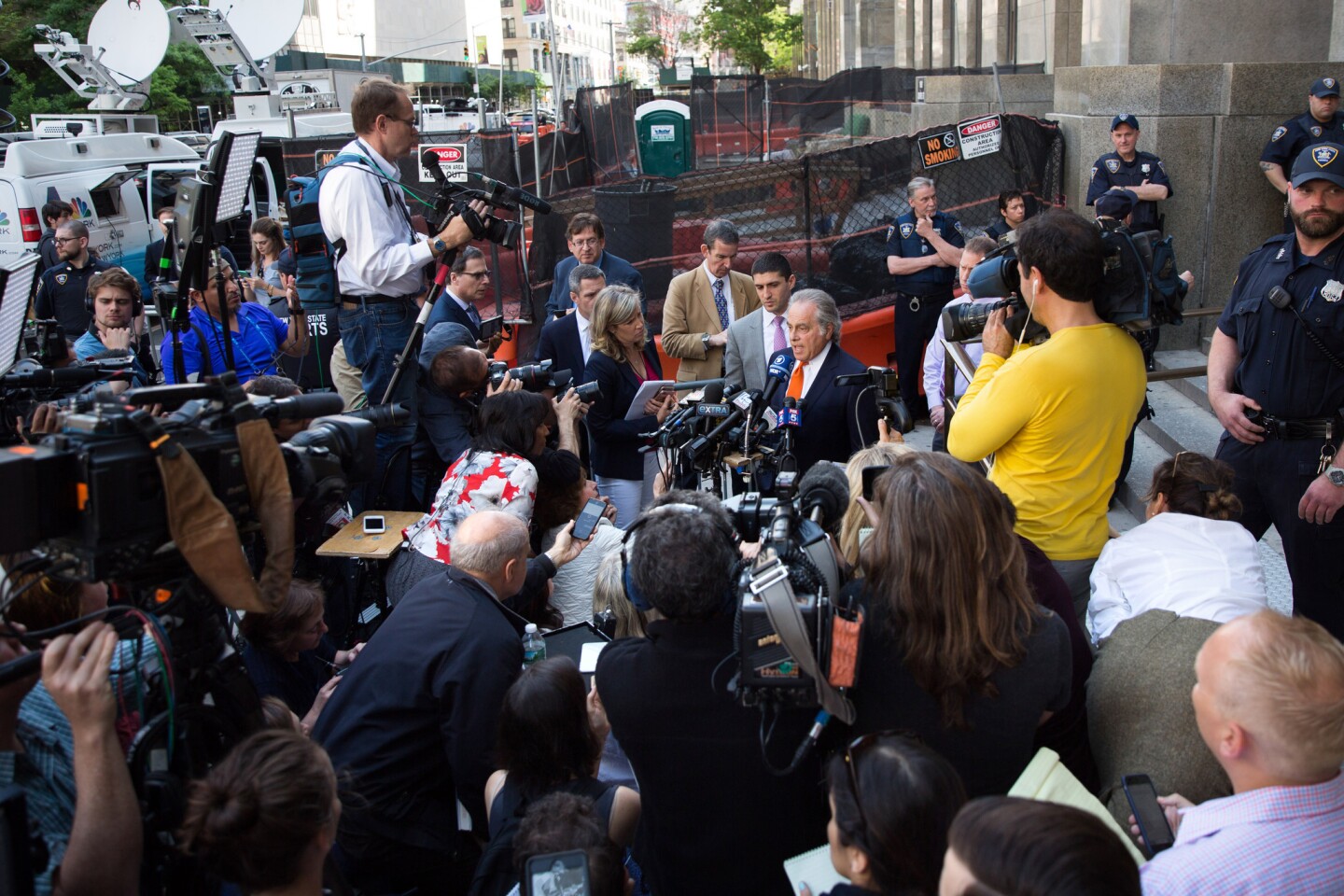 Harvey Weinstein's attorney Benjamin Brafman speaks to the press following Weinstein's appearance in criminal court.
(Kevin Hagen / Getty Images)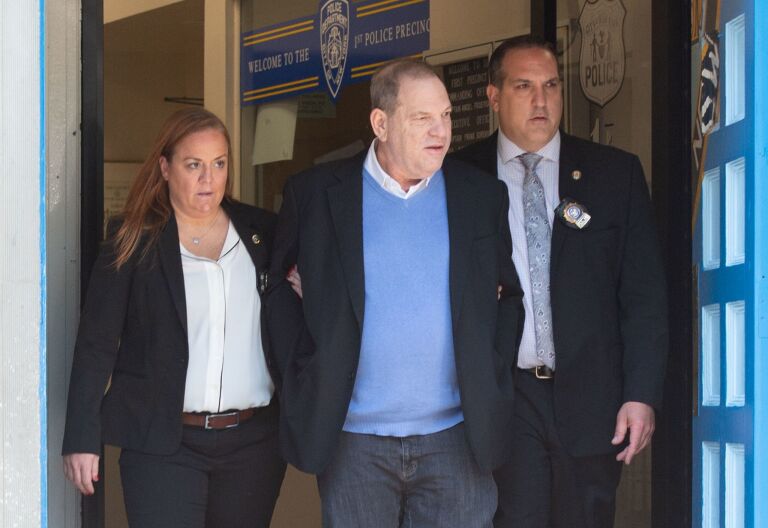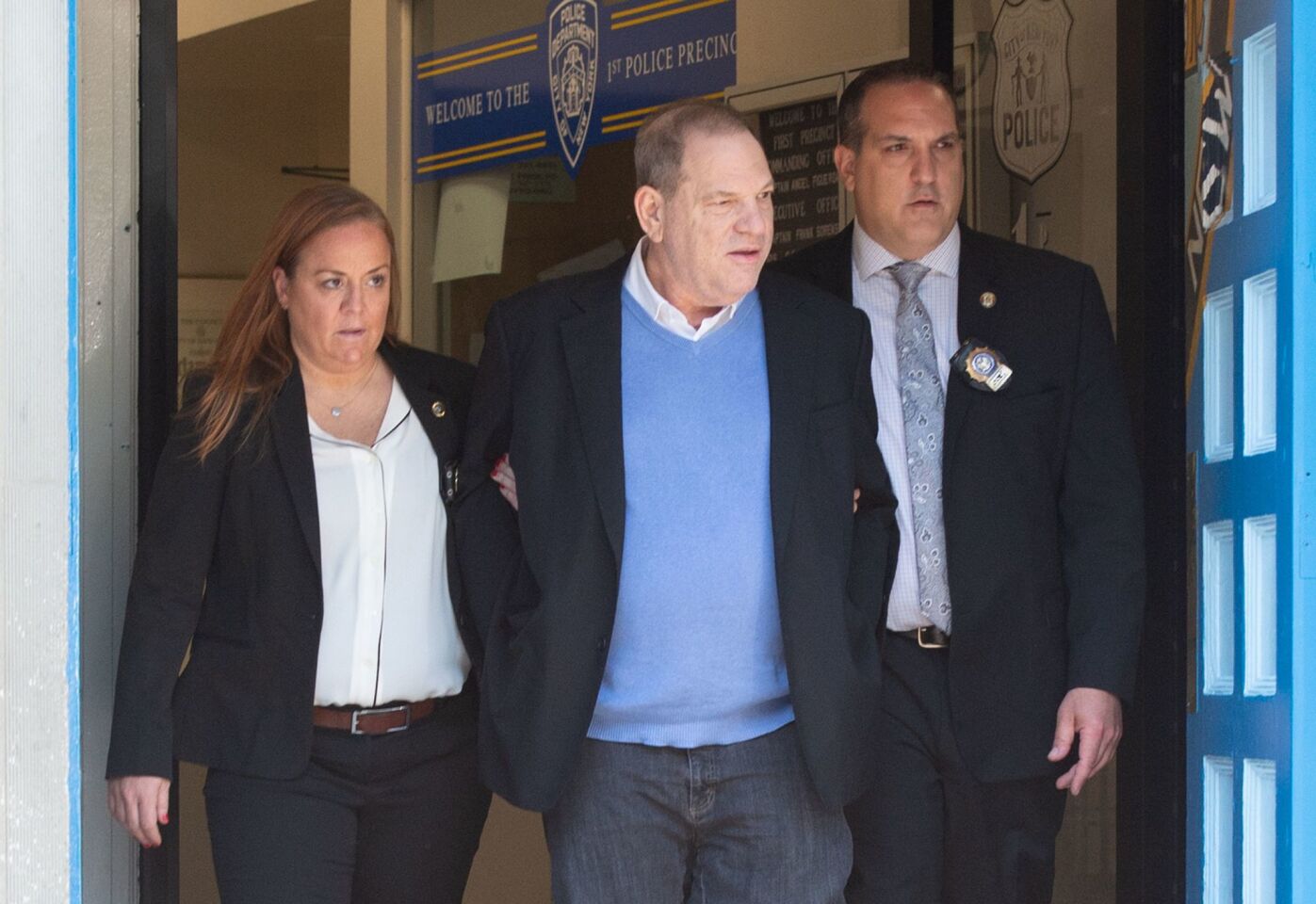 Harvey Weinstein leaves the New York Police Department's 1st Precinct headquarters in handcuffs after his arrest on sex crime charges.
(Bryan R. Smith / AFP/Getty Images)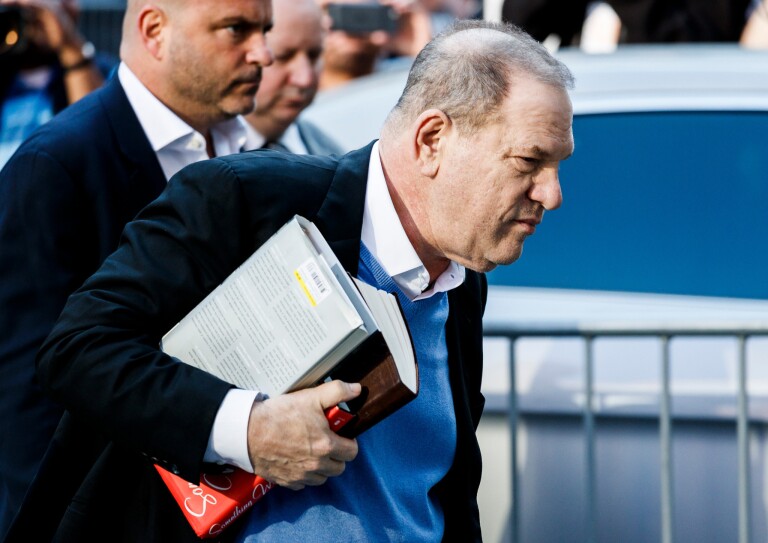 Harvey Weinstein arrives at the NYPD's 1st Precinct headquarters to turn himself in to face multiple sex assault charges.
(Justin Lane / EPA / Shutterstock)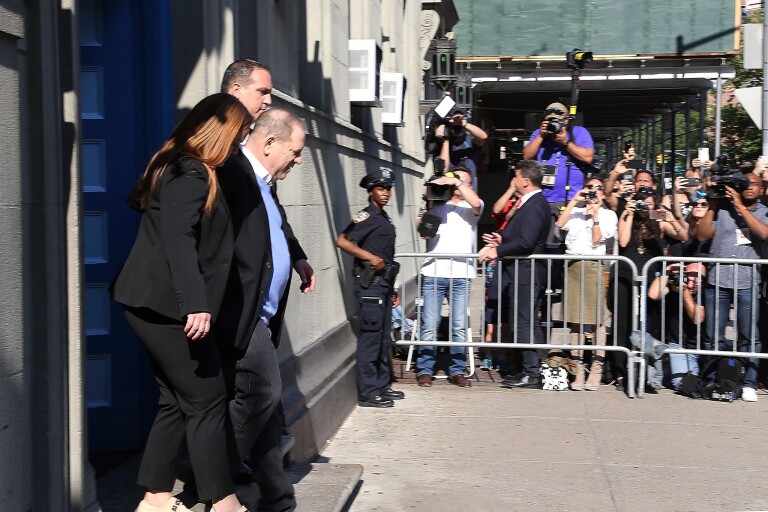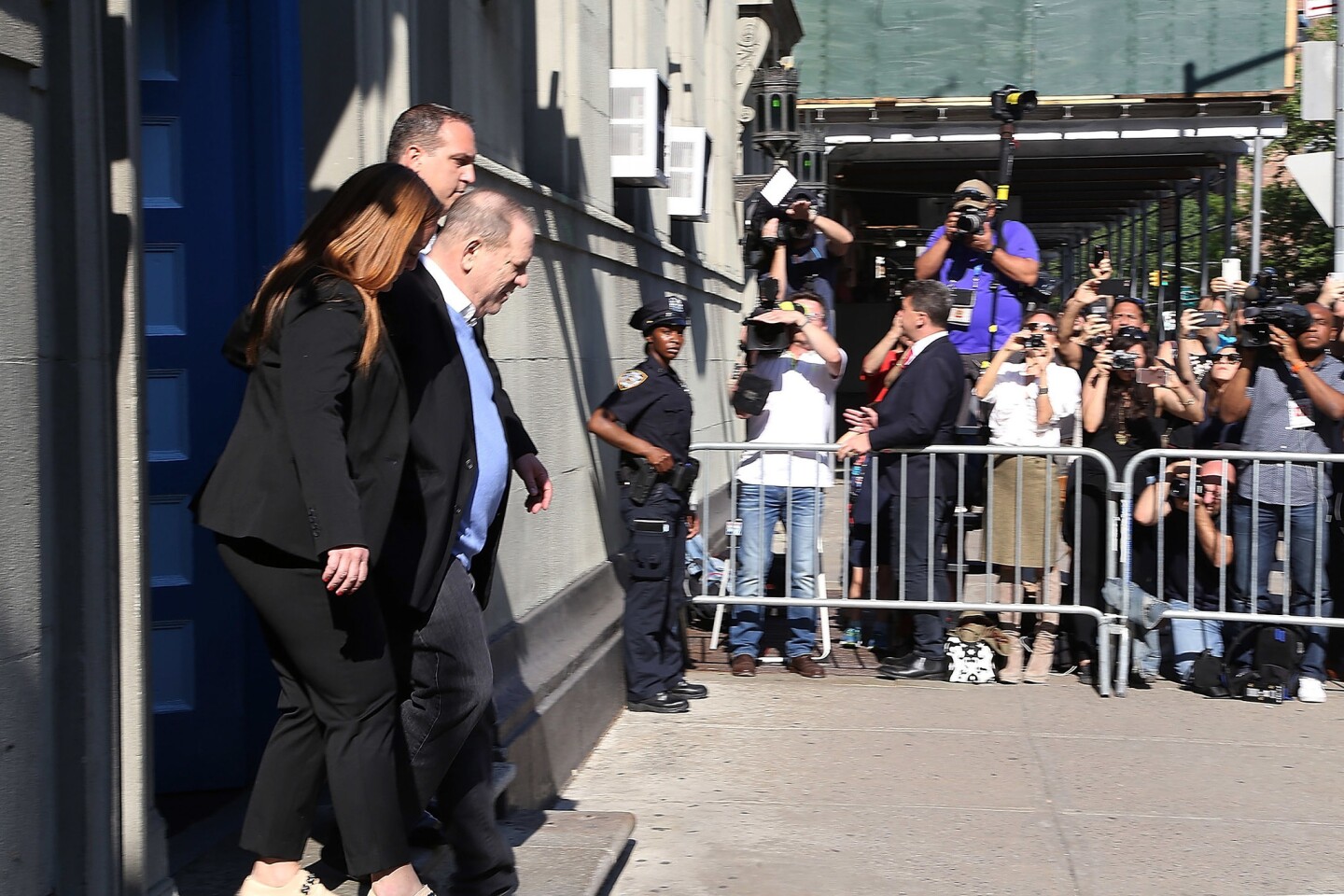 Harvey Weinstein is escorted from police precinct headquarters in handcuffs after being charged with rape, committing a criminal sex act, sexual abuse and sexual misconduct.
(Manny Carabel / Getty Images)
Harvey Weinstein leaves New York Police Department station after being charged with multiple counts of sexual assault.
(Andres Kudacki / Associated Press)
Press and onlookers crowd around as Harvey Weinstein climbs into a waiting car after being charged with rape and other sex crimes in New York.
(Julio Cortez / Associated Press)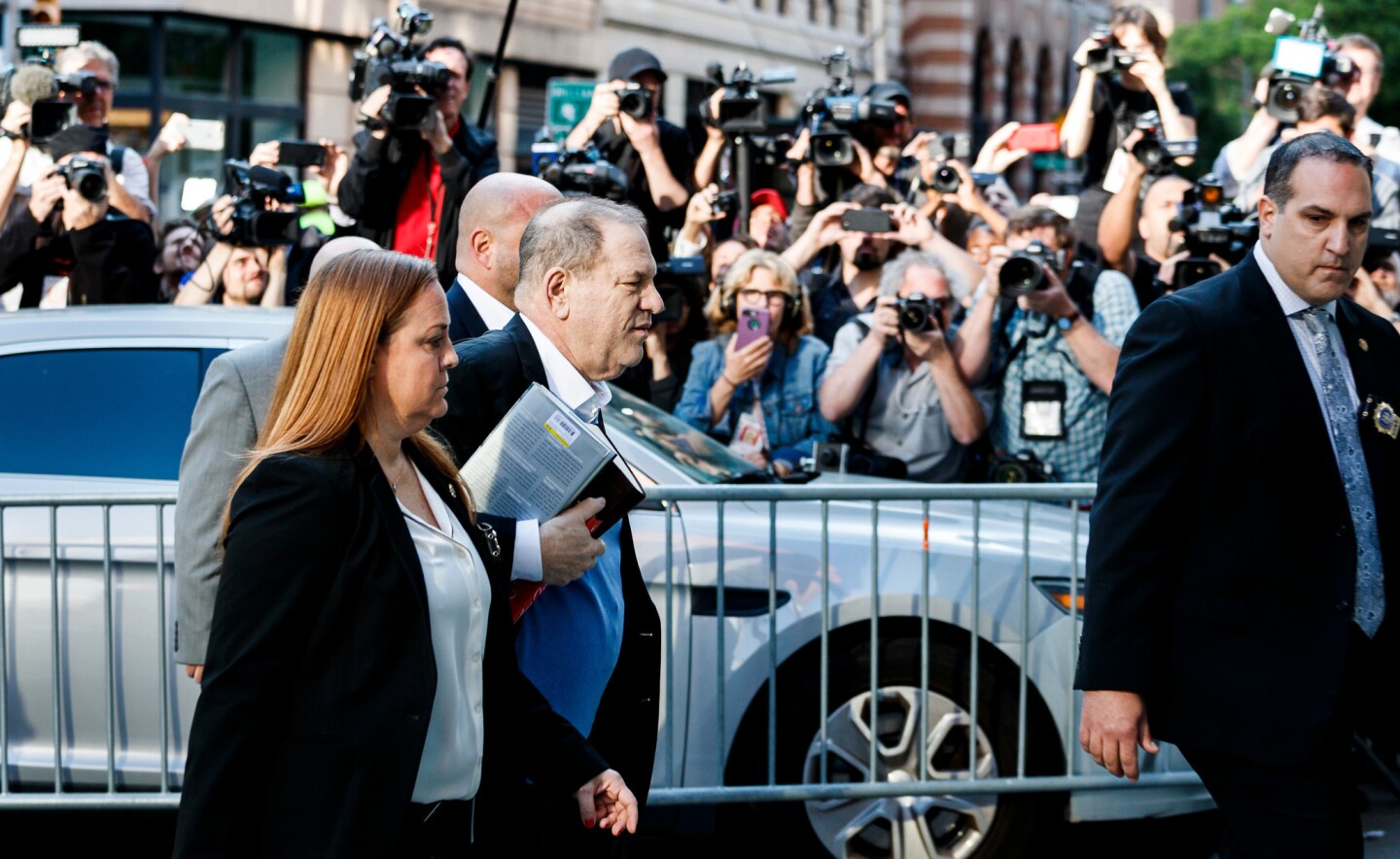 Former movie producer Harvey Weinstein arrives at the New York Police Department's 1st Precinct station to turn himself in to face multiple sexual assault charges on Friday.
(Justin Lane / EPA/REX-Shutterstock)
Reporting from New York —
For years, Harvey Weinstein was an influential man accustomed to strolling paparazzi-lined red carpets, schmoozing with beautiful people as photographers called out his name.
On Friday, the disgraced movie mogul drew a similarly rowdy crowd under a far harsher spotlight.
As Weinstein stepped out of a dark sport utility vehicle in front of the New York Police Department's 1st Precinct station in downtown Manhattan, hordes of photographers and television camera operators jostled for shots behind barriers on either side of him. Reporters shouted questions. He ignored them.
It was a monumental day for the #MeToo movement, which was ignited after dozens of women accused Weinstein of sexual misconduct. On Friday, the film producer turned himself in to the NYPD and prosecutors filed criminal charges against him, including rape.
As he walked into the police precinct, he carried a book that, some say, signaled defiance: "Elia Kazan" by Richard Schickel, a biography of the legendary director and former member of the Communist Party who was infamous for naming names of other party members — including those of his friends — amid a wave of U.S. anti-communist hysteria.
And, in an era in which women in the film industry are speaking out about sexual harassment and demanding gender parity, Weinstein's attorney invoked an old Hollywood stereotype in the producer's defense.
"Mr. Weinstein did not invent the casting couch in Hollywood," Benjamin Brafman said, referring to the practice of a person in power demanding sex in exchange for career advancement. "And to the extent that there is bad behavior in that industry, that is not what this is about. Bad behavior is not on trial in this case. It's only if you intentionally committed a criminal act, and Mr. Weinstein vigorously denies that."
It's the first prominent prosecution of a Hollywood figure since a wave of accusations of sexual harassment and assault rocked the industry in the wake of New York Times and New Yorker stories detailing Weinstein's alleged behavior. Some hope the #MeToo movement will usher in a new era in the way the industry and the rest of society treat women and hold men accountable for their bad acts.
But Weinstein's defense, at least as it was outlined Friday, appears to draw a distinction between objectionable behavior and criminal behavior. Some experts said it suggests an ugly legal battle ahead.
Steve Cooley, a former Los Angeles County district attorney, said prosecutors are likely to try to show that Weinstein has a long history of sexual assault, a tactic employed by authorities in the Bill Cosby case. Weinstein's lawyers, on the other hand, will probably "raise every possible defense: statute of limitations, discredit the victims and their motivations."
Weinstein was charged with rape in the first and third degree involving a woman in 2013, and with committing a criminal sexual act in the first degree with another woman in 2004, Manhattan Dist. Atty. Cyrus R. Vance Jr. said in a statement. Authorities have withheld the women's names, although one of them went public with allegations against Weinstein in a magazine article last year.
On Friday morning, Weinstein, wearing a light blue sweater beneath a dark blazer, was escorted out of the NYPD precinct by two police investigators who held his arms back. He smiled.
His hands were cuffed behind his back as he was walked through a courtroom. He did not speak during a brief appearance.
The judge set his bond at $10 million and restricted his movements to New York and Connecticut. Weinstein surrendered his passport, and his attorney handed over a $1-million cashier's check for the bail. Weinstein consented to 24-hour-a-day GPS monitoring and a temporary restraining order requested by one accuser.
Manhattan Assistant Dist. Atty. Joan Illuzzi said in court that Weinstein "used his position and power" to sexually exploit women.
Speaking to reporters after the court appearance, Brafman said Weinstein will enter a plea of not guilty and continues to "vehemently deny" any criminal behavior. Weinstein, he said, maintains that any sexual acts were consensual and that the charges are "constitutionally flawed."
Brafman said that if the women are cross-examined before a jury, "the charges will not be believed by 12 people, assuming we will get 12 fair people who are not consumed by the movement that seems to have overtaken this case."
The attorney said he will be filing a motion to dismiss the charges as being legally flawed and not supported by credible evidence.
The charges are the first to result from seven months of investigations in New York, California and London.
Sources with knowledge of the case who spoke on the condition of anonymity said one of the plaintiffs is a once-aspiring actress who has alleged that Weinstein assaulted her during a meeting at his Miramax office in 2004. The second alleged victim's identity has not been reported.
Lucia Evans told the New Yorker magazine last year that Weinstein said during a meeting in one of his offices that she'd "be great in 'Project Runway' " — which Weinstein helped produce and which premiered later in 2004 — but that she needed to lose weight. She said he then told her about two scripts, a horror movie and a teen love story, then forced her to perform oral sex. She said she objected but that Weinstein exposed his penis and pulled her head down toward it.
"I said, over and over, 'I don't want to do this, stop, don't,' " Evans told the New Yorker. "I tried to get away, but maybe I didn't try hard enough. I didn't want to kick him or fight him." In the end, she said, "he's a big guy. He overpowered me."
Weinstein has been accused by more than 80 women of misconduct. Police in Los Angeles, Beverly Hills, New York and London have conducted investigations into more than 20 allegations. He faces the prospect of more charges.
Los Angeles County Dist. Atty. Jackie Lacey's team has been reviewing two investigations into Weinstein by Beverly Hills police, as well as three Los Angeles Police Department investigations, including an Italian actress' allegation of rape in 2013.
According to law enforcement sources, detectives believe that case is promising for prosecution because the woman told her story to three people, including a priest, relatively soon after the alleged attack. LAPD detectives also have evidence the woman was a guest at the Beverly Hills hotel where she claims Weinstein attacked her, the sources said.
The case does have flaws, they added. Detectives found little physical evidence of an attack and have been unable to secure proof that Weinstein was at the hotel when the woman says the rape occurred.
Sources said the Manhattan district attorney is using a grand jury to look into allegations against Weinstein and that federal prosecutors with the U.S. attorney for the Southern District of New York are investigating whether he lured women across state lines for the purpose of sex crimes and committed fraud while trying to cover up accusations.
The seeds for Weinstein's arrest were planted three years ago when NYPD detectives captured him on tape admitting to groping an Italian model, but prosecutors declined to file charges, saying they could not show intent. Infuriated detectives said they believed Weinstein had confessed on the recording.
Weinstein was previously questioned at the 1st Precinct station about model Ambra Battilana's allegations that he groped her during a meeting. Detectives had encouraged her to wear a wire to a follow-up meeting. As detectives listened in, the producer admitted to touching her breasts and promised not to do it again.
Cooley said that although Weinstein's lawyers have complained about jurors potentially being influenced during the high-profile case, the reality is that most people are well aware of the allegations.
"If they want to bring a change-of-venue motion to have the trial outside New York, they're going to have to go to Mars or the moon or maybe North Korea to find someone who hasn't heard about Weinstein's bad acts."
Cooley said Brafman's bravado outside the court likely won't help with potential jurors. As for Weinstein's carrying of the Elia Kazan biography, Cooley said it indicated he saw himself as a victim.
Weinstein also carried a copy of "Something Wonderful: Rodgers and Hammerstein's Broadway Revolution" by Todd S. Purdum as he walked into the police station.
For women who say they were attacked by Weinstein, Friday seemed like a moment of justice.
"I can say this: The man who pinned me down had handcuffs on today," actress Rose McGowan, who has accused Weinstein of rape and reportedly settled a lawsuit against him years ago, told NBC.
Actress and director Asia Argento, who also has accused Weinstein of rape, tweeted that Weinstein on Friday "will take his first step on his inevitable descent to hell."
"We, the women," she wrote, "finally have real hope for justice."
Queally reported from New York, and Winton and Branson-Potts reported from Los Angeles.
Twitter: @JamesQueallyLAT
Twitter: @haileybranson
Twitter: @haileybranson
---
The stories shaping California
Get up to speed with our Essential California newsletter, sent six days a week.
You may occasionally receive promotional content from the Los Angeles Times.