After bomb threat, Westside Jewish center looks ahead: 'We're not going to let it change how we think'
After a wave of bomb threats against organizations and synagogues across the country, Elisabeth Franks' bosses at the Westside Jewish Community Center asked her a recurring question.
Any voicemails we need to be worried about?
The stream of menacing calls and emails that began in January to organizations nationwide ultimately proved to be hoaxes. But before anyone knew that, Franks, 24, and her colleagues thought it was just a matter of time before their turn came.
They waited for a call that, as one week blended into another, did not come. Some employees at the center on Olympic Boulevard — a bustling hive of swimmers, preschoolers and exercising senior citizens — jokingly wondered: Is our brand too low-profile?
Then at 4:40 p.m. on Feb. 27, Franks got the call.
"The voice is in my head," she said. "It's this creepy thing where it's repeating. It's chilling."
Centers of Jewish life have always been targets. 17 years ago, a neo-Nazi walked into the North Valley Jewish Community Center in Granada Hills and wounded five people before killing a mail carrier. As of March 8, Jewish organizations at 100 locations have received 134 bomb threats since the beginning of the year, according to the investigative news outlet ProPublica. This week, every member of the U.S. Senate signed a letter calling for "swift action" from the Trump administration to address this spate of hate.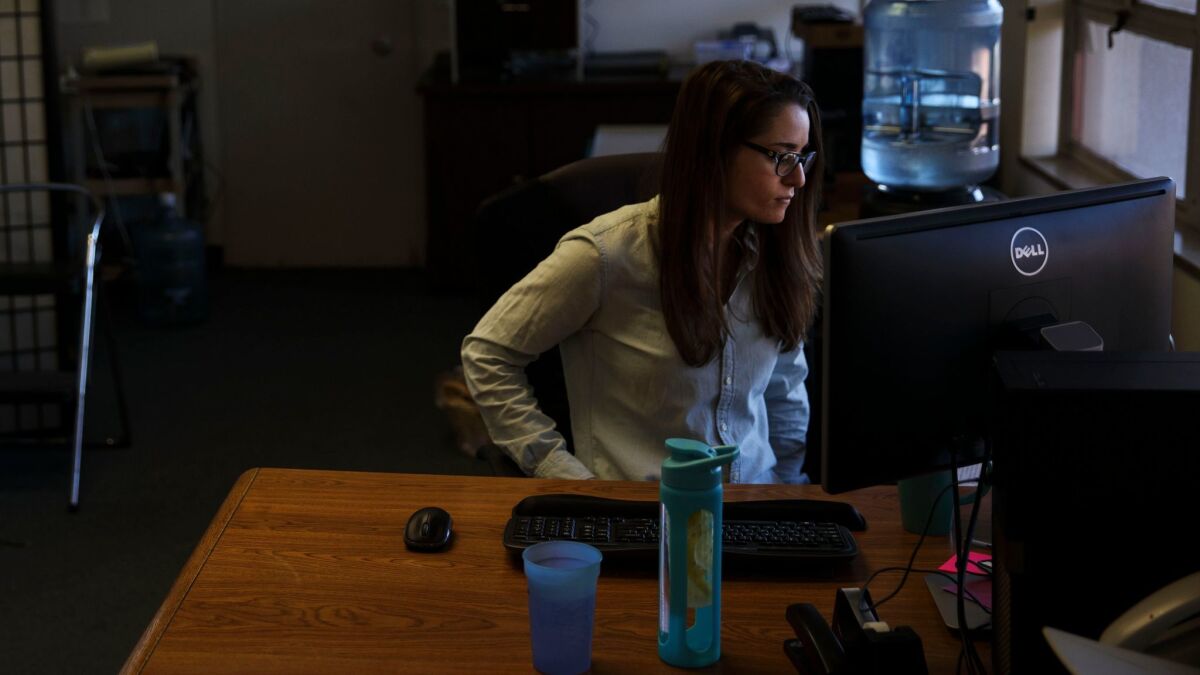 More so than probably most other places, Jewish organizations are girded for looming violence — or the threat of it. The Westside center won't discuss its security procedures, and on Thursday, a week after receiving the first threat, the JCC received another one.
In the first case, Franks immediately referred to the bomb threat protocol. In less than five minutes, 400 people were evacuated. A Los Angeles police watch commander told the Jewish Journal that the evacuation couldn't have gone smoother, and that evening, the center's "night owl" lap swimming program went on as planned.
The bomb threat didn't target a Jewish preschool so much as a preschool, period. An estimated 40% of the school's students represent a grab bag of races and faiths — just like the L.A. neighborhood many of them, like the center itself, call home.
For Franks and her colleagues, the question of whether to return the day after the threat was no question at all. Of course they would.
"This happened and we're not going to let it change how we think or do our job," she said, fingering the silver Jewish star she wears on a chain around her neck.
For parents, though the decision to send their young children back was tough, many were undeterred.
But Ronnie Conn, assistant executive director of the JCC, said he worried that any future threats could chip away at that determination.
"I do feel if there's another one and another one, we will inevitably start losing people," he said. "What I do hear in people's voices is fear. They're really scared."
On a recent morning, "You Make Me Feel So Young" by Frank Sinatra bounced off the auditorium's walls. An instructor wearing tights and a pink, cat-eared "pussy hat" cajoled a group of senior citizens, including Carol Buge, to stretch their arms and move them side-to-side. Buge, who wore all black, stood behind a chair and in front of a woman who struggled with the movements.
"I'm on the younger end of the spectrum," the 70-year-old recently retired UCLA official said, "but I'm so happy to be in this room of older people. We really all have cast vanity aside!"
She felt it was important to come back after the bomb threat hoax — and to keep coming back. The episode was frightening, she said, "But I don't think there was anyone who stayed home the next day."
Every weekday evening, Tony Regenstreif picks up his children — Sophie, Mollie and Joe — and drives home, where they scream for snacks, toys and more snacks, he says. They have a very rushed dinner and everyone get's thrown into the bathtub.
But this Monday was different.
Regenstreif's daughter Sophie, 5, used to go to the JCC's preschool; Mollie, 3, is there now — and next year, Joe, just over a year old, will be dropped off at the school next year.
After bath time, at 7:50 p.m., Regenstreif's phone buzzed with an email from the JCC alerting parents about the threat.
"This place is the rock on which our lives are built," he said. "It's just so upsetting that it could be shook like that."
Regenstreif and his wife, Laura Robbins, talked about whether Mollie should return to school the next day. He said he had spoken with the administration before the hoax. He wanted to hear about their security procedures to get some of peace of mind.
But this is also somewhere his children have felt safe, he said. Sophie met her best friend, Stella, in class. Initially shy and unwilling to their fathers' sides, the girls have become inseparable over the years.
On Friday nights when the family sometimes comes for Shabbat, Regenstreif can barely get his daughter to sit down to eat some dinner.
So the day after the hoax, Mollie went back to school, and the family planned to return to Friday night Shabbat.
Still, Regenstreif said, there will always be a lingering fear.
"You have to worry, and each time it happens you get more worried. And there's no sense that it's going to stop," he said.
"To feel hopeless in the face of that is life-altering."
Conn was at the doctor when his boss, JCC Executive Director Brian Greene, called. Conn, who has worked at the center for eight years, had been expecting the threat.
"People think these things happen in the moment and then it's over," he said. "No, the real work is the next day."
For the next couple of days, Conn took calls from people like Regenstreif. He helped host a get-together over coffee and bagels one morning to bring people in and hear their concerns. It wasn't just families who had children in the building that needed to talk. It was everyone, Conn said.
Conn didn't speak as just an employee. He spoke as a parent. His 2-year-old daughter attends the preschool.
That's why it was so important she came back the next day, Conn reminded other center members of during these conversations.
"I am a parent. I send my kids to preschool here," he said. "They take swim lessons here. They go to camp here. They are JCC kids. My kids are JCC kids. And they're going to continue to do all those things."
ALSO
For Los Angeles Jews, Trump is a rallying cry the community hasn't seen in decades
'Get out of the country': The rhetoric behind shootings targeting Indians in two states
Man arrested in St. Louis in connection with threats against Jewish community centers
---
The stories shaping California
Get up to speed with our Essential California newsletter, sent six days a week.
You may occasionally receive promotional content from the Los Angeles Times.