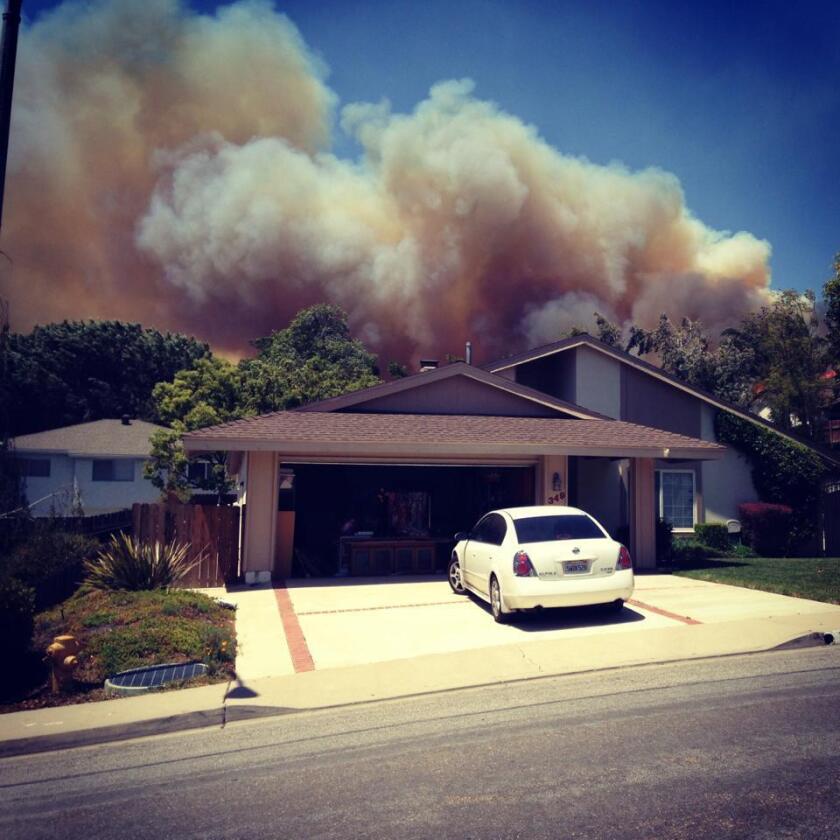 Normally, I'm the one reporting on wildfires, the person who shows up, notebook and pen in hand, to ask nosy questions during a traumatic time of panic and worry.
It felt a lot different when it was my home being threatened by flames.
This morning, as I prepared for work at the downtown Los Angeles apartment where I live during the week, my boyfriend drew my attention to the television news.
There on the screen was footage of flames racing toward the Dos Vientos neighborhood, a subdivision directly north of my home in Newbury Park. Firefighters were saying that southwesterly winds could push the wildfire directly on a path toward my home.
Evacuations were being ordered and I was 60 miles away.
After notifying editors of the situation, I jumped into my car and raced home. My cellphone rang repeatedly as my 20-year-old-daughter, Taylor, who got to our home before me, filled me in on the fire's progress.
She had corraled our three cats and put them in their carriers. But she was very upset and wanted me there NOW. Neighbors called with offers of help. And after what seemed like an eternity, I turned on to Havenside Avenue to see my neighbors in various stages of loading their vehicles.
The fire had turned north a bit and was chewing up a hillside in the Dos Vientos subdivision. Firefighters had done an excellent job of using Borchard Avenue as a firebreak to keep it from moving further west into the tracts of homes.
After giving my daughter a big hug and counting cats, I instructed her to help me load boxes of photographs into our cars. Next we grabbed the important documents from my home office.
Then, after Taylor seemed more calm, I grabbed my notebook, cellphone and pen and raced back out the door. I made my way into the Dos Vientos neighborhood and drove toward the blackened hills.
There, I found Daniel and Leslie Burns, who had made their own mad dash home as flames 30 feet high raged 500 feet away. They had weathered the worst of it, but were looking worried as the winds shifted the flames in the nearby hillsides and started burning back toward the neighborhood.
I asked the usual questions and made notes. I took photos with my cellphone and filed tweets. I dutifully took names, ages, phone numbers and personal stories of their panicky morning.
The whole time my stomach was roiling as I worried about what was happening on my street, less than a half-mile away. The fire started burning down the hills that end at my street.
Taylor called: "Mom, it's getting really bad again. Can you come home?" The reporter in me wanted to stay; the mother in me knew I had to jump back in my car and race home once again.
So far, everything's OK. Winds that were gusting up to 50 mph have subsided. No one in my neighborhood, or in Dos Vientos, has lost their homes or their lives.
But I have a new appreciation for just how terrifying it can be when a wall of fire is coming toward your home.
ALSO:
Authorities search for man who shot at L.A. County deputies
Officers fire at teen armed with Tec-9 assault weapon, LAPD says
DWP union is a big donor in mayor's race, its members get big pay
Twitter: @csaillant2
catherine.saillant@latimes.com
---