Fire siege leaves Yosemite empty of humans, filled with smoke during peak summer season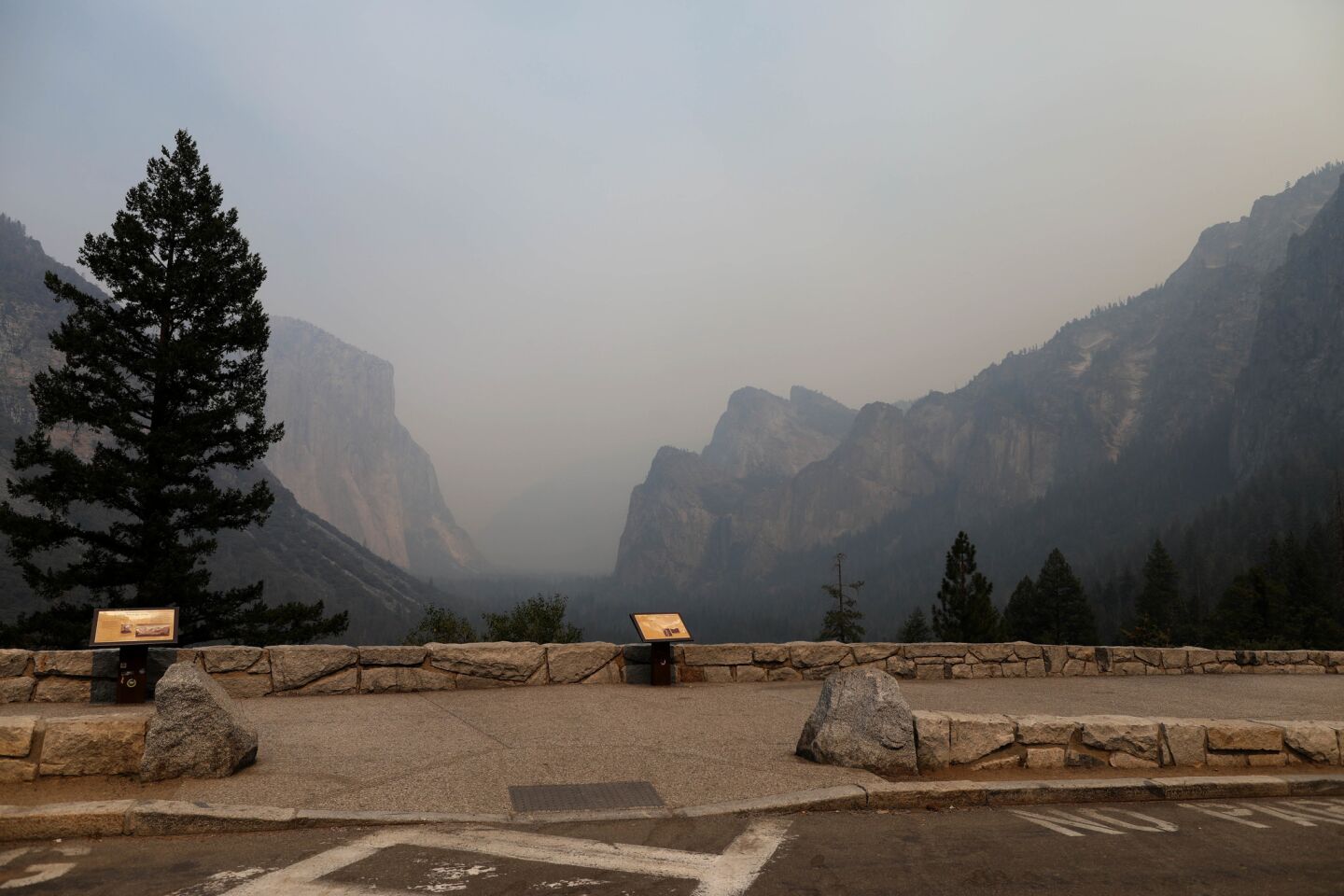 A view of the Yosemite Valley, which remains clouded in smoke from the Ferguson fire.
(Gary Coronado / Los Angeles Times)
Scott Gediman, public affairs officer Yosemite National Park, walks across Stoneman Meadow in the Yosemite Valley, one of the park's most popular places.
(Gary Coronado / Los Angeles Times)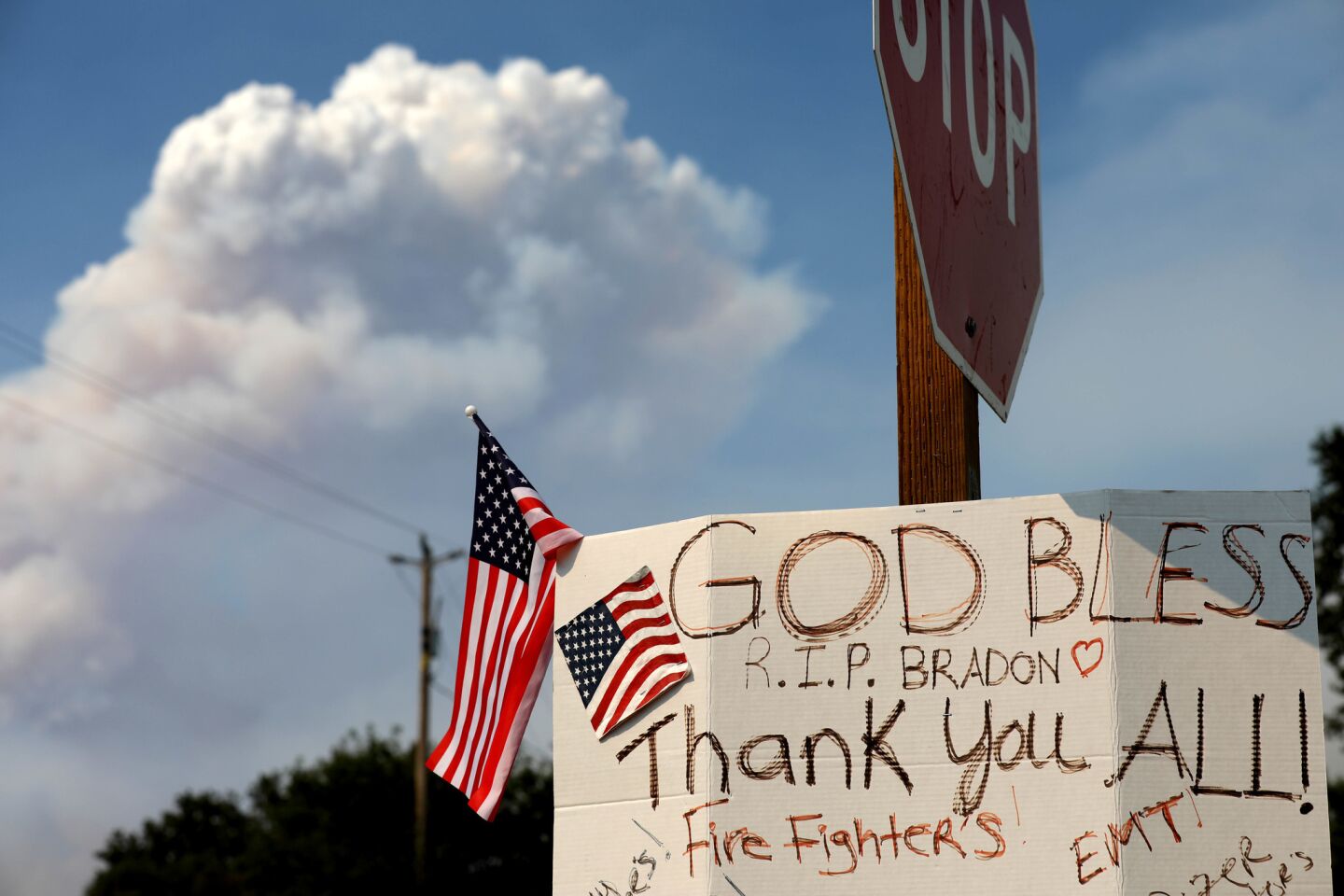 A sign hangs in remembrance of fallen dozer operator Braden Varney of Cal Fire, who died in July and for all firefighters currently protecting the park.
(Gary Coronado / Los Angeles Times)
A deserted Half Dome Village in the Yosemite Valley remains clouded in smoke from the Ferguson fire.
(Gary Coronado / Los Angeles Times)
Benjamin Chevelle, 32, and girlfriend Celia Leonardo, 27, of Paris ride the Yosemite Mountain Sugar Pine Railroad in Fish Camp on Aug. 2. Chevelle and Leonardo planned their trip six months ago to visit Yosemite National Park. "We are a little bit disappointed because Yosemite is very different than other national parks," said Leonardo. There were only 10 guests on the train. Normally in July and August there would be 100-150 riders.
(Gary Coronado / Los Angeles Times)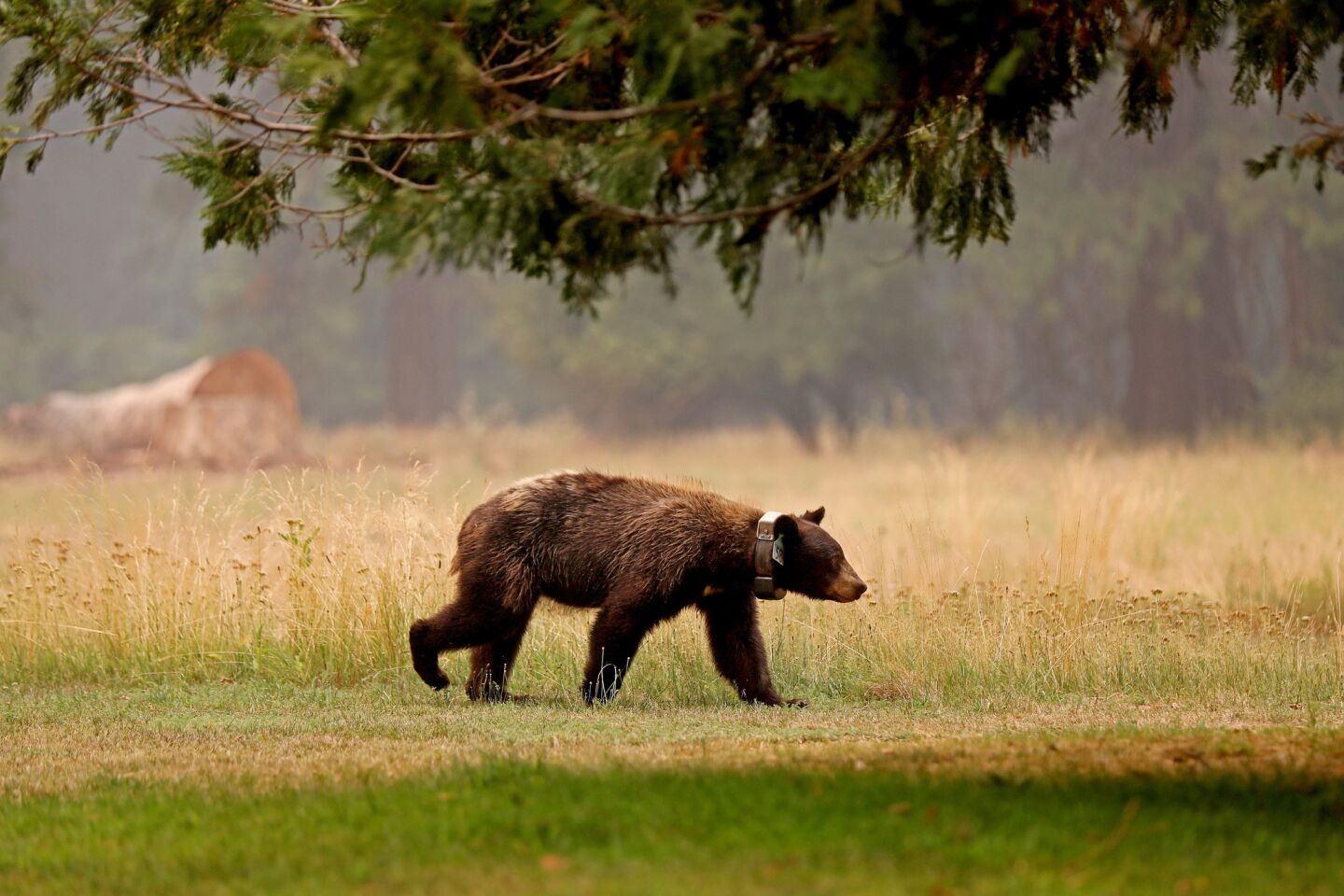 An American black bear strolls in a meadow behind the Majestic Yosemite Hotel in the Yosemite Valley.
(Gary Coronado / Los Angeles Times)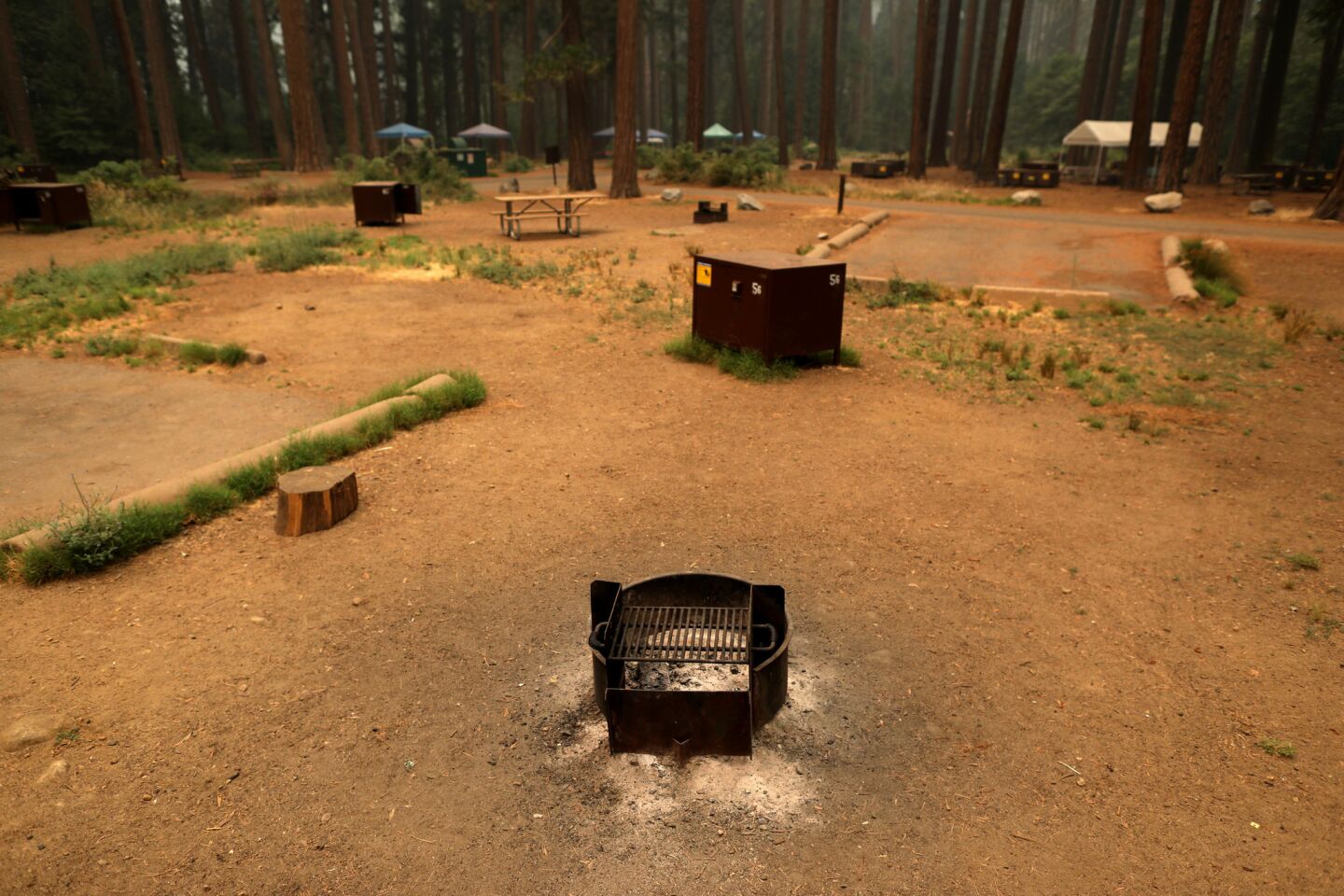 A deserted Lower Pines camp in the Yosemite Valley remains clouded in smoke from the Ferguson fire.
(Gary Coronado / Los Angeles Times)
The Zutelman family of Buenos Aires wades in the Tenaya Lake as Yosemite National Park remains clouded in smoke from the Ferguson fire.
(Gary Coronado / Los Angeles Times)
Mule deer graze in front of the museum in the Yosemite Valley.
(Gary Coronado / Los Angeles Times)
Reporting from YOSEMITE NATIONAL PARK —
Scott Gediman was explaining how the poolside and patio of the Majestic Yosemite Hotel would usually be full of politicians, dignitaries and others lapping in its luxury when his eyes beheld a sight made possible by smoke and fire.
"Big bear — really big bear," Gediman whispered excitedly as he scurried through bushes to get a better view.
Near the hotel's wedding lawn, two male black bears cavorted. A 3-year-old bear climbed into an apple tree and lumbered up a branch for a snack while a 5-year-old bear explored the nearby field for insects and other snacks.
Normally, two male bears wouldn't be spotted playing together, but park biologists said that since Yosemite Valley closed July 25, bears, deer and other wildlife have been more comfortable walking about the park, enjoying the lack of human beings.
After thick smoke from the massive Ferguson fire, which has burned more than 73,560 acres and destroyed 10 structures, made its way into the most iconic region of Yosemite National Park, officials decided it best to close Yosemite Valley — home to granite giants El Capitan and Half Dome, and striking views of Yosemite Falls, the tallest waterfall in North America.
"In talking to people, no one has ever seen the smoke this heavy," said Gediman, a park spokesman.
The desolation of Yosemite Valley, where 90% of visitors go when they come to the park, is both eerie and peaceful. And beautiful.
The only occupants of Cook's Meadow, a lush green area that Gediman describes as the heart of Yosemite Valley, are monarch butterflies and honeybees, enjoying pink California thistle and other wildflowers. The only sounds are the river running and wind blowing as fluffs of dandelions, and ash, float through the air. Cyclists, people fishing in the Merced River and scampering children in school groups are nowhere to be seen.
At sunset, Sentinel Bridge would normally be filled with dozens of photographers trying to capture the orange sun coating Half Dome. Now, the sound of snapping comes not from a camera shutter but from a gray squirrel cracking into a pine cone.
At the Tunnel View overlook — where throngs of tourists snap thousands of photos a year of Yosemite Valley, El Capitan, Bridalveil Falls and Half Dome — only a single person sits in the parking lot.
A wooden chair where a park ranger would usually give presentations at the Half Dome Village amphitheater collects dust on the stage. The green and yellow open-air trams used for Valley floor tours guided by a ranger sit idle.
Campsites booked five months in advance are deserted. The campsite in Lower Pines, where Oprah Winfrey once stayed, is empty. Nearby, a pile of firewood sits abandoned close to a fire ring, the sign of a trip likely ended sooner than desired.
On average, 592,990 people visit Yosemite National Park in July, and an additional 600,349 visit in August.
But in recent days, the only people have been a skeleton crew of park staff and concession workers who live at the park, along with the occasional firefighters working on building fire line nearby.
Without the $35 entry fee collected from visitors in cars and trucks, the park loses thousands of dollars every day.
More than 3 million people have visited Yosemite National Park every year for the last 30 years. Last year, it was the fifth-most visited national park in the country.
Gediman is less worried about the impact to the park, albeit significant, than he is for the small-business owners scattered throughout the region.
"Once the valley opens, people are going to come back," he said. "There's certainly a loss of business and loss of revenue [for the park], but one of our concerns is the gateway communities. You have Oakhurst, Sonora and Mariposa, whose economies are mostly or fully dependent on the park."
For the last three weeks, the cancellations at local inns and tourist attractions have begun to pour in, with some even canceling reservations made for late August.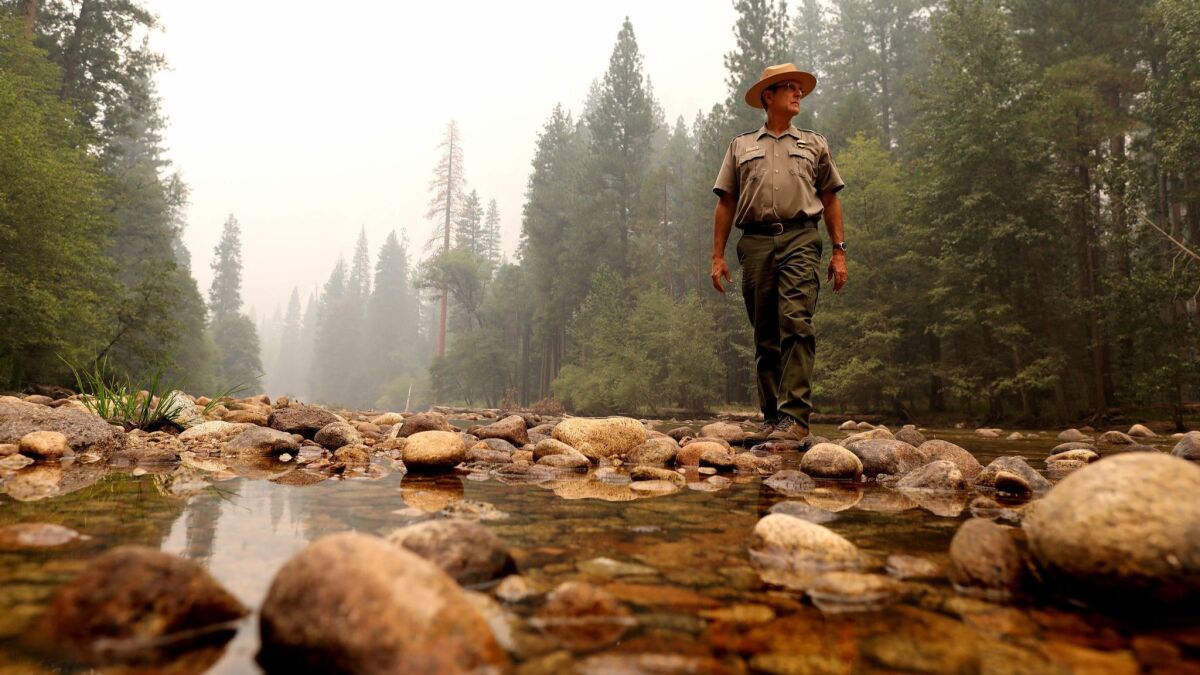 Along local highways, vacancy signs, a rare sight for the summer months, are placed outside inns and hotels. Some of the business has been made up by firefighters and evacuees, but it's not equivalent to the tourists' bookings.
"When it comes to hotels and lodges, July is probably the busiest month," said Mark Choe, whose family owns Pines Resort on Bass Lake.
The ghost town feel is apparent at the Yosemite Mountain Sugar Pine Railroad, only 10 minutes from Yosemite's southern entrance off Highway 41.
On Thursday afternoon, the black Shay locomotive sat ready for the hour round trip it would soon take, pulling three covered red and green cars and two cars made from logs.
Usually in the summer months, up to 150 passengers would be boarding the train. On this day, there were 10 people, more than half of whom are from Europe and booked their trips months in advance.
"We want to feel the American life," said Benno Herzog of Munich, Germany, whose family, unable to see Yosemite Valley, planned to leave the area in their rented RV and head to San Francisco. "We want to experience the American way of life, with the markets and the food and the nature."
As the train got ready to leave, the railroad's general manager Larry Jensen — who started his job two weeks ago — looked at the mostly empty train and joked, "I guess I'll go into my office and cry."
The Ferguson fire isn't the first blaze to threaten the railroad's business.
In late August 2017, the Railroad fire started right next to the tourist attraction at 12:19 p.m. Passengers were evacuated and told to head north to Yosemite.
Train conductor Randy Rank was one of about 10 employees who spread out along the hillside with water hoses and shovels, putting out about eight spot fires until firefighters came down to the railroad. The workers saved the facility, which was founded in 1965.
"The ones of us that stayed here, we're invested," Rank, 57, said. "We love coming to work. We love doing what we do here."
Wildfires are becoming a much more common part of life in the region.
In Mariposa, the Detwiler fire, which burned almost 82,000 acres and destroyed 131 structures, including 63 homes, is fresh on many people's minds, as the town had to evacuate during the fire last July. Like the Ferguson fire, the Detwiler fire was fed, in part, by dead trees killed by drought and bark beetles.
On the road to the Mariposa-Yosemite Airport, the remnants of that fire are part of an all-too-familiar landscape — scorched trees, burned down to their stumps and charred logs scattered along the ground.
In the Skydive Yosemite hangar, owners Julie and Paul Wignall have spent the last few weeks, between jumps, listening to firefighting helicopters leave the airport. When the choppers aren't there, they can hear the cattle mooing as they graze in the airport's pasture.
The Wignalls opened Skydive Yosemite in March. Like many people who move to the area, the Wignalls have a connection with Yosemite. They met there in 1996 when Julia was working as a lifeguard at the Curry Village pool and Paul was working in the high country, setting up and tearing down camps in Tuolumne Meadows.
Business was going great, the couple said, until the fires.
The Wignalls usually fly guests through the Merced River canyon, up toward Tunnel View at Yosemite, but as the river canyon has been on fire, they've rerouted. Although Yosemite is the region's darling, guests have still enjoyed the view they get of the Sierra at 10,000 feet.
"It's nerve-wracking for other small businesses, but luckily, we're able to stay open year round," Julie Wignall said. "So I'm thinking, with the new fire season being the norm, maybe our busy seasons are going to be more in fall and spring."
In downtown Mariposa, Kara Inman has placed a sign outside her store, Brick Wall Boutique, reading: "Welcome, we are open."
It's a message Inman wishes the entire town could shout to the rest of California.
The last three weeks have been slow, but the town of about 2,200 and the thousands of people who live in the surrounding communities of Bootjack, Midpines and Lush Meadows have remained strong, she said.
"We had the big fire last year that took out a lot of homes, so when this fire started, a lot of people started evacuating," Inman said. "It was hard for people not to have a little bit of PTSD, but I think the one thing that really keeps our community going is we are a community that really sticks together."
Twitter: @jaclyncosgrove
---
Life is stressful. Our weekly mental wellness newsletter can help.
You may occasionally receive promotional content from the Los Angeles Times.