California wildfires scorch parched hillsides and destroy one home in sweltering heat
A fast-moving wildfire burning in the Santa Cruz Mountains has scorched more than 2,250 acres, destroyed a home and triggered evacuations, as firefighters continued to battle multiple blazes across the state Tuesday.
Flames from the Loma fire are threatening at least 300 structures near Loma Prieta and Loma Chiquita roads, leading to hundreds of people being evacuated in the area. The blaze 10 miles northwest of Morgan Hill, in the mountains north of Santa Cruz, is 10% contained, according to the California Department of Forestry and Fire Protection.
Triple-digit temperatures and dry conditions are driving the explosive blaze, which ignited about 3 p.m. Monday, according to Cal Fire Capt. Brian Oliver.
"The biggest challenge with these types of fires is the geography," he said.
Firefighters douse flames as they approach the Casa Loma fire station in the Santa Cruz Mountains near Loma Prieta. The Loma Prieta Fire has charred more than 1,000 acres and burned multiple structures.
(Josh Edelson / AFP/Getty Images)
A firefighter watches as flames approach Loma Prieta peak in the Santa Cruz Mountains.
(Josh Edelson / AFP/Getty Images)
Firefighters attempt to control flames as they approach a vineyard in the Santa Cruz Mountains.
(Josh Edelson / AFP/Getty Images)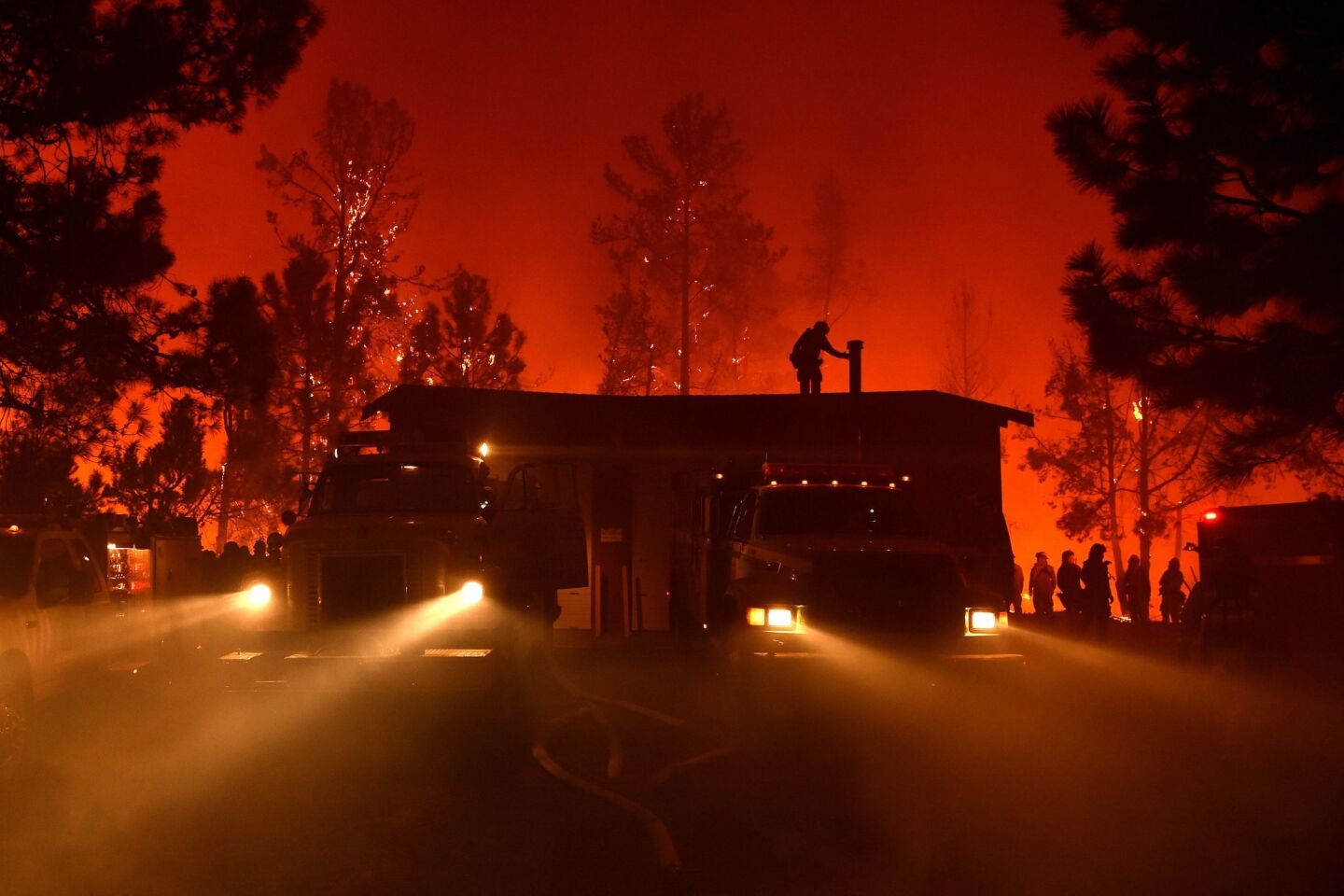 Firefighters attempt to save the Casa Loma fire station in the Santa Cruz Mountains near Loma Prieta on Tuesday.
(Josh Edelson / AFP/Getty Images)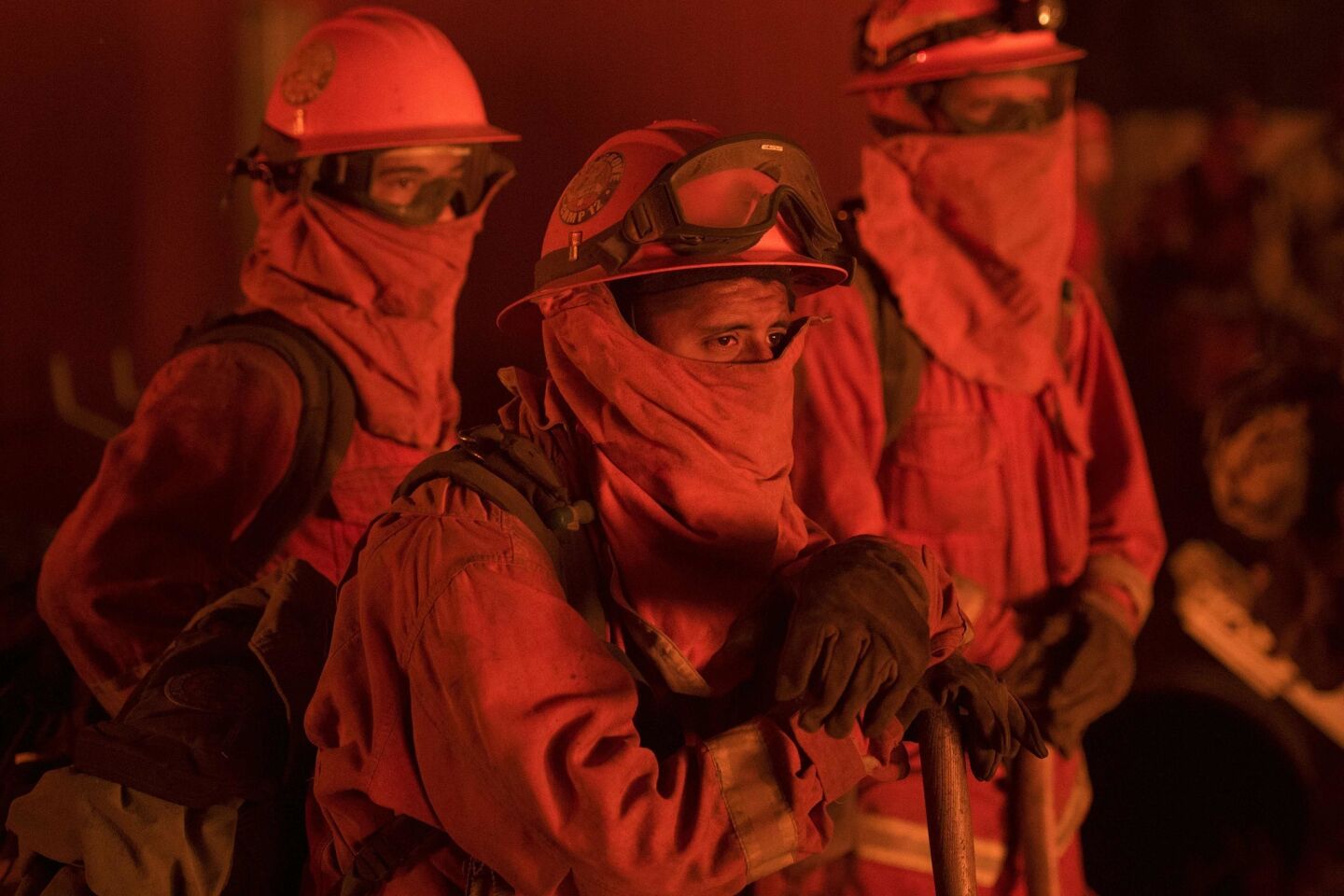 Firefighters look on as flames approach the Casa Loma fire station near Loma Prieta.
(Josh Edelson / AFP/Getty Images)
Flames are burning in canyons and hillsides where hundreds of people live – some with large animals on rural properties, Oliver said.
More than 400 firefighters worked overnight to tackle the flames, but Oliver said he expected that number to increase over the next 24 hours.
The area hasn't seen a major blaze in about 15 years, he said. Most recent fires have been confined to a few hundred acres. With a growing number of people fleeing the flames, the Santa Cruz County fairgrounds is being used as an evacuation center. Reverse 911 calls have been sent to homes in the Loma Prieta ridgeline area.
As flames and smoke inched closer to homes, the National Weather Service in San Francisco announced Monday that the fire forced them to power down a radar station and radio transmitters at Mt. Umunhum.
The Loma fire is one of several wildfires in Northern and Southern California that have threatened homes and triggered evacuations amid record-breaking heat. The volatile fire conditions are due largely to years of drought and the presence of extremely dry vegetation, according to fire authorities.
In the Bay Area, eight record temperature highs were set Monday: Salinas reached 104, making it the second-warmest September high since 1958, the weather service said.
"At this elevation, the [Loma] fire will see little or no relief from any marine air today, especially with it all burning on the Santa Clara County side of the Santa Cruz" mountains, the weather service said.
In Sonoma County, more than a 1,000 firefighters have gained the upper hand on the Sawmill fire, which started Sunday off Big Geysers and Geysers Resort roads.
Burning 10 miles east of Cloverdale, the blaze is 1,500 acres and 55% contained.
"Firefighters made good progress overnight increasing the containment line and are working on pockets of unburned fuel within the fire perimeter," a Cal Fire news release said. "Firefighters will continue to work on constructing and improving the fire line."
In the Los Padres National Forest, the Soberanes fire continues to burn.
The blaze began July 22 by an illegal, unattended campfire and quickly spread into the Garrapata State Park, areas near Big Sur and communities south of Carmel Valley.
At least 2,048 firefighters are tackling the 128,380 acre fire. The fire is 81% contained.
In Los Angeles County, two brush fires broke out Monday night as gusty Santa Ana winds blew through the mountains and valleys and temperatures soared past 100 degrees.
In La Cañada Flintridge, about 5 acres of brush behind a YMCA were reported burning around 9 p.m. The blaze was quickly extinguished, officials said.
A second, 21-acre blaze erupted at 11:24 p.m. in Lake View Terrace near the 210 Freeway. More than 100 firefighters doused flames burning close to structures 10500 block of Woldrich Street. No homes were destroyed, but fire crews remained in the area Tuesday to ensure the blaze was contained.
For breaking news in California, follow VeronicaRochaLA on Twitter.
ALSO
Nearly 200 earthquakes hit Salton Sea amid quake swarm
California is cracking down to prevent illegal fishing off the coast
Summer in the fall: Triple-digit temperatures, Santa Ana winds keep Southern California hot
---
UPDATES:
8:15 p.m.: Updated throughout.
This article was first published at 9:10 a.m.
The stories shaping California
Get up to speed with our Essential California newsletter, sent six days a week.
You may occasionally receive promotional content from the Los Angeles Times.