Chuck Williams, Williams-Sonoma founder and California foodie pioneer, is dead at 100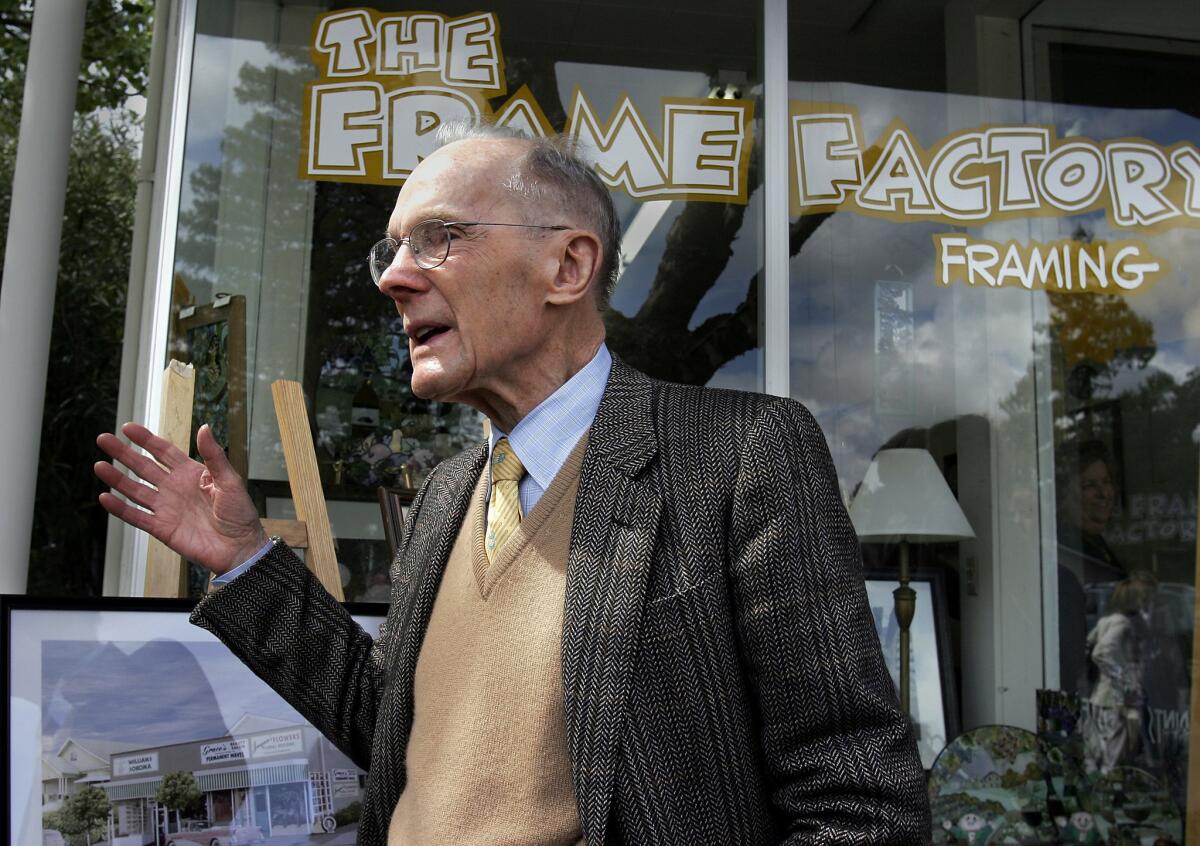 Chuck Williams, who helped launch a boom in sophisticated home cooking in the 1960s when he turned a hardware store in the Northern California community of Sonoma into the upscale kitchen shop Williams-Sonoma, has died. He was 100.
The company he founded said Williams died Saturday of natural causes.
His innovative approach led him to create a catalog business for home cooks in the early 1970s that was among the first of its kind and grew into a major branch of his company. In recent years the cooks store he founded had grown into a $3-billion corporation with more than 250 Williams-Sonoma stores in the U.S. and Canada, along with a chain of other stores that includes Pottery Barn and West Elm. He remained the "emeritus director."
A former carpenter and building contractor with a passion for French food, Williams got the idea for Williams-Sonoma during a trip to Europe with friends in early 1950s. Shopping in France he discovered a surprising range of kitchen equipment available to home cooks. Huge stockpots, saute pans, fish poachers -- things you couldn't find in America.
In 1956, Williams bought a hardware store in the center of Sonoma, painted the walls bright yellow and covered the floor with black-and-white checkerboard tiles. Cooking tools soon crowded out hardware supplies -- the beginning of what would become an international chain.
He created a name for the store by combining his last name and the name of his town. Two years after he opened in Sonoma, Williams relocated to San Francisco. Most of his customers lived in the city and shopped in the upscale neighborhood around his new Union Square address.
He continued to shop in Europe, finding tart pans, terrines and other basics of French cooking. He stocked items he wanted for himself -- juicers, garlic presses, pepper mills, state-of-the-art pots and pans became standard equipment in home cook's kitchens.
When he couldn't find an item that met his standards, he designed one and had it made. He created a wire basket to hold eggs while they boil and had a cow-shaped porcelain pitcher mass-produced exclusively for him in France, after he discovered the original in a French souvenir shop. That item became a staple in the store.
He began to approach American kitchen equipment manufacturers and persuade them to scale down their commercial kitchen products for home use. One of the first to agree was Hobart, a company whose electric mixer Williams admired. He added other items — food processors and blenders — that were still rarities in home kitchens in the early 1960s.
Williams had expensive taste and stocked the store as if price was not a worry. When a standard toaster sold for under $50, he carried one for $379. It was hand-assembled in England, held thick-sliced bread and contained a removable basket for sandwiches. But he never overlooked beginning cooks. He carried madeleine molds, but also plain cookie sheets and muffin tins.
Taking tips from upscale clothing stores including I. Magnin, where he worked when he lived in Los Angeles, Williams displayed stock pots and saute pans in his shop as if they were intriguing fashion accessories.
The atmosphere of the San Francisco store and the range of kitchen tools soon caught the attention of food writers and design editors.
Alice Waters, founder of Berkeley's Chez Panisse restaurant, was an early customer.
"He had such great sense of taste," she said in a 2005 interview with the San Jose Mercury News. "He lured people in through the beauty and the art of cooking."
Design editors began making "research trips" to the store to keep up with new merchandise and trends.
"I go into Williams-Sonoma to get a feeling for what is going on in housewares and kitchens," Suzanne Slesin, author of several books on housewares and home interiors, told The Times in 2004. "I actually read the catalog. I always learn new things."
A tall, unassuming man with a soft-spoken manner who wore sweater vests and tweed jackets, Williams began with modest plans for his career. "When I started the store I didn't envision anything but a small shop," he said in an interview with the Washington Post in 1993.
"I just did it because I liked doing it and liked doing things for other people."
Just as he got into the kitchenware business, however, a generation brought up on canned soup and frozen fish sticks decided to learn to cook from scratch. Julia Child, who was Williams' friend, inspired them with her 1960s television program, "The French Chef," where she demonstrated French recipes for home cooks.
"In the early days of my show," Child told Newsweek in 1997, "the home chef couldn't buy any of the items I used for cooking; you had to buy them the next time you went to France. Chuck changed all that."
Store customers were intrigued by the merchandise but confused by the name.
"They'd call the store Sonoma-Williams," he told the Santa Rosa Press Democrat in 1988. "They'd call me Bill Sonoma."
Born Charles E. Williams in Jacksonville, Fla., on Oct. 2, 1915, Williams was the son of a car mechanic. He had one sister, Marie, who died at 19 after a head injury and learned to cook from his grandmother who owned a restaurant in Ohio. Williams' father moved the family to California during the Depression, but he couldn't find a steady job and eventually left his wife and children.
Williams grew up in Palm Springs with his mother and his sister, and worked on a date farm to support himself from an early age.
He tried to enlist in the Army at the start of World War II but a thyroid condition disqualified him. He joined the assembly line at Lockheed Aircraft, became part of a traveling maintenance crew and was stationed in East Africa and India, where he loved sampling the local food.
After the war, he made a living as a carpenter and building contractor. In the early 1950s, he traveled to Northern California for a golf vacation, liked what he saw and moved to Sonoma.
For the first 10 years that he owned his store in San Francisco, Williams was a one-man operation. "Like lots of entrepreneurs I did everything myself, from sweeping the sidewalk to balancing the books," he told Time in 2003.
He often said the store was his life and that he had no regrets. He never married or had children.
Once business was launched, Williams created a small mail order catalog that listed the French cookware he carried, accompanied by freehand drawings. In the early 1970s one of his customers, Edward Marcus of the Neiman Marcus department store, encouraged him to upgrade the mailer as a way of expanding his customer base.
The first glossy "catalog for cooks" went out across the country in 1971, offering free local shipping and an easy merchandise return policy. "That kind of customer service kept people shopping," Williams later said.
Soon after he launched his catalog Williams decided to incorporate and start adding new stores. He sold half the business to investors — including Marcus — and with their help he opened shops in Beverly Hills, Costa Mesa and Palo Alto.
When Marcus died in 1978, Williams lost a trusted business advisor. Soon afterward the company was several hundred thousand dollars in debt. Discouraged and close to retirement age, Williams decided to sell.
Howard Lester, a computer software entrepreneur, and his partner, Jay McMahan, bought the business in 1978 for $100,000.
Williams was often asked what a cook should buy as a first purchase. "There's very little I can't do," he said, "with a paring knife."
Rourke is a former Times staff writer.
Times staff writer Marisa Gerber contributed to this report.
ALSO
At 'kindergarten coffees,' families of Holocaust survivors hold on
Miami Beach may have Art Basel, but L.A. has 'Art Basil' -- and it's the pesto thing ever
Sign up for Essential California for news, features and recommendations from the L.A. Times and beyond in your inbox six days a week.
You may occasionally receive promotional content from the Los Angeles Times.