Strong winds to bring slightly cooler temperatures after a touch of summer-like heat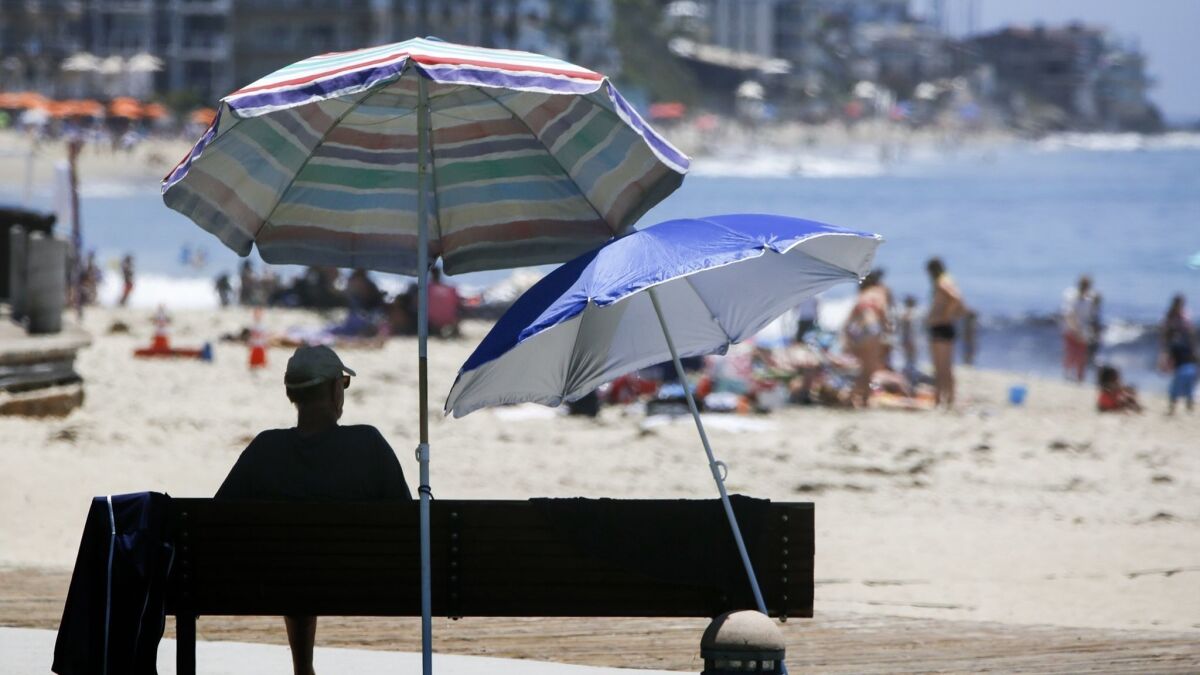 Mother Nature is turning on the fan after a day of record-breaking heat for some parts of Southern California.
Northerly winds began to blow into the Southland on Tuesday morning, with light breezes expected to gain strength through the day. Coastal and valley regions in Los Angeles and Ventura counties are expected to see winds ranging from 20 to 30 mph with gusts up to 45 mph, said Jayme Laber, a hydrologist with the National Weather Service in Oxnard.
Winds could be even stronger in the foothill and mountain areas, with gusts up to 70 mph, Laber said.
The National Weather Service issued a wind advisory for the region that's expected to last until early Wednesday, warning that gusty winds could topple power lines, uproot trees and make driving difficult, especially with large vehicles.
However, forecasters aren't particularly concerned about the wind's potential to spark wildfires, given the large amount of rain the region received over the chilly winter months.
"At this point in time, the fire weather potential isn't as high as it will be later in the year," Laber said. "As we get into late summer and fall when the true Santa Ana winds kick up, things will change, but right now we're looking good."
The wind is the result of a low-pressure system known as an inside slider that's moving over the inland portion of the state. That system is expected to bring some moisture to Southern California, but most of the region is not expected to get much — if any — precipitation, forecasters said.
However, the system will drop temperatures by a few degrees — into the low to mid-70s — through the weekend. The drop in the mercury marks a big swing for the region, which has experienced above-average temperatures over the last two days.
Sunday had its share of warm weather, and on Monday the temperatures soared. Santa Barbara set a new high temperature of 87 degrees for the day, breaking the record of 83 degrees set last year.
In Los Angeles County, Long Beach reached 86 degrees, downtown Los Angeles clocked in at 85 degrees during the warmest part of the day and Santa Clarita hit 90 degrees, according to the National Weather Service.
"After a colder-than-normal winter, this is really the first time we've had any warm-up," Laber said.
Twitter: @Hannahnfry
---
The stories shaping California
Get up to speed with our Essential California newsletter, sent six days a week.
You may occasionally receive promotional content from the Los Angeles Times.