Death toll climbs to at least 5 from California's stormiest winter in years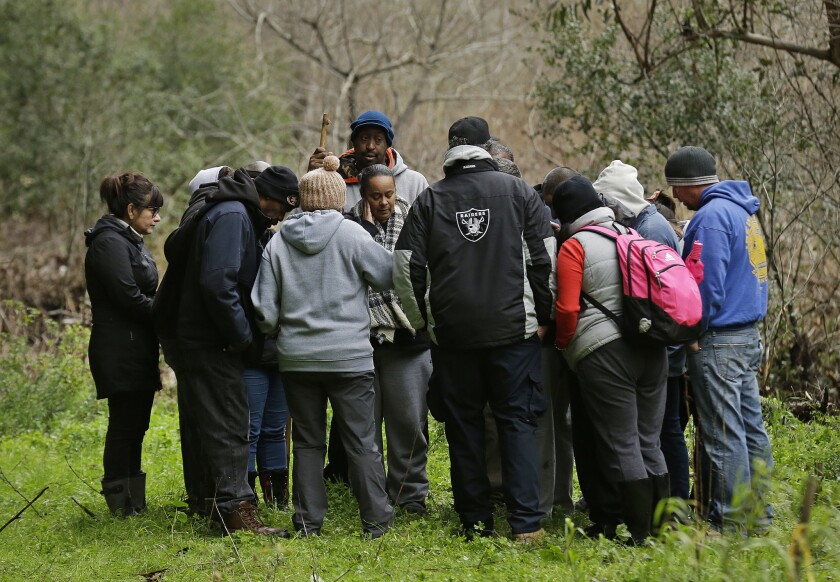 Heavy storms that hammered California over the weekend have been linked to at least five deaths, including that of a couple who vanished in turbulent waters off the Central Coast and a motorist who plunged into a creek in Northern California.
On Saturday, the U.S. Coast Guard in San Francisco was dispatched to Pebble Beach, where a frantic search was underway for a man and woman who vanished about 75 feet from the coastline about 10 a.m., authorities said.
Crews were able to rescue a third person — a 26-year-old man — whom they found on some rocks nearby. But they were unable to locate the missing pair amid steadily worsening weather conditions, the Coast Guard said.
Rough seas battered much of the California coast throughout the weekend with waves as high as 30 feet in some areas. At the same time, a fierce Pacific storm dumped snow and rain across the state.
The search was called off Saturday night. The missing people were described only as Chinese nationals who were in their 50s.
As Coast Guard crews were searching for the missing couple, authorities in Alameda County began searching for the driver of a car that reportedly plunged into Alameda Creek.
According to the California Highway Patrol, a driver crashed into another vehicle about 10:45 a.m. while driving on California 84 near Niles Canyon Road. After crashing, the woman's vehicle became submerged in the raging and "abnormally high" creek.
The CHP did not publicly identify the woman, but said she was an 18-year-old from Tracy.
First responders located a vehicle in the creek 100 to 200 feet from the crash site. By late afternoon Tuesday, they were still struggling to remove the vehicle but determined that the driver was no longer inside. They found an unfastened driver's side seat belt and smashed windows.
State water officials plan to slow the creek's flow for the afternoon in hopes of helping the operation, Alameda County sheriff's officials said, but the water will be released by nightfall.
In Bakersfield, authorities Tuesday found a body inside a white SUV submerged in the Arvin-Edison Canal. Police and fire officials are working to determine if the remains are those of a woman who went missing Monday morning after her car was seen going into the canal during heavy rain.
In a fifth death, possibly related to the storm, a submerged body was pulled from heavy vegetation Monday at Machado Lake at Ken Malloy Harbor Regional Park in Los Angeles.
A family at the lake told officers that a man who was with them was swept away by powerful currents and didn't make it out Sunday, said Officer Mike Lopez, a spokesman for the Los Angeles Police Department. The family identified him as Luis Jose Garcia, 51, of Los Angeles, he said.
A helicopter search Sunday failed to locate the missing man. But as lake waters receded Monday, the remains of a person were spotted submerged in heavy vegetation.
The body has since been recovered, but authorities have not said whether it is the missing man.
The fatalities are just the latest in what has become a very stormy and deadly winter in the Golden State. At least three motorists died after losing control of their cars amid stormy conditions in previous storms, and one woman was killed by a tree that fell on her amid high winds.
Additional storms are forecast next month and a frost advisory was issued for Los Angeles from Tuesday night to Wednesday morning.
For breaking California news, follow @JosephSerna on Twitter.
The Associated Press contributed to this report.
ALSO
No charges against LAPD officers who shot and killed Ezell Ford, D.A. says
Missing teen who triggered school district lockdown found at Arcadia mall with a gun
Ex-L.A. County deputy sentenced to jail and probation for sexually abusing 12-year-old girl
---
UPDATES:
6:30 p.m.: This article has been updated with information about a fifth storm-related death.
This article was originally published at 3:35 p.m.
---
The perils of parenting through a pandemic
What's going on with school? What do kids need? Get 8 to 3, a newsletter dedicated to the questions that keep California families up at night.
You may occasionally receive promotional content from the Los Angeles Times.