Winter storm brings snow and rain to Southern California, with more on the way later this week
Clouds roll through Southland in timelapse following storm that dropped snow in the local mountains. (Jay L. Clendenin / Los Angeles Times)
A cold winter storm that brought overnight rain and snow to Southern California had mostly cleared out by Tuesday morning but still presented a chance of brief showers and thunderstorms throughout the day, forecasters said.
Parts of Los Angeles County received more than half an inch of rain late Monday, including the Puddingstone Reservoir in San Dimas, which received 0.57 inch, and the San Gabriel Dam in Azusa, which received 0.51 inch.
There were brief, heavy downpours. Between 9:30 and 9:45 p.m. Monday, Compton reported 0.22 inch of rain.
Downtown Los Angeles, meanwhile, received a measly 0.02 inch.
Although most of the rain for the Southland was over by Tuesday morning as the cold front moved east, a moist, unstable air mass was expected to drift over the region, making the weather a bit unpredictable, said David Bruno, a meteorologist with the National Weather Service in Oxnard.
"Don't be surprised if you don't see a raindrop today," Bruno said. "Some areas will be completely dry for the rest of today, but there's a chance of these pop-up showers and maybe even thunderstorms. Don't put away the umbrella, but don't expect a rainy day."
Bruno said Montecito — which is still recovering from devastating mudslides last month that ripped away homes and killed 21 people — received almost no rain.
"They were lucky," he said. "That's good news."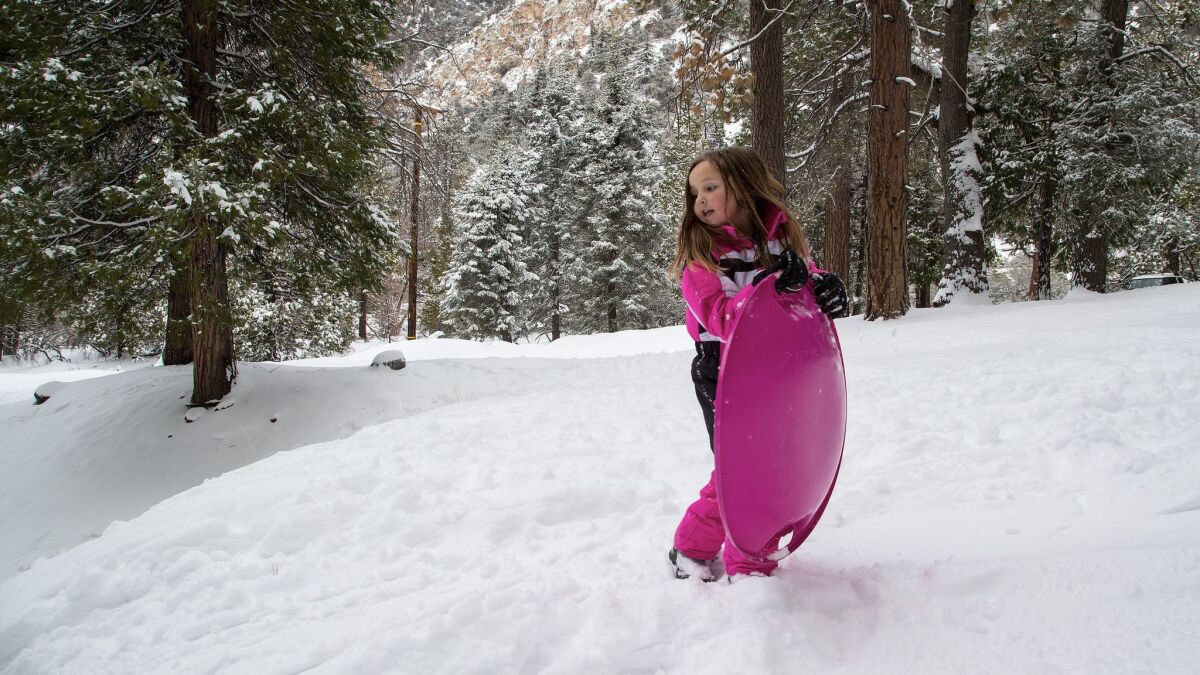 The system, he said, was a "nice, well-behaved storm," and there were no reports of major flooding, despite the fact that some of the heaviest rain was reported near the burn scar from the 2016 Fish fire in the San Gabriel Mountains.
About 3 p.m. Tuesday, graupel, or soft hail, fell for about 15 minutes in Thousand Oaks, said Kathy Hoxsie, a meteorologist with the weather service. That means the air was cold enough to freeze the rain as it came down, turning it into ice pellets.
"It can be mushy enough that it looks like snow," Hoxsie said.
Snow fell at low elevations, as expected, Bruno said. Llano, an unincorporated community at about 3,500 feet in the Antelope Valley, got about an inch of snow, and there were reports of 3 inches of snow along the Angeles Forest Highway.
California Department of Transportation crews worked 12-hour shifts overnight Monday to keep Interstate 5 through the Grapevine open amid the snowy conditions, said Michael Comeaux, a Caltrans spokesman. The roadway did not close, he said Tuesday morning.
"The thing we emphasize to drivers is to exercise good driving practices in this kind of wintry weather," Comeaux said. Motorists should "pack your patience," slow down and turn off cruise control to maintain better control of their vehicles, he said.
On Tuesday morning, snowfall forced the closure of the Cajon Pass near Highway 138 and the 15 Freeway, according to Caltrans.
And Highway 138 was closed near Highway 2 after a big rig jackknifed on the icy roadway, setting off a chain of collisions involving eight to 10 vehicles, said Terri Kasinga, a Caltrans spokeswoman. Drivers were required to use tire chains in mountain areas throughout the region.
As of 6:30 a.m., Wrightwood had received about 2 inches of snow, according to the San Bernardino County Department of Public Works. The Big Bear area got between 4 and 6, and Running Springs got 8 inches.
Another, wetter storm is expected to move into the region Thursday afternoon, with the heaviest rainfall overnight, Bruno said. It will not be as cold, so snow levels won't be as low; but the storm could bring half an inch to an inch of rain to many areas.
Times staff writer Alene Tchekmedyian contributed to this report.
Twitter: @haileybranson
---
UPDATES:
5:30 p.m.: This article was updated with a report of graupel in Thousand Oaks.
9:15 a.m. This article was updated with additional details about road conditions.
This article was originally published at 7:30 a.m.
---
The stories shaping California
Get up to speed with our Essential California newsletter, sent six days a week.
You may occasionally receive promotional content from the Los Angeles Times.