Poor medical care led to deaths at immigration detention facilities, advocates' report alleges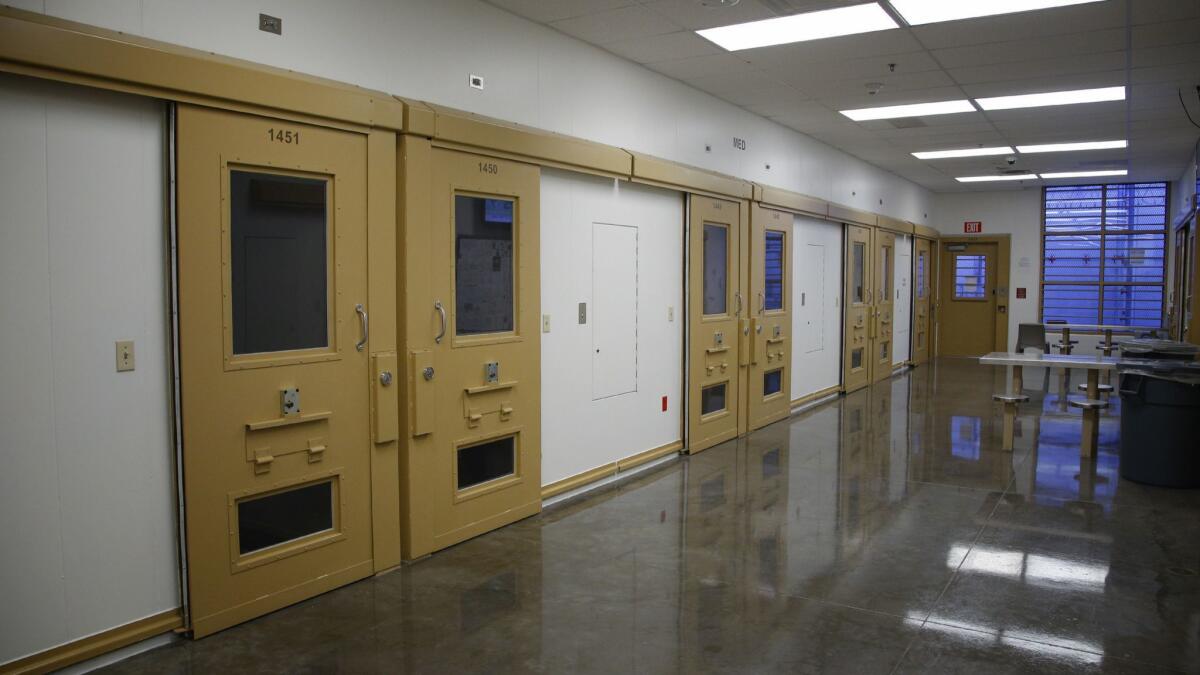 Inadequate medical care probably contributed to the majority of deaths of detainees at U.S. immigration facilities between December 2015 and April 2017, according to a new report issued by a coalition of advocacy organizations.
Substandard medical care contributed or led to eight of the 15 deaths reviewed, according to doctors asked to analyze each case for the report released Wednesday as a collaboration between Human Rights Watch, the National Immigrant Justice Center, the Detention Watch Network and the American Civil Liberties Union.
"The picture that it paints is one of a system that fails to ensure the safety of the people it detains," said Clara Long of Human Rights Watch and lead author of the report.
That's significant, she said, because the Trump administration wants to expand its capacity to hold immigrants — both adults and children — in detention facilities. Under Trump, immigration officials have also started holding pregnant women for longer periods of time and denying release to people who have complex medical needs, she said.
The report is the third in a series by these organizations that have monitored deaths of individuals in immigration custody by reviewing Detainee Death Reports, which the government compiles after investigations into the deaths of people in custody. Even though time has passed, the human rights researchers keep reaching the same conclusions, Long said: that medical care was insufficient and oversight didn't fix the problem.
What has shocked her the most, she said, are cases that illustrate "extreme indifference" on the part of facility staff or Immigration and Customs Enforcement, the agency responsible for immigrants in custody.
When asked about the report, Lauren Mack, a spokeswoman for ICE, said, "ICE takes very seriously the health, safety and welfare of those in our care, including those who come into ICE custody with prior medical conditions or who have never before received appropriate medical care. Any death that happens in ICE custody is a cause for concern."
The agency has an oversight mechanism to review all deaths in custody to make sure detention standards were followed, Mack said.
"ICE is committed to ensuring that everyone in our custody receives timely access to medical services and treatment," Mack added. "Comprehensive medical care is provided from the moment detainees arrive and throughout the entirety of their stay. All ICE detainees receive medical, dental and mental health intake screening within 12 hours of arriving at each detention facility, a full health assessment within 14 days of entering ICE custody or arrival at a facility, and access to daily sick call and 24-hour emergency care."
For researcher Long, the example from the report that stuck out to her was that of Jose Manuel Azurdia Hernandez, a 54-year-old Guatemalan man who died after six months at the Adelanto Detention Facility, run by GEO Group in San Bernardino.
On Dec. 19, 2015, when a nurse came into Azurdia's unit to distribute medication, an officer monitoring the unit told her that Azurdia was sick and vomiting, according to a Detainee Death Report released by ICE. The officer recalled the nurse saying to him that she did not want to see Azurdia because she did not want to get sick.
Surveillance footage reviewed by the government investigators showed that about 45 minutes later, another detainee helped Azurdia over to the guard desk, where he spoke with an officer and pointed to his chest. Officers told investigators that Azurdia said his left arm was numb and he was having trouble breathing in addition to the vomiting and chest pain.
It turned out Azurdia was having a heart attack. It would be almost 15 minutes before he was wheeled to the medical unit and another nine minutes before he saw a doctor. About five minutes later, a nurse called 911.
He died at the hospital four days later.
"While we cannot comment on specific individual cases due to certain privacy protections, we disagree with the conclusions contained in this report," said Pablo Paez of the GEO Group. "In partnership with ICE's Health [Service] Corps, GEO delivers high-quality around-the-clock medical care, that complies with performance-based standards set by the federal government and adheres to guidelines set by leading third-party accreditation agencies."
The three physicians who reviewed Azurdia's case said that his death was probably preventable, based on how much time passed between the onset of his symptoms and when he got help.
"During a heart attack, every minute counts," Dr. Marc Stern said. "A common phrase amongst cardiologists during medical emergencies involving heart complications is 'Time is muscle.' Every minute is vital to preventing the loss of life, and thus delays by medical and detention staff likely turned a survivable event into a fatal one."
Between 2010 and 2017, seven detainees died at Adelanto, more than any other facility in the U.S. Twelve detainees died nationwide in fiscal 2017, the most since 2009, when 14 died.
The report's physicians also found preventable issues with the care of Igor Zyazin, 46-year-old Russian man who died at Otay Mesa Detention Center on May 1, 2016, after being transferred from San Luis Regional Detention Center, a short-term detention facility in Arizona.
Four days after he arrived at San Luis, he told a nurse practitioner that he had a heart condition and was on medication for it, according to an ICE Detainee Death Report. He only knew the Russian names of the medications.
The next morning, Zyazin told an officer monitoring his unit that he was dizzy and his chest hurt.
A nurse gave him two doses of nitroglycerin, and later that day, a deportation officer recommended that he be transferred to the Otay Mesa center, up to a four-hour drive away, for medical care. He arrived in San Diego later that day.
He died in his unit at Otay Mesa the day after he arrived.
Doctors reviewing Zyazin's case for the advocates' report found that the nurse's care of Zyazin at San Luis was "severely deficient and dangerous." They said she should have called 911 or at least alerted a physician.
"By filling out the transfer note, the nurse was stating that the patient was stable for transfer to another ICE facility, which he was not," Stern said. Assuming that the Detainee Death Report was complete, "[Mr. Zyazin] was having a serious acute event at this point — very likely a heart attack — and sending him to the hospital for appropriate care likely would have saved his life."
The Otay Mesa Detention Center also houses people, including material witnesses in smuggling cases, for the U.S. Marshals Service. One of those inmates, Gerardo Cruz-Sanchez, died at age 32 in February 2016, shortly before Zyazin's death.
Because he was not an ICE detainee, his death was not included in the new report, but details from a wrongful death lawsuit filed by his family may shed light onto medical care at the facility.
David McGinnis, who was in charge of training at the facility until he recently left the company, testified in a deposition in April that since the detention center moved to its new facility a few years ago, it has been purposefully understaffed by CoreCivic to save money. That understaffing, he said, would make it difficult for officers monitoring units to just take bathroom breaks, much less escort someone to the medical unit.
Amanda Sluss Gilchrist, a spokeswoman for CoreCivic, noted that the allegations in Cruz-Sanchez's lawsuit "are a matter of active litigation and as such have not been established as fact by the court."
In response to the Human Rights Watch report, she said, "CoreCivic does not provide medical or mental healthcare services or staffing at Otay Mesa. The federal government's ICE Health Service Corps is solely responsible for contracting, staffing and oversight of any medical and mental health services provided at Otay Mesa."
Morrissey writes for the San Diego Union-Tribune.
Sign up for Essential California for news, features and recommendations from the L.A. Times and beyond in your inbox six days a week.
You may occasionally receive promotional content from the Los Angeles Times.