Multimillion-dollar homes in the Montecito area are reduced to ashes by the Thomas fire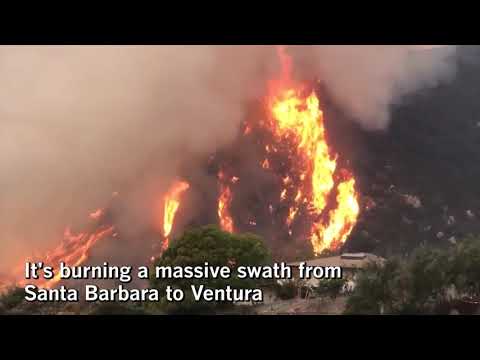 Firefighters took advantage of light winds in Santa Barbara County late Sunday, mounting an aggressive attack directly on the massive Thomas fire's western face a day after powerful gusts pushed flames toward homes along the coast.
Reporting from Montecito, Calif. —
By Sunday morning, a multimillion-dollar house on the top of Park Hill Lane in Montecito was still smoldering and on fire.
All that stood were cement blocks that outlined the frame of the house — once yellow, it had been turned black by the fire.
Chunks of glass and brick from the house came tumbling down as firefighters made their way up the street.
Although an epic firefight Saturday was largely a success, preventing the mammoth Thomas fire from sweeping into whole neighborhoods in Montecito and Santa Barbara, some expensive homes were lost in this affluent coastal community known for its celebrity residents.
"Let's get up there and as soon as we can bang it out," said one firefighter, turning to another firefighter on his team.
More firefighters were tending to another large, upscale house below that had been badly damaged, if not destroyed.
From the outside, the white Spanish-style house looked intact. But inside, smoldering ash and pieces of charred wood were all that was left.
Still, firefighters said that despite the damage to property on homes along the Montecito Hills it could have been a lot worse if firefighters hadn't been so well prepared days in advance of the erratic winds that swept through Saturday morning.
"This is the worst fire condition I've seen in the last 32 years. But it could have been worse," said Dave Zaniboni, a Santa Barbara County Fire Department captain. "We could have easily lost firefighters or had more homes destroyed. It was a great effort by firefighters."
Capt. Steve Concialdi of the Orange County Fire Authority estimated that firefighters won't have full containment of the blaze until Jan 7. For firefighter Jake Illiam, the timing of the fire is bittersweet.
He is proud to be able to protect the community and homes, but misses his daughter, who turns 1 in a couple of days.
"Today was her birthday party. I FaceTimed her earlier," Illiam said as fire crews sprayed a house that was badly damaged and still burning.
Sign up for Essential California for news, features and recommendations from the L.A. Times and beyond in your inbox six days a week.
You may occasionally receive promotional content from the Los Angeles Times.