Man who was shot in Nipsey Hussle's killing is jailed on parole violation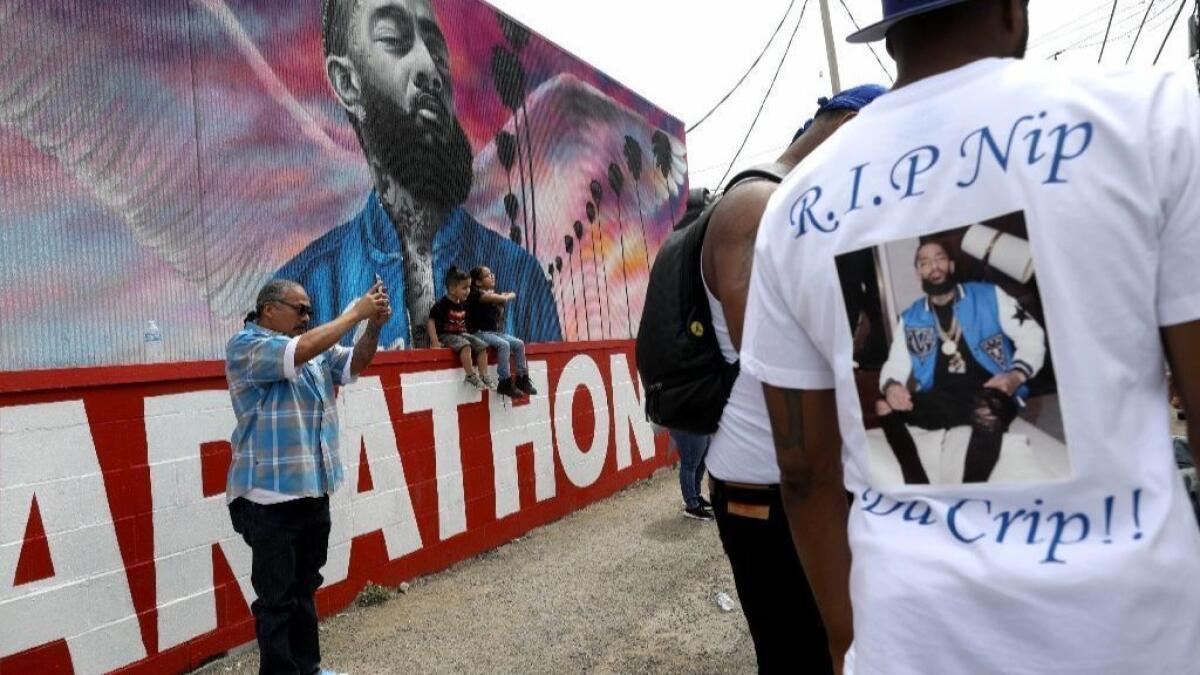 One of the men who was wounded in the shooting that killed beloved South L.A. rapper and community activist Nipsey Hussle has been arrested on a parole violation, according to officials and court records.
Kerry Lathan, 56, has been held in Men's Central Jail since Monday on a parole violation, a spokesman for the Los Angeles County Sheriff's Department said. The arresting agency is listed as the California Department of Corrections, according to online jail records.
Lathan was one of two men shot alongside Hussle outside the rapper's Marathon Clothing store near Slauson Avenue and Crenshaw Boulevard on March 31, according to a criminal complaint filed against Eric Holder, the man charged in Hussle's death.
Luis Patino, spokesman for the California Department of Corrections and Rehabilitation, said he could not release any information about Lathan due to a request from the Los Angeles Police Department.
Josh Rubenstein, the LAPD's chief spokesman, said he could not comment due to the ongoing investigation into Hussle's killing.
Lathan's arrest was first reported by TMZ on Friday. The Sheriff's Department spokesman could not say how Lathan violated his parole, but parolees are often barred from fraternizing with known felons or gang members as a condition of their release. Hussle was known to be affiliated with the Rollin' 60s set of the Crips street gang in South L.A.
A rally has been scheduled for Saturday morning to call on corrections officials to release Lathan. The event will take place in the parking lot across the street from the store from where Hussle was killed.
"Gov. Gavin Newsom should order the immediate release of Kerry. His arrest sends a horrible message to parolees trying to integrate into society and for [corrections] officials to label Hussle, who was a Grammy-nominated artist entrepreneur, gentrification fighter and philanthropist, as a known gang member is a slap in the face to his family and our grieving community," community activist Najee Ali said in an email Friday evening.
Hussle, Lathan and another man were shot after Holder got into a verbal altercation with the rapper outside the store. Holder initially approached Hussle and the two shook hands after a brief conversation, police said, but the 29-year-old gunman returned and opened fire a short time later.
Hussle, born Ermias Asghedom, died at a hospital later that day.
Holder was captured in Bellflower on April 2, shortly after the LAPD released his photo to the public. He has pleaded not guilty to murder and attempted murder, and remains jailed on $5-million bail.
LAPD Chief Michel Moore has said Holder's motive was personal in nature, but he declined to elaborate for fear of jeopardizing the ongoing investigation into the shooting. Hussle was remembered Thursday during a memorial event and large funeral procession. He was laid to rest in a private ceremony Friday at Forest Lawn-Hollywood Hills.
Sign up for Essential California for news, features and recommendations from the L.A. Times and beyond in your inbox six days a week.
You may occasionally receive promotional content from the Los Angeles Times.