Death toll rises along with grief in Paradise: 'None of us have really even had time to mourn'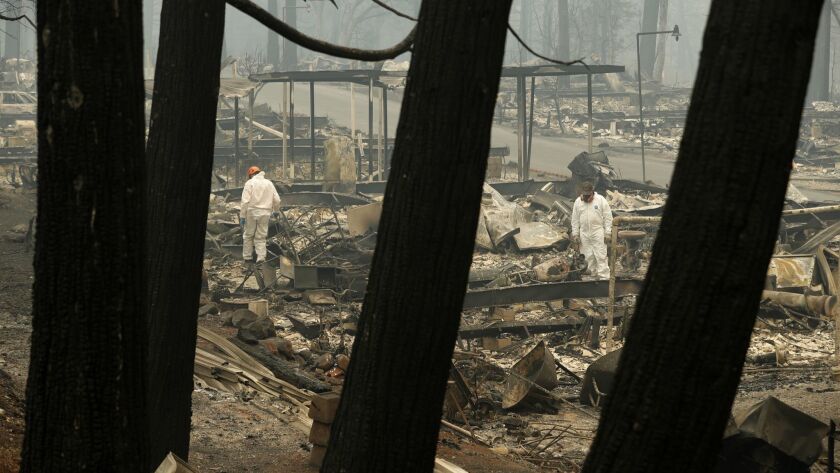 Reporting from PARADISE, Calif. —
The number of deaths from California's deadliest wildfire rose to 48 Tuesday as authorities and family members mounted desperate searches for the hundreds still missing.
Search crews recovered six more bodies inside homes in Paradise as the Camp fire continued its destructive march, challenging firefighters battling flames near the Feather River and pushing crews to build defenses before the inferno reaches the next town.
The blaze has scorched 130,000 acres since Thursday, ripping through mountain towns in Butte County. More than 8,800 structures — mostly homes in Paradise — were turned to rubble. About 15,500 structures remain threatened.
"This fire was moving so rapidly, we couldn't keep ahead of it. We did our absolute best," Butte County Sheriff Kory Honea told reporters Tuesday night.
"We were trying to move tens of thousands of people out of an area very rapidly, with the fire coming very rapidly, and no matter what your plan is to do that, no plan will ever work 100% when you're dealing with that much chaos," he said.
Suzanne Kaksonen, 54, said she had about 30 minutes to evacuate and took that time to grab seven photos off the walls of her home, along with her two birds, Buddy and Lady Bird.
"It was really scary," she said. "I'm never going to bed without gas in my car again."
On Tuesday night, Kaksonen had found the latest temporary shelter: a Walmart parking lot. Kaksonen and her fiance pitched a tent for the night, along with about two dozen others.
Kaksonen said she couldn't comprehend the last few days of destruction.
"It doesn't seem possible," she said.
For now, her friends and family are safe.
"I'm just trying to keep the birds warm," she said.
Crews Tuesday were working to build up defenses around the town of Cherokee near the Feather River and Stirling City, northeast of Paradise and Magalia, which were both devastated by the Camp fire.
At a Paradise Town Council meeting that evening, Steve Crowder, an incoming councilman and business owner, said he helped direct traffic out of town when the fire broke out and said there were moments he didn't know if he'd make it out alive.
Mayor Jody Jones sternly defended the town's evacuation plan after a community member was critical.
"It wasn't perfect," Jones said. "But it worked. It was chaos, but it was sort of organized chaos."
Before the meeting, city staff, residents and council members embraced, talking about what was lost in the fire. "How you holding up?" they asked one another. Every council member had lost his or her home.
Lauren Gill, the town manager, told the council she had toured the town. Her voice shook at times as she described the devastation and the massive effort that will be required to clean and rebuild it.
"People are working day and night to make this recovery happen as soon as they can," she said. "None of us have really even had time to mourn."
As Gill spoke, people listened with tear-streaked faces in the audience of about two dozen residents.
During the meeting, Jones asked to skip the agenda item on road projects. The crowd laughed.
Authorities said they were still investigating what caused the blaze. People who lost homes have sued Pacific Gas & Electric Co., accusing the utility of negligence and blaming it for the fire. More than two dozen fire victims said the utility did not maintain its infrastructure and failed to properly inspect and manage its power transmission lines.
Amid the wreckage, search teams continued to sift through rubble and ash. The search for the dead relied on portable devices that can identify someone's genetic material in a couple of hours, rather than days or weeks.
Residents are holding out hope that their loved ones who went missing when the fire tore through their towns might be found.
The confusing search for hundreds of missing people has been complicated by many factors: bad cellphone service; a lack of access to burned-out areas; and the sheer scattering of people across the region who are staying in shelters, hotels, friends' houses and their vehicles and may not have gotten in touch with loved ones.
Santa Cruz reported from Paradise, Tchekmedyian from Los Angeles. Times staff writers Hailey Branson-Potts, Joseph Serna and Hannah Fry, and the Associated Press contributed to this report.
Twitter: @NicoleSantaCruz
alene.tchekmedyian@latimes.com
Twitter: @AleneTchek
---
The stories shaping California
Get up to speed with our Essential California newsletter, sent six days a week.
You may occasionally receive promotional content from the Los Angeles Times.