Terrifying tales of survival in Paradise, and horror for those who didn't make it out of the Camp fire
Reporting from PARADISE, Calif. —
When the Camp fire swept into this community Thursday, Shane Bender watched as the air filled with acrid smoke and glowing embers rained down on the rooftops of nearby houses.
Within minutes, dozens of men, women and children — some of them screaming and crying — were streaming down a two-lane street toward the safety of a hardware store parking lot.
Bender, a retired firefighter, helped guide them out, assuring them there was safety beyond the smoke.
Three days later, he's still trying to find out what happened to some of his neighbors. He's not sure how many are among the more than 200 missing in a fire that has already killed 29 people.
Bender stood outside his single-story, wood-sided home in Paradise on Sunday. Splotches of charred pine needles covered his yard like leopard spots, but his property was otherwise unscathed. His was one of the few miracles in a blaze that authorities say has claimed 6,435 homes and 260 commercial structures — the biggest property loss in any fire in recent California history.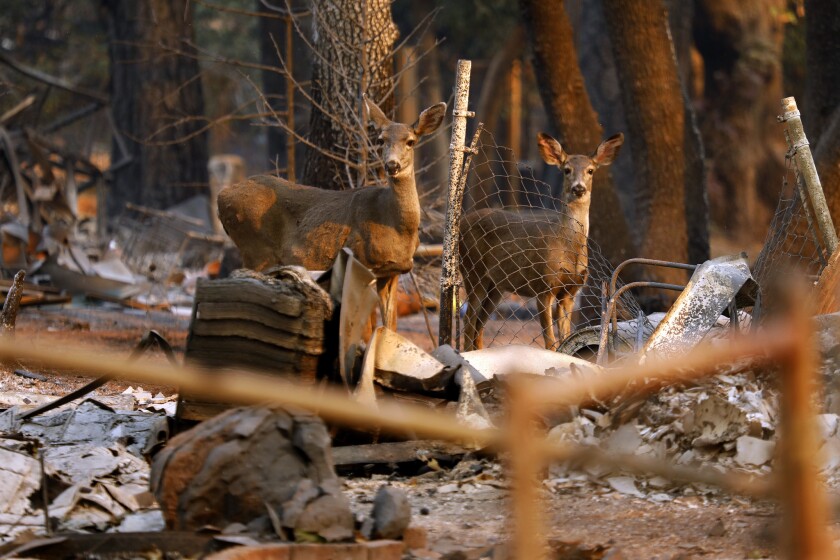 Full coverage of California wildfires » »
"I'm having a hard time grasping what happened here," said Bender, 31. "I moved a year ago. I was just getting to know my neighbors. All good people."
Bender said deputies had made visits to the residences of several neighbors listed as missing.
"They park, check the address and then start walking slowly, eyeballing the broken glass and Sheetrock for telltale signs," he said.
The Camp fire is destined to be California's worst wildfire, in part because so many residents had so little time to escape.
The search for victims has been hampered by the fire, which is still burning in the area. Through much of the weekend, the ground remained too hot for cadaver dogs to tread.
Camp fire's death toll mounts in Paradise as the search for victims continues »
Markham Odell, 61, recalled the sky turned black as thick smoke blocked the early-morning sun that grim Thursday morning.
Out of nowhere, a dead bird fell, hitting him on the shoulder.
"I've never panicked at any time in my life," Odell said. "But I felt it start to come."
One of the last things Odell grabbed was a copy of his home insurance policy.
Jane Palmer, 77, said she received four automated calls the night before the fire from Pacific Gas & Electric, telling her the utility was about to cut off her power, which it did about 9:30 p.m.
She said she realized Paradise was on fire and her mobile home park was threatened when she saw the smoke and flames. As Palmer drove out, she encountered a neighbor, Patsy Jacobs, 62, trying to walk out, and she picked her up. Because Palmer cannot see well, Jacobs helped navigate her rescuer through the thick smoke.
"What pisses me off is I don't think they told everybody soon enough," said Kim Benn, 49, a neighbor who realized she needed to flee the fire when another resident pounded on her door.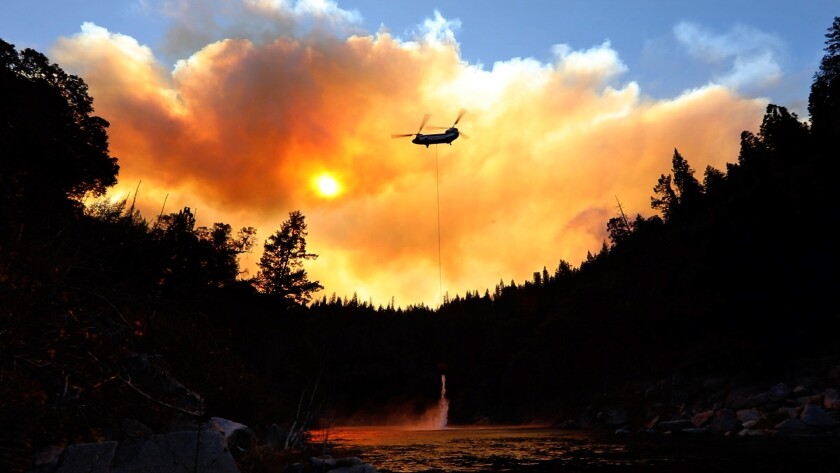 Times staff writer Paige St. John contributed to this report.
---
The stories shaping California
Get up to speed with our Essential California newsletter, sent six days a week.
You may occasionally receive promotional content from the Los Angeles Times.