California's secret police records: 4 questions that still need answers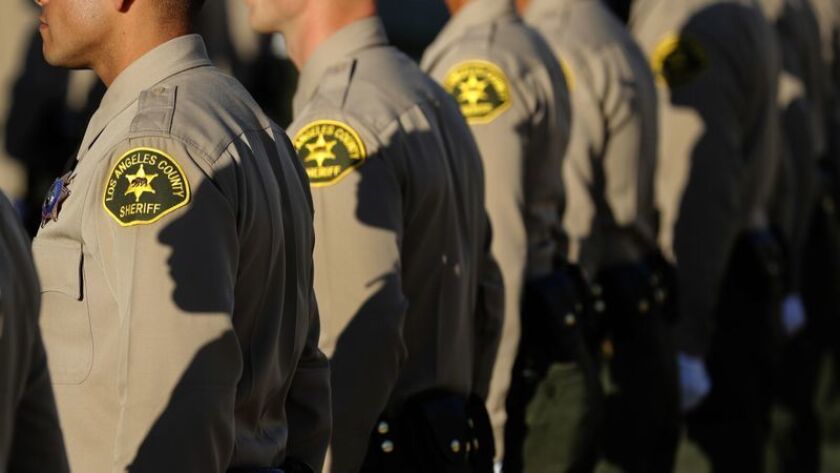 The Los Angeles Times is one of 33 newsrooms across the state that have formed a collaborative to analyze police records that became public under a transparency law that took effect this year.
The California Reporting Project — which also includes KPCC, the Orange County Register, KQED, the San Jose Mercury News and other media outlets — has filed requests with more than 600 law enforcement agencies and so far received records of hundreds of incidents in which officers used significant or deadly force, were found to have been dishonest or committed sexual misconduct.
The documents will provide a window into how California police departments evaluate misconduct, shootings and other force by their officers — issues that have fueled criticism that law enforcement agencies aren't open enough with the areas they serve.
READ MORE: An off-duty officer fled DUI crash, then let his mom try to take the blame, records show »
Until then, many significant questions about policing remain unanswered in California.
How many people have been killed by police in California?
In 2017, a bill that would have funded a study of California police shootings by state Atty. Gen. Xavier Becerra failed in a state Senate committee. Becerra had supported the effort, saying it would have helped officials develop policies to reduce the number of future shootings.
What happens to officers who commit misconduct?
For years, California had the nation's strictest laws on disclosing police personnel records, due in large part to fierce lobbying efforts from powerful law enforcement unions that wanted to keep the files confidential. All internal disciplinary records were confidential.
That changed last year with the passage of Senate Bill 1421, which allows for the release of records of shootings by officers, severe uses of force and confirmed cases of sexual assault and lying by officers. Lawmakers approved the transparency law, which went into effect Jan. 1, amid a heightened debate over how officers use force and interact with communities of color.
Records released under SB 1421 promise to reveal how strict or lenient departments have been in meting out discipline when they fault officers in cases related to significant force, shootings, dishonesty and sexual assault while on duty.
How many dishonest officers are still on the force?
The Times has identified deputies with the L.A. County Sheriff's Department who were suspended for falsifying records and making false statements but were allowed to keep their jobs with six-figure salaries. Many of those same deputies were later listed as potential witnesses in criminal cases.
How many fired officers were rehired by other departments?
It's unknown how many officers were able to land new jobs at different agencies after being fired or quitting to avoid significant discipline.
Twitter: @bposton
Twitter: @mayalau
---
The stories shaping California
Get up to speed with our Essential California newsletter, sent six days a week.
You may occasionally receive promotional content from the Los Angeles Times.