Heavy rain and mudslides are possible as L.A. heads into a week of storms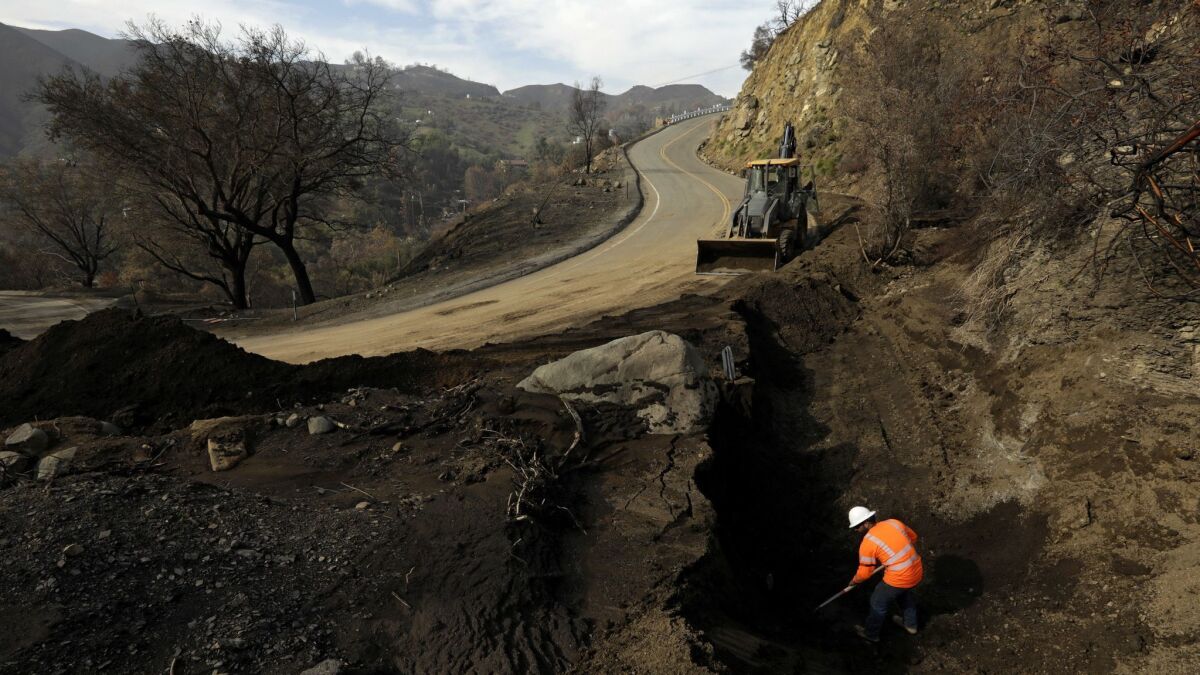 Southern California could see seven straight days of rain as the region gets hit with five storms that could last through Thursday.
Authorities warned that mudslides are possible, both in the storms that will continue through Saturday morning and the sequel — expected to arrive Sunday night and persist into Monday — which "could be the strongest storm of the season so far," National Weather Service meteorologist Richard Thompson said.
"It's just a train of storms," Thompson said. He urged people living in and near the areas burned in recent wildfires to stay vigilant.
Though the storms aren't expected to be as severe as the one that unleashed devastating mudslides in Montecito in 2017, killing 23 people and destroying 130 homes, officials warned that deadly flows of mud and debris can still happen, even in a comparatively milder storm. A burst of rain over a small geographic area could cause deaths.
"People should still be cautious. Sometimes you can get these deluges that last about an hour, but that's all you need to shake loose those hillsides," climatologist Bill Patzert said.
On the National Weather Service's new five-level scale of weather impacts, officials forecast the risk of flows of mud, rocks and other debris in the recent burn areas to be "elevated," in the middle of a scale that extends from "no impact" to "extreme" — equivalent to the storm that ended up producing the deadly mudslides in Montecito.
"I don't think we'll see a Montecito event at this point," Thompson said, although the forecast could change. "Anyone who lives in or near the burned areas needs to remain alert."
The impact from these storms could be the same or even greater than that of the storm last weekend that dumped mud from the burned landscape of the Woolsey fire onto Pacific Coast Highway, trapping three cars up to 4 feet deep.
"If you're on PCH this week, definitely uncover your moon roof," Patzert said. "Keep one eye up and one eye down."
Southern California hasn't seen a consecutive string of storms like this in years, he added.
"It's usually less than 10 storms a year that make up our season" of rain, Patzert said. "This is like half of what you'd get in an entire season in a week."
The back-to-back nature of the storms could be problematic as an increasing amount of water soaks into the soil. "The longer it goes, the higher the chances of the hillsides" becoming unstable, Patzert said.
The storms are coming from the north Pacific Ocean, and some will have a subtropical component, "maybe a little atmospheric river boost," Patzert said. "And you can see, it's been pretty chilly lately. Everybody's complaining about how darn cold it is."
Though scientists have been monitoring El Niño conditions brewing in the tropical Pacific Ocean, the climate pattern still hasn't clicked into place.
The first storm is expected to drop 1 to 2 inches of rain and perhaps up to 3 inches in certain areas in San Luis Obispo, Santa Barbara and western Ventura counties, while L.A. and eastern Ventura counties are expected to get half an inch to 1.25 inches.
There is the potential for thunderstorms and for rainfall rates to rise to 0.5 to 0.75 inches per hour — just enough to start producing flows of mud and debris, Thompson said. If thunderstorms develop, there might be even higher rainfall rates in small geographic areas. There may be shallow mud and debris flows near recent burn areas — mainly a nuisance, although localized damage is possible, the weather service said.
The second storm could drop 0.75 to 3 inches of rain across much of L.A. and Ventura counties, with the higher amounts in the foothills.
The partial shutdown of the federal government could affect some aspects of the response to any debris flow.
The National Weather Service office in Oxnard — which handles forecasting for L.A., Ventura, Santa Barbara and San Luis Obispo counties — remains operational; forecasters are on staff around the clock and have been meeting with emergency officials. But research and training have been suspended, and weather service employees are working without pay.
Many of the employees of the U.S. Geological Survey, which has expertise in studying mudslides, have been placed on furlough.
The potential for damaging mudflows isn't just reliant on rain, however. A big factor, too, is whether giant basins designed to collect mud and debris before they roll into neighborhoods have been cleared.
A recent Times investigation found that Santa Barbara County had failed to thoroughly empty out basins before the Montecito mudslides, drastically reducing their capacity to trap debris.
---
The stories shaping California
Get up to speed with our Essential California newsletter, sent six days a week.
You may occasionally receive promotional content from the Los Angeles Times.