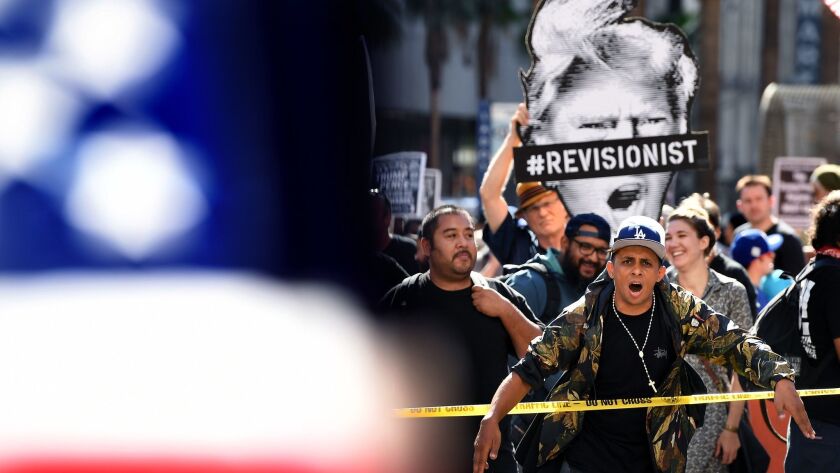 Opponents of President Trump plan numerous protests in several locations Tuesday as he makes his first trip to California since taking office, though officials said they are not sure how big the demonstrations will get.
Trump will start his day at the border before coming to Los Angeles for a fundraiser in the evening. He will stay overnight in Los Angeles before departing early Wednesday morning.
Los Angeles
An "Unwelcome Rally at Santa Monica Airport Park" is set for 2 p.m. at Santa Monica Airport.
Perhaps the biggest planned protest is set for the Beverly Hills area between 4 and 8 p.m. Tuesday by a Facebook group, Trump Not Welcome in LA. The LAPD is preparing for additional protests of various sizes on the Westside.
LAPD officials expect more, and plan to deploy officers wherever they pop up.
"The LAPD will be heavily deployed throughout the city to ensure the safe transport of the president and secure locations he will be visiting," the department said in a statement. "The department will also be available to accommodate any residents who may feel a desire to exercise their 1st Amendment rights."
One area the LAPD will be watching is downtown, which has been the site of numerous large protests since Trump took office.
It's unclear where Trump will spend the night.
But building officials with the Wilshire Grand Center, which is the tallest building in L.A. and highest west of the Mississippi River, sent an email last week to tenants telling them about a high-profile visitor coming to the InterContinental Los Angeles Downtown Hotel in the building.
The message, obtained by The Times, noted a "VIP/high security visitor" and said the hotel's VIP guest would spark security measures including metal detectors in the hotel lobby. The security "will have a significant impact in and around the building," officials wrote.
San Diego
At Our Lady of Mount Carmel at noon in San Ysidro, elected officials will rally with interfaith leaders to urge protection of the state's immigrant communities.
Organizers of Women's March San Diego plan to be at the protest site with a large sign urging Trump to "build bridges, not walls" in anticipation that he will fly by helicopter to the prototype site.
Meanwhile, San Diegans for Secure Borders are planning to show their support for Trump and the wall with conservative groups and speakers at Bristow Court in Otay Mesa.
Tijuana
Several groups are planning peaceful protests on the Mexican side, but a Federal Police official said they are not going to be allowed near the prototype area.
Davis writes for the San Diego Union-Tribune.
---