Dangerous storm brings fears of more mudslides, destruction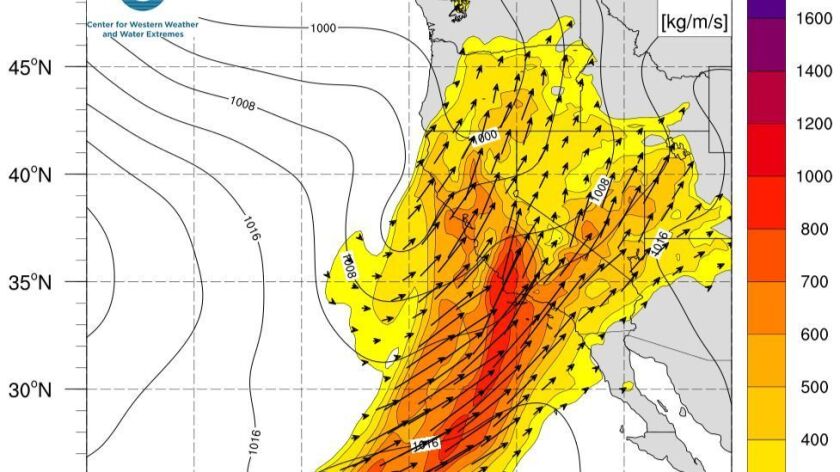 What forecasters are predicting to be the largest storm of the season is expected to hit Southern California beginning today.
Officials fear it could bring more destructive flooding and mudslides.
Here is what you need to know:
What is the forecast?
The storm, which is fueled by warm, western Pacific waters, will deliver nonstop rain across much of California and provide some relief to areas that have seen a resurgence in drought conditions.
The storm is forecast to bring 2 to 4 inches of rain to the coasts and valleys starting Tuesday evening and 4 to 6 inches along local foothills and mountains. Some mountains could receive up to 8 inches of rain between Tuesday and Thursday.
Where is the biggest concern?
Officials are most worried about areas burned in December fires — particularly in the Thomas fire zone.
Residents in Santa Barbara County were ordered to evacuate — for the third time this month — ahead of a powerful storm that's expected to drench Southern California starting Tuesday night.
Those who live below mountains ravaged by the Thomas, Sherpa and Whittier fires must be out of their homes by noon Tuesday. To see if your home is included, check the county's interactive map.
Authorities said the storm is expected to drop 5 to 10 inches of rain in the foothills and mountains, "significantly" more total rainfall than on Jan. 9, when mudslides swept through Montecito, killing 21 people and destroying homes. That day, the storm brought 3 to 6 inches of rain to the region.
Forecasters expect a half-inch to three-quarters of an inch of rain an hour, which is enough to trigger debris flows and flash floods.
An evacuation center will be opened at Earl Warren Showgrounds, Warren Hall, at 3400 Calle Real in Santa Barbara. For help evacuating large and small animals, call the Santa Barbara County Animal Services hot line at (805) 681-4332.
Hillside neighborhoods in Burbank could see debris flows, and Topanga Canyon Boulevard could shut down as it did last week when a light storm triggered a hillside to collapse onto the road, marooning cars. Southern Californians should have an emergency kit prepared in case they lose power in their home or are stranded on a road or highway due to flooding or slides.
Why do mudslides occur?
In a burned area, a wildfire can make the soil repellent to water, creating a floodlike flow on the ground that picks up rock and debris.
In an area that has not burned, soil can become saturated. Pressure builds up underground, and soil starts moving and begins picking up mud and debris as it starts flowing downhill.
Water rushing down with only mud is called a mud flow. If the flow picks up rocks, branches and sometimes massive boulders, that's called a debris flow.
Mud and debris flows are types of shallow landslides, generally defined as less than 15 feet deep.
Another type of shallow landslide involves a saturated hillside that collapses but does not move very far, such as one that buries a roadway with dirt and rocks from a neighboring slope. They can happen up to an hour after a burst of intense rain.
What's the easiest type of landslide to predict?
Landslides that strike in recently burned areas are the easiest to predict, as wildfires have burned away roots of trees and vegetation that kept soil in place.
Sometimes, authorities have accurately predicted when debris flows will occur, based on forecast rainfall rates, and have called for evacuations of homes before the rivers of mud and debris begin flowing.
Can debris flow still catch people off guard?
Yes. More than 20 people died in Montecito earlier this year when mudflows overwhelmed neighborhoods.
There has been much debate about whether there was enough warning about evacuations, but officials had warned there could be slides.
In 2010, the winter after the worst fire in L.A. County history, a debris flow — which one resident described like a "Niagara Falls" — flowed down La Cañada Flintridge's northernmost neighborhood when a 10-ton boulder clogged a critical basin, plugging the drain like a giant stopper. More than 40 homes were damaged.
It came as a surprise because the storm was supposed to be fast moving but unexpectedly stalled and dumped rain at an alarming rate. The forecast that authorities had relied on in the days leading up to the three-day storm had called for light to moderate rains. No evacuations had been ordered.
How much rainfall is needed to trigger mud or debris flow?
In Southern California's unburned areas, 10 inches of rainfall during the winter is needed to nearly saturate the ground. After that point, a burst of rain of just one-quarter of an inch an hour can trigger widespread shallow landslides, including debris flow.
Since July 1, downtown Los Angeles has received 11.33 inches of rain as of Friday, which is 178% of average at this point in winter. Santa Barbara has received 12.03 inches, which is 149% of average.
But for burned areas, mud and debris flows can strike with only intense rainfall, even if the ground is not saturated.
---
The stories shaping California
Get up to speed with our Essential California newsletter, sent six days a week.
You may occasionally receive promotional content from the Los Angeles Times.