At Ridgecrest USO, 'Whole Lotta Shakin' Goin' On' was sung just before Friday's quake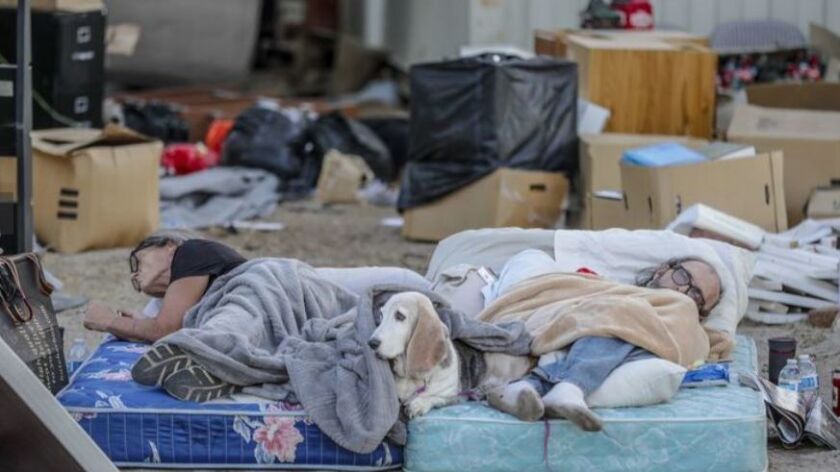 Reporting from RIDGECREST, Calif. —
Julie Pryor said she never could have predicted what happened to her during Thursday's and Friday's quakes.
As neighbors darted into the street on Thursday, two came outside in their underwear. Unbeknownst to them, their doors closed and were locked. "They had to crawl through the dog door to get [back] in," Pryor said.
On Friday, she was attending an open-mike night at the USO club in Ridgecrest.
Moments before the quake struck Friday, a man started singing Jerry Lee Lewis' hit "Whole Lotta Shakin' Goin' On."
Earthquake preparedness: What to do before — and during — a big one »
As the ground tumbled, Pryor said everybody looked at each other before they realized the shaking had nothing to do with the song.
"Once we were outside," she said she told the singer, "his 'special effects were great.'"
The singer replied, "I'm not playing that song anymore."
And that was the spirit seen across Ridgecrest on Saturday.
Resident Chuck Pryor recalled bomb drills from his childhood days and said he isn't afraid of the Big One hitting.
He said he's staying put in his ranch home on Heatherglen Drive — despite losing lots of wine glasses and other trinkets when they crashed to the floor.
"I have been through earthquakes my entire life," he said while sitting under a canopy next to his family's RV.
But Pryor acknowledged the strength of Friday's quake.
Full coverage: 2nd major quake in two days hits Southern California »
"The intensity came through straightforward," said Pryor, who delivered The Times in the 1970s in Orange County. "It felt like Mother Nature had a bullwhip and cracked the whip at the end."
As Mother Nature roared, Pryor was on the phone with his daughter, who was at the Disneyland Resort.
"I could hear the rumbling through the cellphone," Tiffany Hindman said. "He kept yelling, 'Oh, my God. Oh, my God.'"
Hindman said she and other relatives rushed home to Riverside County to get the RV and drove to Ridgecrest. She said her father refused to sleep in it last night, even with more aftershocks on the way.
She joked that her father is "too stubborn" to leave the area until the danger clears.
The family brought earthquake straps to help Pryor secure his TV and furniture to the walls. They also helped him clean up the broken glass strewn on the floor.
"We didn't give him a choice," she said. "We were coming."
Pryor said he called a former Navy shipmate and they recalled being on a ship at sea on the edge of a typhoon. When younger, he said, he slept through earthquakes while living in other parts of the Golden State. He doesn't expect to sleep through them nowadays.
"It has the gift of waking you up," Pryor said, laughing.
---
The stories shaping California
Get up to speed with our Essential California newsletter, sent six days a week.
You may occasionally receive promotional content from the Los Angeles Times.