Robert Durst's HBO 'confession' wasn't what it seemed. Here's what happened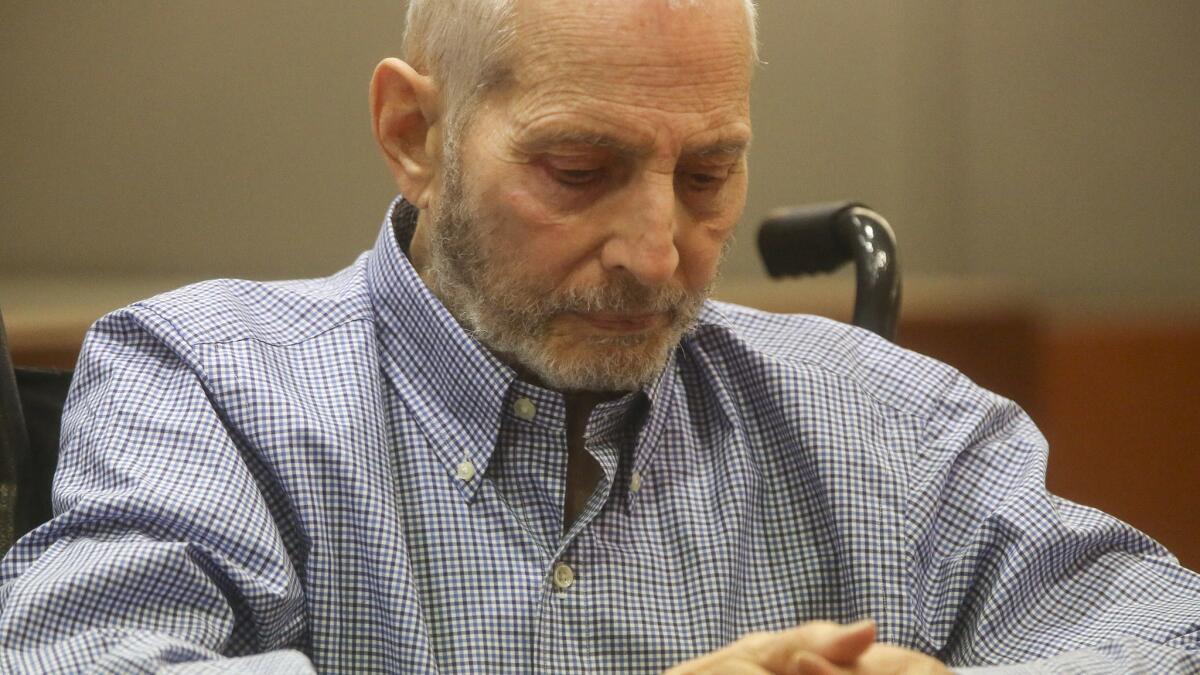 It was in the dramatic final moments of the HBO documentary "The Jinx: The Life and Deaths of Robert Durst" that New York real estate scion Robert Durst is heard mumbling: "Killed them all, of course."
To some, his comments served as a confession to a series of killings of people close to Durst, crimes he has denied committing. And soon after the show aired, Durst was arrested in a long-ago L.A. killing.
But what did Durst actually say on the HBO show, and how relevant will it be in his upcoming trial? Information provided to the court last year raised serious questions about his comment, and that could become an issue going forward.
What is Durst accused of doing?
He is charged with shooting writer Susan Berman in the back of the head inside her Benedict Canyon home.
Prosecutors said Berman was slain to keep her from telling authorities what she knew about the disappearance of Durst's first wife years earlier in New York. Los Angeles prosecutors have sought to build a case that Durst, the son of a prominent real estate tycoon, killed his wife, Kathleen, in 1982.
Durst, 75, has denied killing both his wife and Berman, and he has pleaded not guilty in the Los Angeles case — one that his lawyers argue was based on television hype, not evidence.
What about the recording?
Durst was arrested at a hotel in New Orleans in connection with Berman's slaying on March 14, 2015, the day before the HBO series finale aired. Officials found guns, cash, a fake ID and a mask. Durst's arrest was "urgent," prosecutors argued, because the final episode included "extremely damning evidence" against him.
In the finale, Durst mumbles a comment on a hot microphone during a bathroom break, which some have interpreted as a confession to multiple murders. "What the hell did I do? Killed them all, of course," Durst says, according to "The Jinx."
But as The Times reported last year, prosecutors played raw audio from the recording, which indicated that the miniseries' producers spliced together statements out of order. Durst first mumbles, "Killed them all, of course" and makes several other comments before later uttering, "What the hell did I do?"
"It was edited and taken out of order," noted Dick DeGuerin, Durst's lead attorney.
"Yes," replied the judge, "it appears it was."
Some viewers considered the comment a confession to killing three people: Berman, his wife, and his onetime neighbor in Galveston, Texas.
Durst fled to the small coastal town in Texas in the fall of 2000, days after articles about the reopening of an investigation into Kathleen Durst's disappearance began appearing in New York newspapers, prosecutors said. He rented a $300-a-month apartment and disguised himself as an elderly, mute woman. Prosecutors have argued that only one person in Galveston — his neighbor, Morris Black — knew his true identity.
The real estate tycoon was charged with murdering Black but claimed at his 2003 trial that a gun fired while he was defending himself during a tussle with his neighbor. Testifying in his own defense, Durst said, "The gun was aiming at me. He was pushing the gun toward me, and I was trying to pull the gun away," according to court documents.
He fell to the ground and the gun went off, Durst testified, adding that he didn't go to police because he didn't think they would believe him. Durst admitted dismembering Black's body and dumping the parts in Galveston Bay. Jurors acquitted Durst of murder.
What is next in the case?
After many delays, the trial is expected to begin in September.
Durst's attorneys have suggested in court documents that they will file a motion to suppress evidence obtained from the documentary.
Sign up for Essential California for news, features and recommendations from the L.A. Times and beyond in your inbox six days a week.
You may occasionally receive promotional content from the Los Angeles Times.