Robin Williams dies in apparent suicide; actor, comic was 63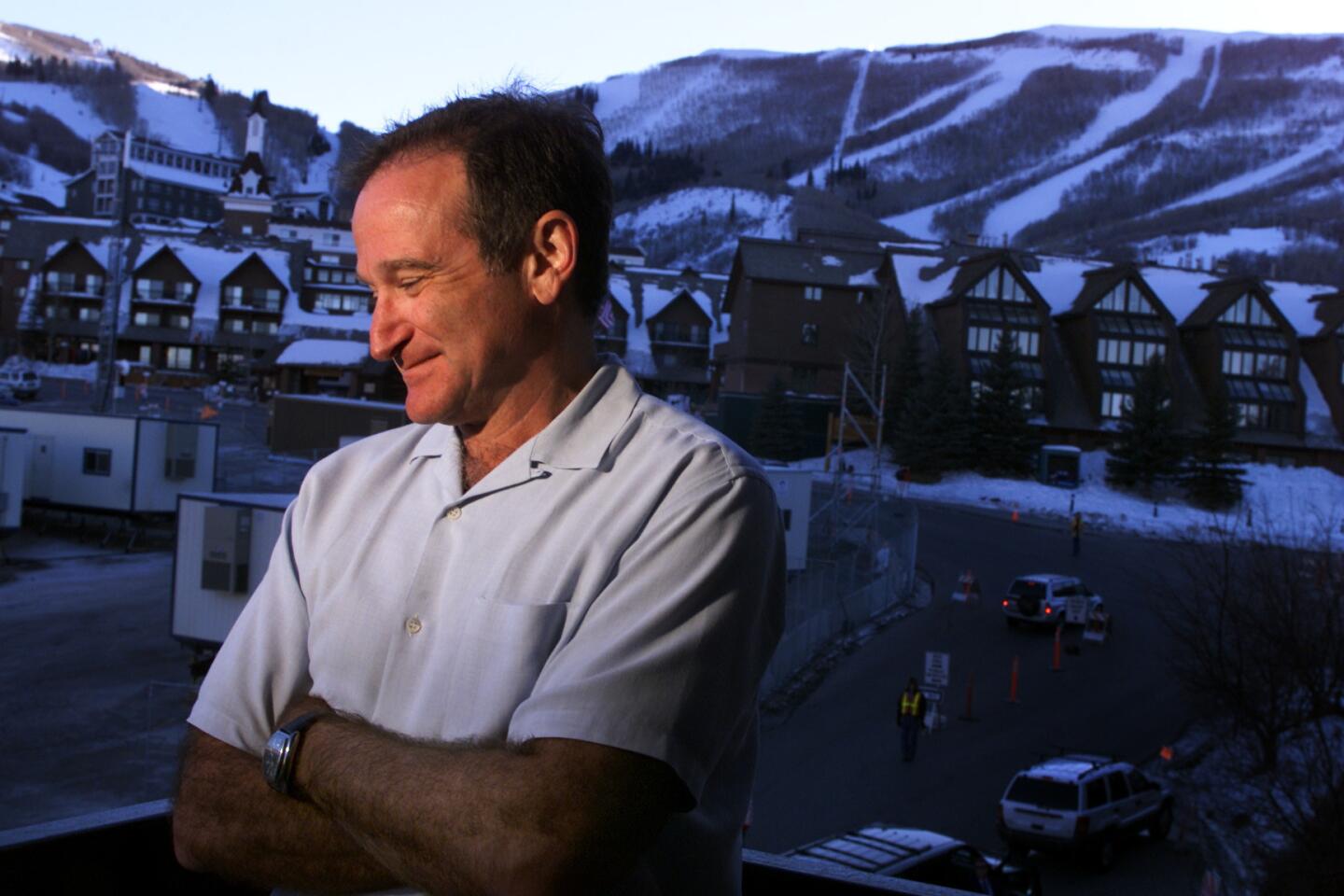 An iconic Bay Area tunnel, commonly known as the Waldo Tunnel or Rainbow Tunnel, will be named after the late actor Robin Williams.
(Robert Gauthier / Los Angeles Times)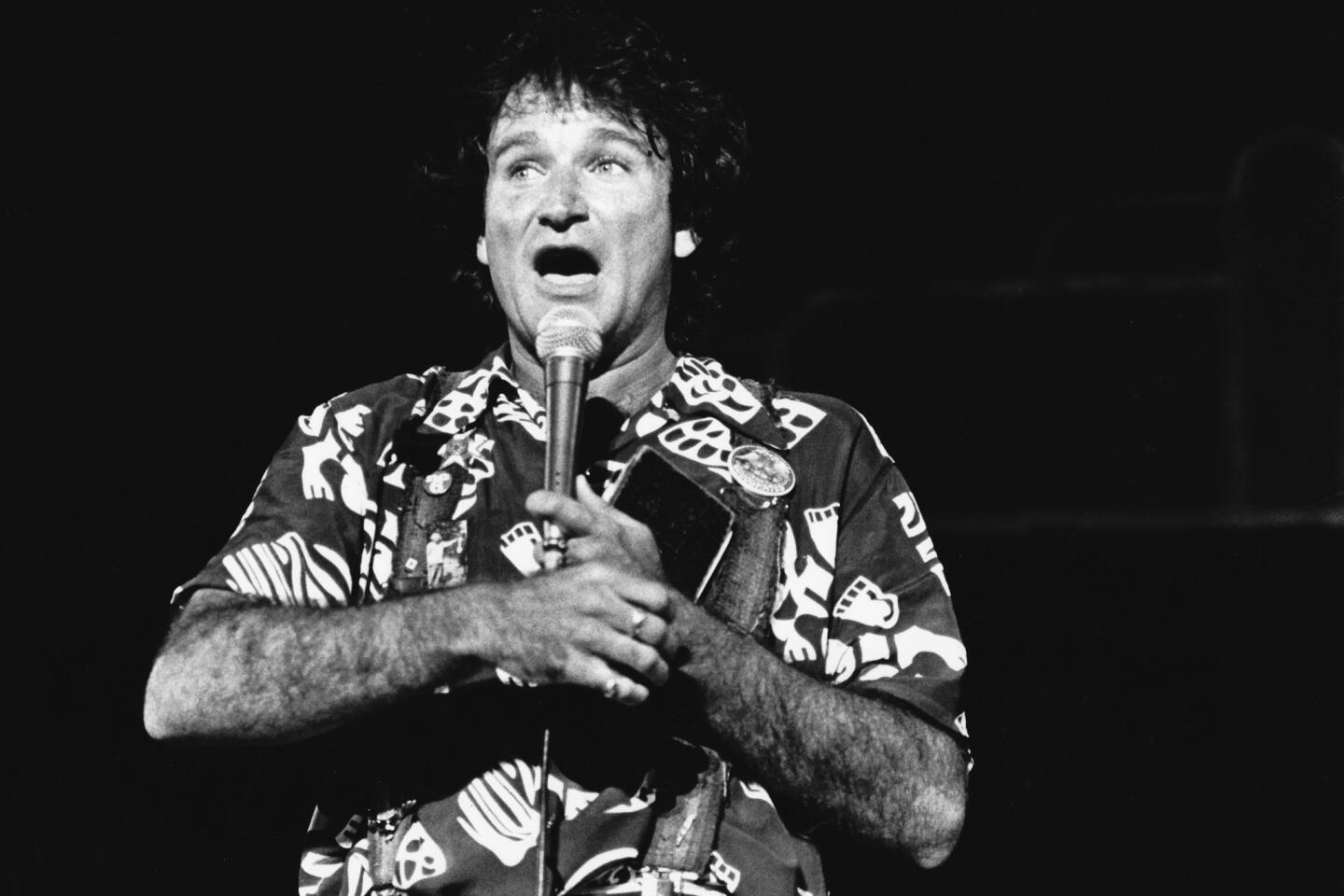 Robin Williams performs at the Universal Amphitheater on July 1, 1979
(Tony Barnard / Los Angeles Times)
Robin Williams stars as Popeye the sailor man, whose secret source of strength turns out to be spinach, with Shelley Duvall as Olive Oyl, in 1980's "Popeye."
(File / AFP/Getty Images)
Robin Williams performs at the Universal Amphitheater on Aug. 16, 1982.
(Gary Friedman / Los Angeles Times)
In 1984's "Moscow on the Hudson," Robin Williams plays Vladimir Ivanoff, a saxophonist in the Moscow circus who defects to the U.S. Here, Williams is pictured with actor Cleavant Derricks and director Paul Mazursky.
(Michael Ochs Archives / Getty Images)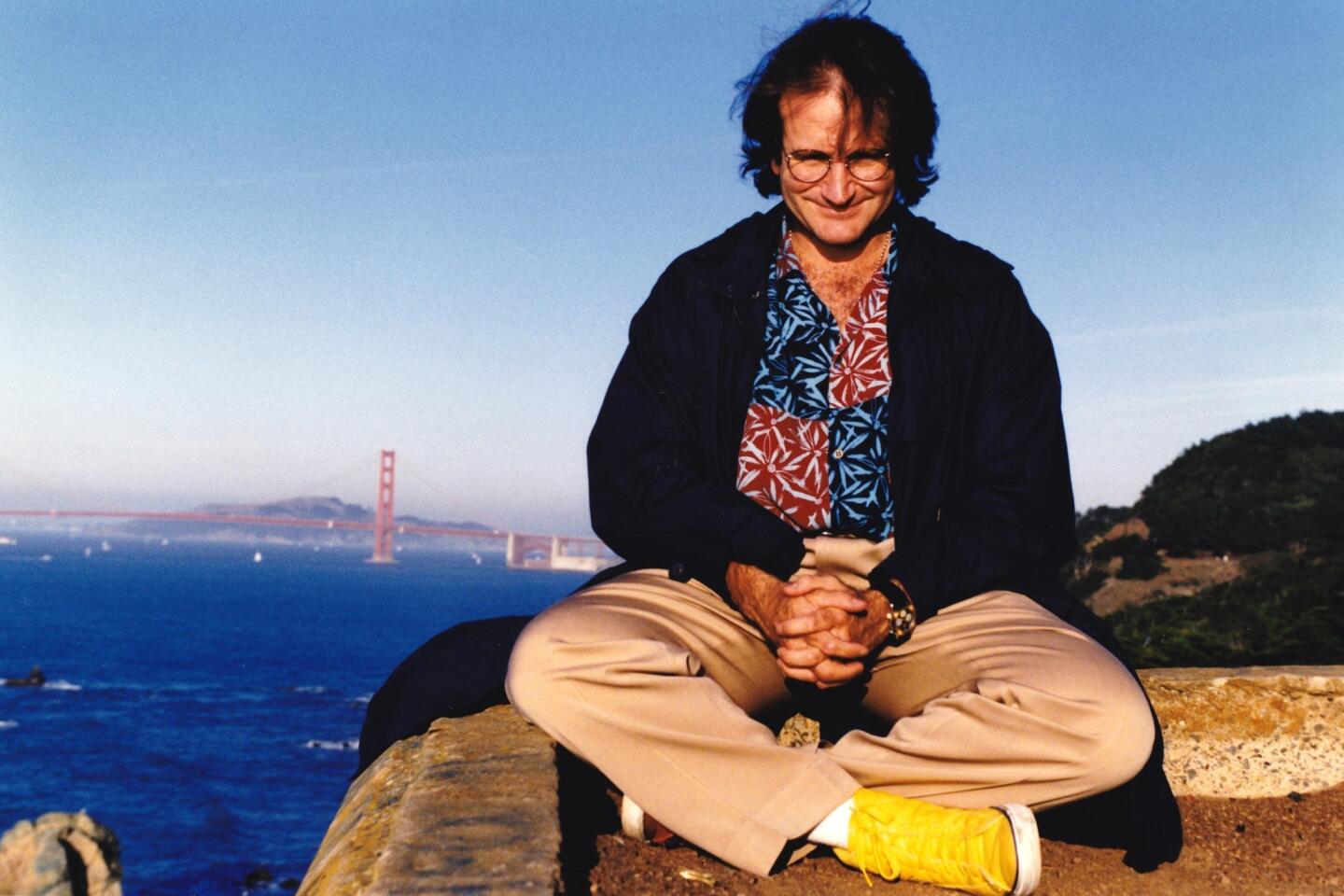 Robin Williams in San Francisco in 1991.
(Al Seib / Los Angeles Times)
Robin Williams speaks to the media backstage after his performance at the Sam Kinison tribute held at the Celebrity Theatre in Anaheim, Sept. 3, 1992.
(Christine Cotter / Los Angeles Times)
In 1993's "Mrs. Doubtfire," Robin Williams plays Daniel Hillard, an irresponsible father who creates an alter-ego in the form of a nanny in order to spend time with his children.
(Phil Bray / Los Angeles Times)
Robin Williams plays Alan Parrish, a man who was trapped in a board game for 26 years in 1995's "Jumanji." He costarred with Bonnie Hunt.
(Rob McEwan / Los Angeles Times)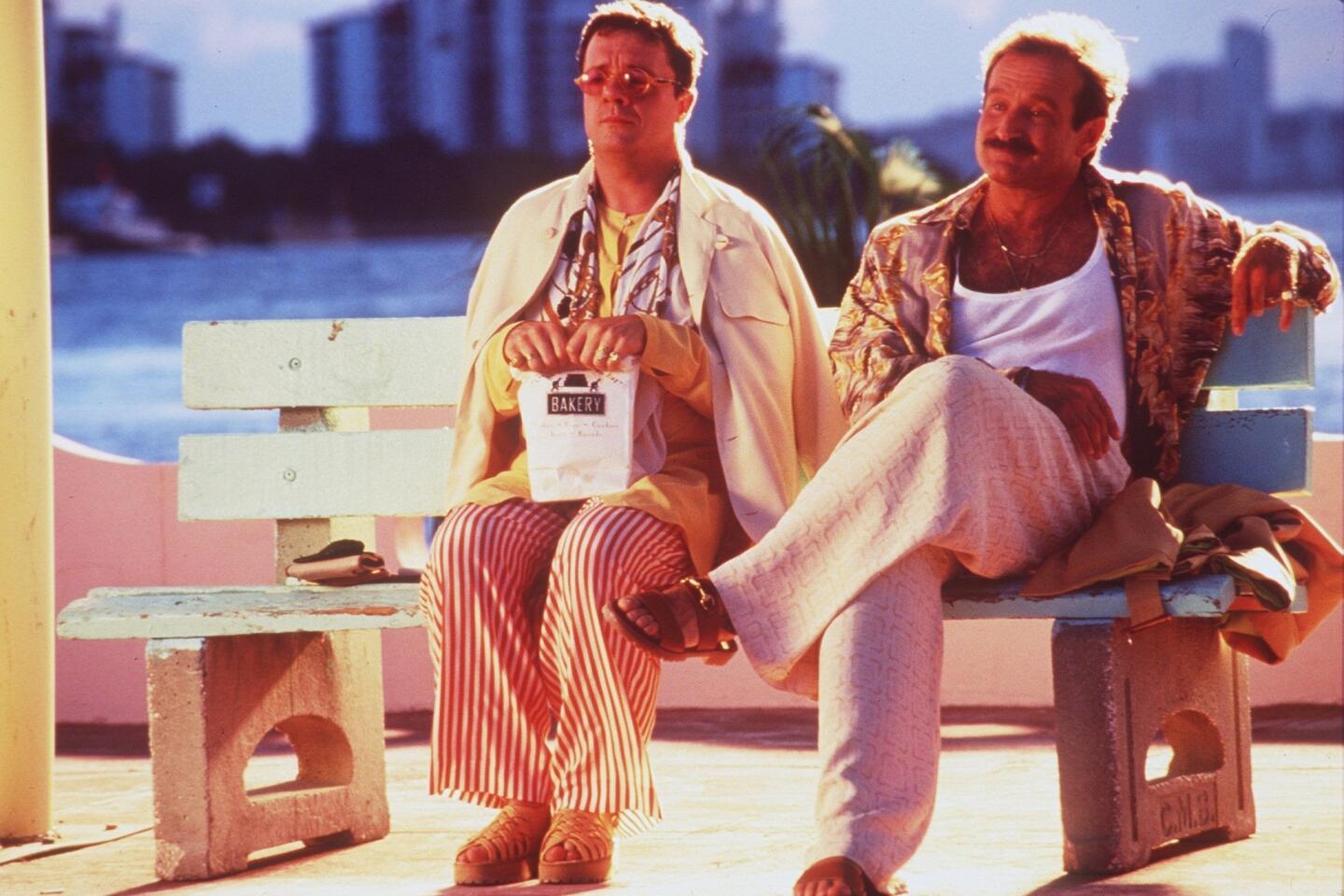 Robin William plays Armand Goldman, owner of a South Beach drag club who must hide his same-sex relationship with Albert (Nathan Lane) from their son's future in-laws in the 1996 film "The Birdcage."
(Lorey Sebastian / Los Angeles Times)
Robin Williams, a comic and sitcom star in the 1970s who became an Oscar-winning dramatic actor, died Monday at 63 in Marin County. The Marin County Sheriff's Office said he appears to have committed suicide.
The news of the beloved actor's death rocked the nation. Channels broke into their usual programming to make the announcement, and within minutes, Williams dominated online trending topics. Even President Obama noted his passing.
Along with an Antoine de Saint-Exupéry poem, Williams' daughter, Zelda, tweeted: "I love you. I miss you. I will try to keep looking up."
Williams, hailed as a comic genius, was a star of movies and television for more than three decades. He also suffered from substance abuse problems.
The actor "has been battling severe depression of late," his publicist Mara Buxbaum said. "This is a tragic and sudden loss. The family respectfully asks for their privacy as they grieve during this very difficult time."
Williams was found unresponsive at his home in Tiburon around noon Monday, sheriff's officials said. He was pronounced dead at the scene.
Dubbed "the funniest man alive" by Entertainment Weekly in 1997, Williams brought audiences hours of laughter, putting his imaginative spin on characters in film and television. He was lauded for his serious roles as well, winning a best supporting actor Oscar for his performance as Sean Maguire, the therapist who counsels Matt Damon's math genius in "Good Will Hunting" (1997). He also received nominations for "The Fisher King" (1991), "Dead Poets Society" (1989) and "Good Morning, Vietnam" (1987).
Williams was known for being open about his problems with cocaine and alcohol over the years.
The actor spent time on a Hazelden campus in Oregon in 2006. He later explained that drinking had gradually become a problem again after 20 years of sobriety.
"You're standing at a precipice and you look down, there's a voice and it's a little quiet voice that goes, 'Jump,'" the "Mrs. Doubtfire" star told ABC News in October of that year. "The same voice that goes, 'Just one.' … And the idea of just one for someone who has no tolerance for it, that's not the possibility."
This summer, he returned to rehab to "fine-tune" his sobriety.
Born in Chicago in 1951, Williams was accepted into John Houseman's prestigious acting program at Juilliard along with Christopher Reeve, who became a lifelong friend.
Williams came to Hollywood prominence in the late 1970s with his starring role in "Mork & Mindy," a spin-off of the then-popular "Happy Days." Williams played an alien baffled by the ways of Earth, the comedy often resulting from the contrast between how he viewed the world and how the world really worked.
After the show went off the air in 1982, Williams' reputation for rapid-fire impersonations — not to mention a seemingly bottomless talent for comic improvisation — landed him a number of high-profile stand-up specials as well as numerous film roles. In "Good Morning Vietnam" he played a deejay who ruffled feathers with his truth-spewing, quip-cracking ways.
Although now common, the tear-up-the-script style of improvisation practiced by Williams was unusual in major Hollywood productions, and the actor seemed able to rewrite the rules by sheer force of personality — or, as was frequently the cases where Williams was concerned, personalities. That talent also landed him a gig co-hosting the Oscars in 1986, a turn that further cemented his A-list status.
Williams' protean comedic skills reached perhaps their apex in "Mrs. Doubtfire" (1993), a cross-dressing comedy in which he played both a crusty older nanny and the divorced father who takes on the character to be closer to his children.
Walt Disney Company chairman Robert Iger said Williams would be remembered for bringing some of the worlds most beloved characters to life.
"He was a true Disney Legend, a beloved member of our family, and he will be sorely missed," Iger said in a statement. "We join Robin's friends and fans everywhere in mourning, and offer our thoughts and condolences to his family during this difficult time."
A melancholy current ran under Williams' dramatic roles. He played an unconventional teacher in "Dead Poets Society," a doctor who tended to the mentally troubled in "Awakenings" (1990), a disturbed vagabond in "The Fisher King" and a widowed psychologist in "Good Will Hunting." That last role — in which he famously counseled a hotshot Damon while grappling with his own demons — landed him his first Oscar win.
Further demonstrating his persona-stretching skills, Williams also had well-regarded parts playing presidents — as Dwight Eisenhower in last summer's hit "Lee Daniels' The Butler" and as Teddy Roosevelt in the comic franchise "Night At the Museum," the latter of which he will reprise for the final time when the Ben Stiller film hits theaters this holiday season.
He returned to the small screen after more than 32 years to star in the CBS comedy "The Crazy Ones," which ran for a single season before its cancellation.
At one point during his career, Williams had to fight to be seen by the public as something more than just a funny guy.
"It's hard because people want to know you're a certain thing," he told The Times in 1991. "They still say, 'That's the little manic guy. He's the little adrenaline guy. Oh, yeah, he touches himself. He doesn't do that anymore. But wait a minute. He's the little manic guy who played the really quiet guy and then the really scary guy. Oh, no, wait....' "
Williams' talent for ad-libbing functioned as a gift and a shield.
"He was always in character — you never saw the real Robin," said Jamie Masada, founder and chief executive of the Laugh Factory. "I knew him 35 years, and I never knew him."
"He was a wonderful guy," Masada added. "I remember John [Belushi] and Robin, both of them always complained to me — no matter where they were people would recognize them. They sold their privacy to the public. They could be in the middle of talking in the street and someone would come up for an autograph.... he [Robin] didn't realize how much he sold his privacy to people."
The sign on the Laugh Factory Monday night in Hollywood read "Robin Williams Rest in Peace. Make God Laugh." A group of mostly comedians milled about in front of the Comedy Store shortly after the news broke and the marquee there read "RIP Robin Williams."
The U.S. president issued a statement about Williams' passing. "Robin Williams was an airman, a doctor, a genie, a nanny, a president, a professor, a bangarang Peter Pan and everything in between," Obama said. "But he was one of a kind. He arrived in our lives as an alien — but he ended up touching every element of the human spirit. He made us laugh. He made us cry. He gave his immeasurable talent freely and generously to those who needed it most — from our troops stationed abroad to the marginalized on our own streets."
"We have lost one of our most inspired and gifted comic minds, as well as one of this generation's greatest actors," said Chris Columbus, who directed Williams in "Mrs. Doubtfire," and was scheduled to work with him again on "Mrs. Doubtfire 2," a sequel recently set in motion.
"To watch Robin work was a magical and special privilege," Columbus said. "His performances were unlike anything any of us had ever seen, they came from some spiritual and otherworldly place.... We were friends for 21 years. Our children grew up together, he inspired us to spend our lives in San Francisco and I loved him like a brother."
Williams' dramatic turn as the fast-talking genie in the 1992 Disney animated movie "Aladdin" also stood apart, recalled Jeffrey Katzenberg, chief executive of DreamWorks Animation and former chairman of Walt Disney Studios.
"His was truly one of the most brilliant and singular performances in the history of animation," said Katzenberg, who worked closely with Williams on the hit movie that helped revive Disney's storied animation studio. "'Aladdin' would not be the classic movie it is without his brilliance."
At Williams' home on a quiet street that backs onto stunning views of San Francisco Bay, neighbors and strangers began arriving Monday evening to lay flowers at the gate and share remembrances.
Neighbor Kelly Cook, 50, called him "brilliant" as well as "really quiet and private." The upscale neighborhood respected that privacy, and Williams always greeted neighbors with a wave, she said.
An avid cyclist, he was often seen riding the winding Paradise Loop.
Cook's children called him "the funny man" and would greet him as such when he was out walking his pug. He joked easily with them, Cook said, "because they were kids."
Cook's voice cracked Monday as she walked toward Williams' home carrying bright orange gerbera daisies, chosen because "I thought the color would be uplifting."
"It's just so sad when depression takes someone like that," she said.
Megan Thorpe, 25, of Mill Valley brought three red roses.
The nanny had worked all night Sunday and was sleeping when the texts about Williams' death started pouring in. Thorpe said she fell in love with Williams watching "Aladdin." When she moved to the Bay Area a year ago, one of the first things she did was pay a visit to the "Doubtfire house." She knew she had to pay her respects Monday.
Some celebrities turned to Twitter to mourn him.
"I could not be more stunned by the loss of Robin Williams, mensch, great talent, acting partner, genuine soul," fellow actor-comedian Steve Martin said on Twitter.
"Robin Williams was like no other," actor and director Henry Winkler said. "To watch him create on the spot was a privilege to behold.. Robin you are an angel now !!! REST IN PEACE"
The Marin County Sheriff's Office is scheduled to hold a news conference on the death investigation at 11 a.m. Tuesday.
Williams is survived by his wife, Susan Schneider; brother McLaurin Smith Williams; children Zachary Williams, Cody Williams and Zelda Rae Williams; and stepsons Casey Armusewicz and Peter Armusewicz.
Times staff writer Lee Romney in Marin County and staff writer Joe Bel Bruno in Hollywood contributed to this report.
Follow @raablauren and @theryanparker on Twitter for more breaking news. Follow @ZeitchikLAT for more arts and entertainment news. o

Sign up for Essential California for news, features and recommendations from the L.A. Times and beyond in your inbox six days a week.
You may occasionally receive promotional content from the Los Angeles Times.