Number of structures lost in San Diego County fire more than doubles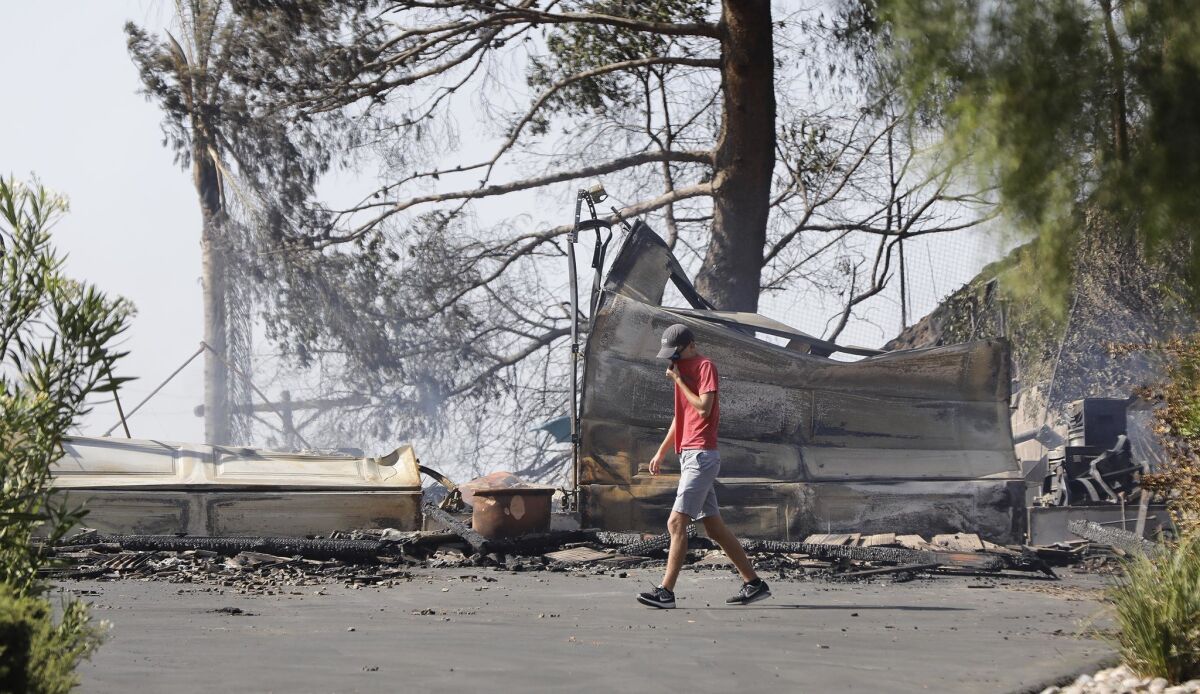 The count of structures destroyed and damaged by the 505-acre fire that ravaged Alpine more than doubled on Sunday, as remaining residents were allowed to return home — if they had homes to go to.
So far, 34 homes, one business and 21 accessory buildings such as barns and sheds have been destroyed. An additional 15 homes and five accessory buildings were damaged.
"No one gets used to seeing the devastation and knowing people are returning to nothing," said Capt. Kendal Bortisser of the California Department of Forestry and Fire Protection. "This was one of those times that firefighters just couldn't get in there and defend every home, and it hurts."
San Diego County officials made it clear the numbers were preliminary and could change as damage assessment teams continue their work in the field and with residents.
The fire was mostly surrounded by Sunday afternoon, reaching 92% containment as about 75 firefighters continued to mop up hot spots. The remaining road closures were lifted along with the evacuation orders.
Bortisser said returning people to their homes and restoring power and gas were top priorities.
A San Diego Gas & Electric spokeswoman said crews, assisted by helicopters, are working to repair and replace power poles that were damaged by the fire. As of Sunday afternoon, about 130 customers were still without power. It's unclear when that power will be restored.
"We're working as quickly and as safely as we can to get everything repaired," spokeswoman Sabra Lattos said.
Utility crews were also in the area helping residents turn their gas back on.
The county will open a local assistance center at the Alpine Branch Library starting Monday to aid displaced residents with the recovery and the rebuilding process. It will operate from 9 a.m. to 6 p.m. until further notice, officials said.
Residents can also call a county hotline at (858) 495-5200, review resources at sdcountyrecovery.com or send questions to countyfirerecovery@sdcounty.ca.gov to receive more information.
The blaze, dubbed the West fire, started Friday off Willows Road and Interstate 8 near the Alpine Oaks Estates mobile home park. It was the largest of several brush fires that broke out during a record-breaking heat wave.
The Building fire, which broke out in the East County community of Dulzura, burned about 10 acres and destroyed one home and one accessory structure, fire officials said. It was 100% contained as of Sunday afternoon.
Fire crews are continuing to make progress containing two fires that are burning on Camp Pendleton in North County, base officials said Sunday.
The larger fire, dubbed the Horno Incident, had burned 1,200 acres and was 30% contained, base officials said Saturday. The smaller fire, named the Vandegrift Incident, had burned about 560 acres and was about 70% contained. Base officials didn't have updated acreage and containment numbers on Sunday.
According to the National Weather Service, relief from the heat is in sight.
Temperatures slowly began to decrease Sunday afternoon and are expected to continue falling over the next few days. Monsoonal moisture will bring a chance of showers and thunderstorms, mostly over the mountains and deserts, with a chance for more significant rainfall on Tuesday and Wednesday.
---
Life is stressful. Our weekly mental wellness newsletter can help.
You may occasionally receive promotional content from the Los Angeles Times.