Long-awaited plan for San Gabriel Mountains National Monument limits new mining and energy development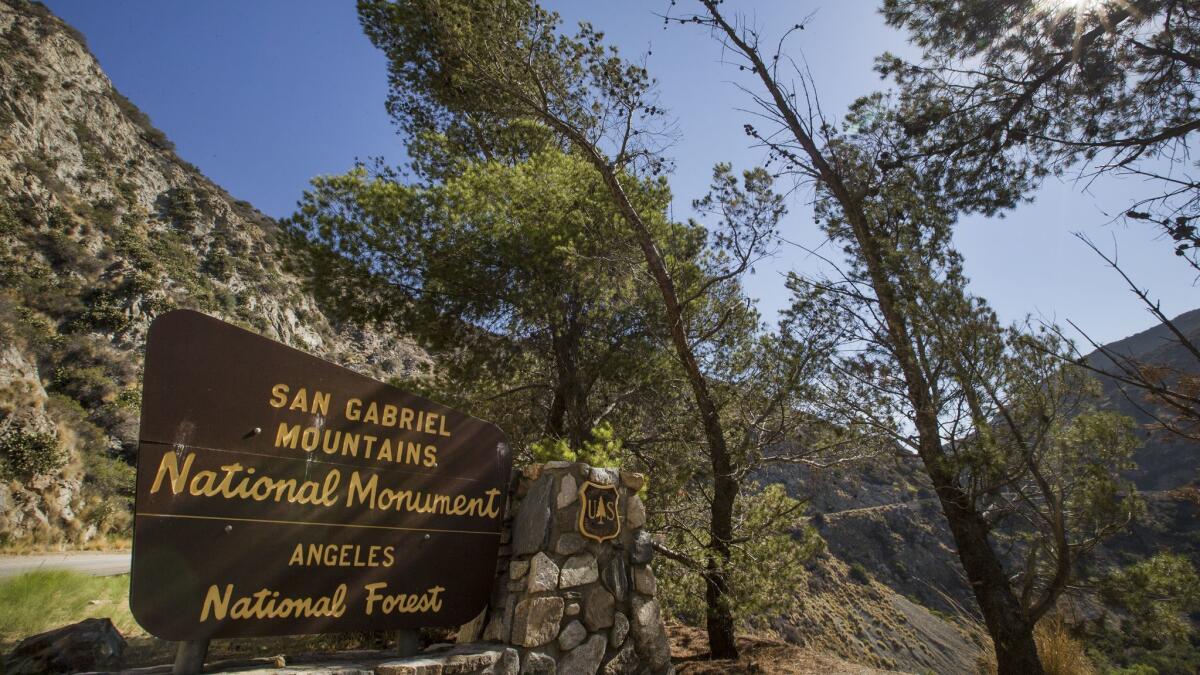 New oil, gas and mineral exploration and development will be barred in the San Gabriel Mountains National Monument under a long-awaited management plan, released Thursday, governing the largest wilderness in Los Angeles County.
The U.S. Forest Service plan prioritizes environmental protection over economic development and, in some cases, recreational access — limiting overnight camping along certain popular rivers and streams because of its ecological toll.
The plan comes four years after President Obama established the monument and amid a push by the Trump administration to increase industrial use of public lands and waters nationwide.
Jeffrey Vail, supervisor of the monument and the Angeles National Forest, said in an interview Thursday that strong local support shaped the new policies. "The credit really belongs to the people of Los Angeles and interest groups," he said, "that have given so much time and effort to protect these unique and significant wildlands."
"Beyond that, there just aren't any significant oil, gas, mineral or timber aspects to this monument," he said.
Released two months behind schedule, the document is scant on specifics for the 346,000 acres of alpine peaks, lush canyon lands and rivers that lure 4 million annual visitors to what it describes as "America's most urban national forest in the nation's most populous county."
It deems exploration and development of oil, gas and mineral resources and use of motorized vehicles for commercial purposes "unsuitable" in the monument. (Companies and individuals with existing mining claims will be unaffected by the plan.)
And it bans camping along the East and North forks of the San Gabriel River and Aliso Creek Canyon — tourist hot spots that have been designated as "critical biological land use zones" for rare and endangered species including mountain yellow-legged frogs, red-legged frogs and the Santa Ana sucker.
The plan focuses attention on one of the oldest and most rancorous arguments in the San Gabriels: the damage caused by gold mining in its streams.
Vail said gold extraction has "dire consequences for aquatic species."
Monument lands and waterways are not open to prospecting or any other mining operation including panning for gold. Until now, however, enforcement has been deliberately lax because the rule is based on a 1928 policy that does not include penalties.
The new document recommends that the monument collaborate with local, state and federal agencies, as well as volunteer groups, in an enforcement campaign to document and eliminate unauthorized mining activities.
Agencies, nonprofits, conservationists and communities that lobbied for the creation of the monument support the moves by the Forest Service.
"This plan is an excellent sign that the Forest Service is making management of the monument a high priority," John Monsen, co-chair of the Sierra Club Angeles Chapter's forest committee, said. "It's strong and ambitious, and should make it easier to persuade Congress to provide the cash-strapped Forest Service with the resources needed to apply it."
The management plan, hammered out over three years in often contentious meetings between Forest Service officials and stakeholders, recommends easing traffic congestion by considering temporary one-way traffic flows and closures during peak periods at popular destinations. It calls for enforcing parking capacity limits to reduce the number of cars left haphazardly along hairpin turns — and the flood of vehicles heading back down the mountain because there was no parking to be found.
It urges the use of multilingual information in signage and outreach programs, and more collaboration with volunteers and communities in the interests of "shared stewardship" of the land, a tactic that could help stretch its shrinking appropriated funds.
Deeming the lands a monument was a strategy intended to increase interest and attendance — and with them, donations. So far, fundraising efforts have been relatively modest, and because fire seasons are growing longer, wildfire suppression has eaten into a greater portion of the Forest Service's budget each year.
Over the last four years, the National Forest Foundation has raised about $6.5 million for projects on the monument and throughout the Angeles National Forest including educational programs, trail maintenance, removal of invasive plants and habitat restoration, Edward Belden, a spokesman for the nonprofit, said.
Compounding problems, budget cuts have forced the Forest Service to cut back on recreation and maintenance programs, officials said. The Forest Service's budget has been reduced by more than $1.5 billion over the last two years alone, according to federal documents.
The monument still lacks a budget or administrative unit of its own. It comprises half of the Angeles National Forest — and the existing authority of the Forest Service remains in place.
Monument advocates say partnerships are necessary to balance conservation and public interests without circumventing environmental regulations at the most popular picnic areas, hiking trails and campgrounds.
"The new plan counters what you see going on right now in the rest of the nation's forest communities," Mark Stanley, executive officer of the San Gabriel and Lower Los Angeles Rivers and Mountains Conservancy, said. "It's also in line with the direction we want to go — and that's a good thing."
The Forest Service's move to bar new energy and mining development in the monument comes as industrial interests have gained the ability to vie for once-protected land in the deserts north and east of the San Gabriel range under new Trump administration policies.
In the San Gabriels, however, the biggest challenge isn't industry so much as crowds.
On any given weekend, a two-mile stretch of the East Fork of the San Gabriel River, about 15 miles north of Azusa, and the Switzer picnic area, only seven miles from La Cañada Flintridge, are as crowded as Southern California beaches.
Most visitors arrive by car on California 39, the winding mountain highway that provides the only access to Crystal Lake and other recreational areas north of the East Fork.
Awaiting them are panoramic views of steep canyon lands that are home to rare and endangered species, including the California condor, Nelson's bighorn sheep, and a new species of scorpion recently discovered in Eaton Canyon, a highly visited area above Pasadena.
Scenic hiking trails bring visitors to Sturtevant Falls or atop Mt. Wilson, where one of the world's largest telescopes sits. Biking, horseback riding, off-highway vehicle use, fishing, hang-gliding, hunting and picnicking are just a few of the recreational activities jockeying for elbow room in one of the most heavily used national forests in the U.S.
The area is also susceptible to crowds who bring vandalism, trash, illegal campfires and emergency rescues.
Not all are in favor of the changes in the new land management plan.
Matthew McAuliffe, a spokesman for the American Mining Rights Assn. who said he has prospected for gold in the San Gabriels for nearly a decade, warned of "a lot of backlash coming down" in the event of a crackdown.
"I fear for the guy who comes up on a weekend to pan for gold with his kids only to be made an example of by militarized forest rangers," McAuliffe said. "If that happens, there will be litigation. We may lose, but at least we'll give the Forest Service a run for its money."
Twitter: @louissahagun
---
UPDATES:
6:40 p.m.: This article was updated with comments from Jeffrey Vail, supervisor of the monument and the Angeles National Forest.
This article was originally published at 4:55 p.m.
Sign up for Essential California for news, features and recommendations from the L.A. Times and beyond in your inbox six days a week.
You may occasionally receive promotional content from the Los Angeles Times.