A police chief left her gun in an El Pollo Loco bathroom. Then someone stole it
San Luis Obispo Police Chief Deanna Cantrell stopped at an El Pollo Loco about noon Wednesday for a bite to eat. After finishing her meal, she used the bathroom and then headed back to work.
There was only one problem: She left her gun behind.
Police are now looking for a man they think stole the weapon after Cantrell left the restroom.
The chief has since publicly apologized, noting that she immediately reported the loss of her weapon.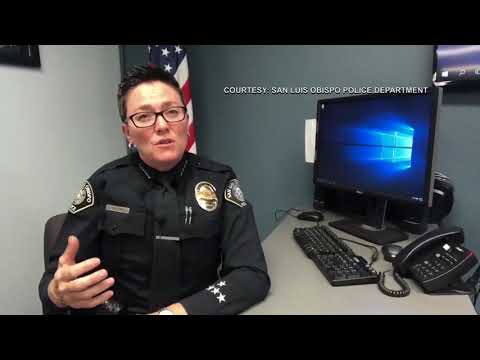 "I talk about transparency and having a relationship that's built on trust with our community, so I also want to make sure I practice what I believe, therefore I think you should hear this from me," Cantrell said in the video statement, which was posted on the San Luis Obispo Police Department's Facebook page.
Cantrell said she removed her gun, which was in a holster, and placed it next to her while she was in the bathroom. She left without the weapon but realized her mistake "within minutes."
She returned to the bathroom, but the gun was gone.
The chief said she immediately reviewed video from the restaurant and saw that three people went into the bathroom after she did.
The first person, a man wearing sunglasses, left the restaurant immediately after exiting the restroom without ordering anything, she said. Two other people who went in after the first man — a boy and another man — were still in the restaurant when Cantrell returned and told her they did not see a gun in the bathroom.
Police are seeking the first man, described as balding and wearing a black jacket with lime green and blue-striped shorts. He was in the bathroom for two minutes and left through the same entrance he came in, near the Dicks Sporting Goods parking lot, authorities said.
"My actions were irresponsible and dangerous, and I'm so grateful that after our preliminary investigation a child didn't find [the gun]," Cantrell said. "I was complacent, and that's something you can never be with a firearm."
According to a news release, Cantrell — who has carried a gun for 25 years — will attend training on firearms safety practices. The missing weapon has been entered into a national database, authorities said.
Anyone with information about the incident can call the San Luis Obispo Police Department at (805) 781-7312.
alejandra.reyesvelarde@latimes.com
Twitter: @r_valejandra
Sign up for Essential California for news, features and recommendations from the L.A. Times and beyond in your inbox six days a week.
You may occasionally receive promotional content from the Los Angeles Times.