Southern California hit with worst Santa Ana winds in a decade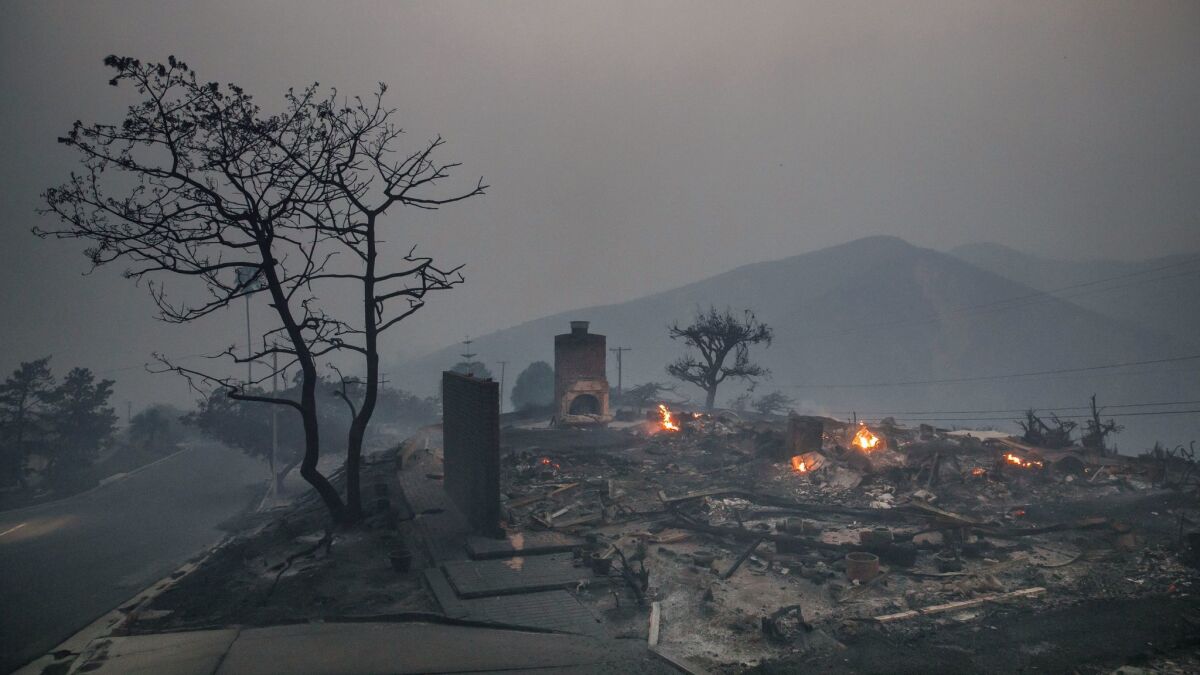 The last time a powerful Santa Ana wind event in Southern California lasted three days — as the current one is expected to — was in 2007, when wildfires destroyed thousands of homes and killed 10 people as they raked across the region, the National Weather Service said.
Ten years later, potent winds are again whipping flames through foothill communities as crews race to keep up.
Firefighters on Tuesday were battling at least five separate blazes across Ventura, Los Angeles and San Bernardino counties that have burned more than 160 homes, displaced tens of thousands of residents and scorched more than 55,000 acres.
Winds on Tuesday were measured at up to 60 mph with gusts blasting over hill tops at nearly 70 mph, said National Weather Service forecaster Ryan Kittell. The winds are expected to remain fairly constant through Thursday, when they will peak at night. The winds will begin to subside Friday, he said.
Santa Ana winds are strong, extremely dry, downslope winds They originate inland in desert regions in Southern California and northern Baja California and occur mainly in the fall and winter, but can arise during other seasons.
Most Santa Ana wind events are caused by high pressure in the the West's Great Basin and lower pressure off the coast. Air from areas of high pressure flows toward those of lower pressure, and the gradient, or difference, causes the intense winds.
The Santa Ana winds that roared through the Southland a decade ago fueled such a devastating week of fires that the California Department of Forestry and Fire Protection commissioned a report, California Fire Siege 2007, to review how public agencies responded to the blazes. More than a million people were displaced and 10 people killed during the 2007 events, Cal Fire said.
This week's winds follow nine of the driest consecutive months in Southern California history, according to climatologist Bill Patzert of the Jet Propulsion Laboratoy.
"Pile that onto the long drought of the past decade and a half, we are in apocalyptic conditions," he said in an email.
Two firefighters have been injured battling the Creek fire in Los Angeles County and more than 150 homes have burned in Ventura County in the Thomas fire.
The stories shaping California
Get up to speed with our Essential California newsletter, sent six days a week.
You may occasionally receive promotional content from the Los Angeles Times.