Must Reads: For Santa Anita's low-paid workers, horse deaths bring pain and fears about the future
Dagoberto Lopez begins each workday at Santa Anita Park at 4:30 a.m., checking on the five horses under his care: War Beast, Of Good Report, Carnivorous, Kissable U and Juggles.
He checks their temperature. He makes sure they've had enough to eat. He gives them sponge baths. On race days, he braids their hair and talks to them, hoping they're not nervous.

For the record:
9:30 a.m. June 21, 2019An earlier version of this article misspelled a backstretch worker's name as Ricky Ajarie. His name is Ricky Agarie.
"They're like another child for us," said Lopez, a 63-year-old groom from Cudahy who has worked at the racetrack for 35 years. "They're like humans. They just don't talk."
A steady beat of horse deaths at Santa Anita — 29 since the start of the race season Dec. 26 — has animal rights activists and politicians calling for the suspension of racing at the track. Gov. Gavin Newsom said last week that he was troubled by the fatalities and "enough is enough."
But many of the roughly 1,500 humble backstretch workers like Lopez who labor behind the scenes — grooms, trainers, exercise riders and stable cleaners — say powerful people and the media are talking over them, unconcerned about their fate.
Among the employees, mostly low-wage Latinos, there is a growing sense of being an invisible underclass in the sport of kings.
On Thursday, with a June gloom haze hugging the San Gabriel Mountains behind them, hundreds of backstretch workers and their families held a news conference at Clockers' Corner, a dining patio beside the track, in an attempt to make their voices heard.
They held handmade signs behind a podium:
"We love our horses. We love our jobs," one read.
"Soy madre soltera. Necesito mi trabajo," read another. I am a single mother. I need my job.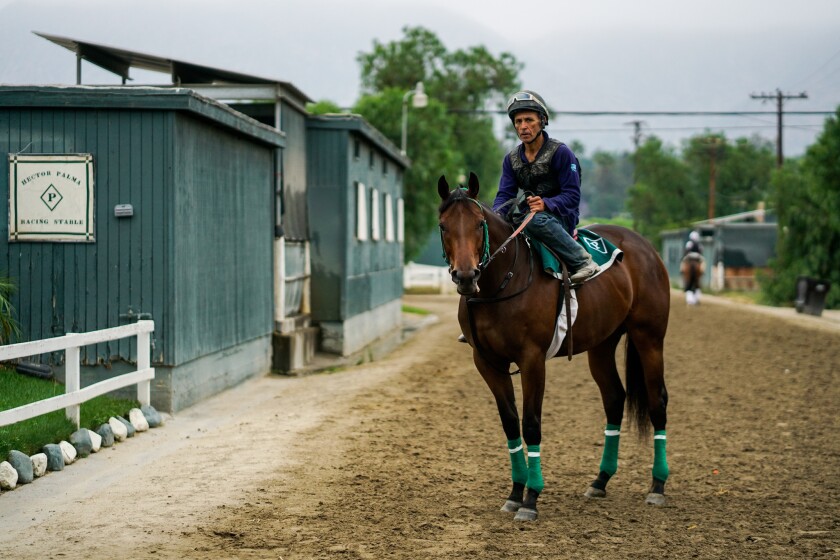 From the podium, Arnie Lopez, a deacon who hosts Bible studies at Santa Anita and helps employees apply for U.S. citizenship, sprinkled holy water on the workers and said a quick prayer: "God, we give thanks for our jobs and the love we feel for our horses. Please don't let something bad happen to our track."
On Thursday, backstretch workers said they feel like the track has been vilified by journalists, politicians and animal welfare groups such as People for the Ethical Treatment of Animals. But few people, they said, talk to them.
Their biggest fear is that the track will be shut down permanently amid the controversy. Two other major California racetracks have been shuttered in recent years to make way for new development. Hollywood Park in Inglewood closed in 2013 after operating for 75 years, and Bay Meadows in San Mateo closed in 2008 after 74 seasons.
Ricky Agarie, an exercise rider at Santa Anita, said there would be few options for backstretch workers if the track closes, especially those with specialized training.
"We'd be homeless," Agarie said. "We'd have to get a tent and get in line, because where are we going to go? That's what's going to happen. PETA doesn't think about that."
Amid the spate of horse deaths this season, the track temporarily closed in March. But high-profile calls to shut down for the rest of the season have been resisted by the park's owners, the Stronach Group, an Ontario, Canada-based real estate company led by a former member of the Canadian Parliament.
Last week, in an unprecedented move, the California Horse Racing Board, a state regulatory agency, asked Santa Anita to cancel the remainder of its season, which ends Sunday. The Stronach Group refused.
State regulators do not have the power to suspend a race meet or remove race dates without approval of the track unless they schedule a meeting with a 10-day notification period and publish an agenda, among other procedural hurdles. The Los Angeles County district attorney's office is investigating the horse deaths.
The racetrack this season has implemented several reforms, and owners announced last week that a five-person panel will evaluate every horse before it competes.
On Thursday, Kathy Guillermo, senior vice president for PETA, said in a statement that "backstretch workers have very little chance of continuing employment if horses keep dying" and that they should support reforms.
In an interview with the Los Angeles Times, she said she was sympathetic to their fears.
"We understand they're concerned for their jobs," Guillermo said. "I think that concern is legitimate. I think they might be seeing the people concerned about the deaths as the enemy, and I hope that's not the case."
Sen. Dianne Feinstein (D-Calif.), who has called for racing to be suspended amid the spate of deaths, said in a statement Thursday that "the goal is not to close the park, but rather to provide time for reforms to be enacted that will prevent more horse deaths."
In a statement, the Stronach Group said the "backstretch workers comprise the backbone of Santa Anita Park" and have been "a willing partner" in implementing reforms.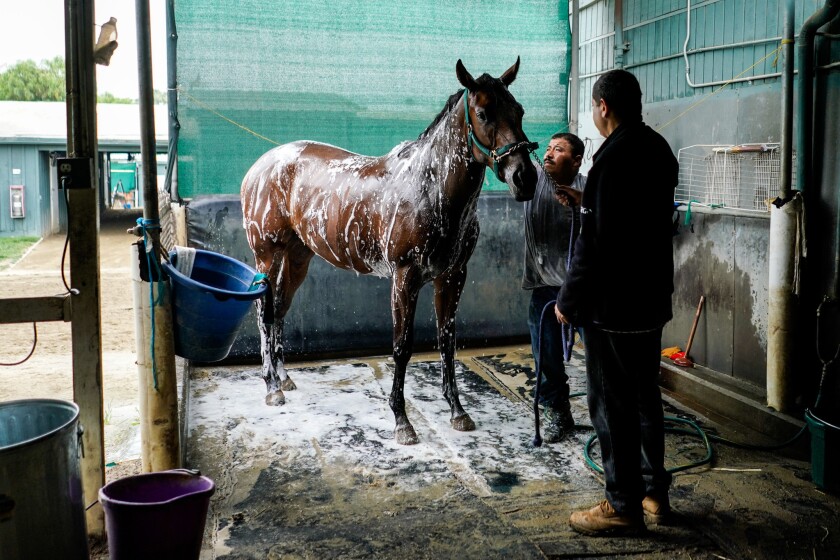 With its Art Deco architecture and the nickname "The Great Race Place," Santa Anita Park is a temple in the sport of horse racing and is listed on the National Register of Historic Places. During World War II, it was a temporary internment center for some 20,000 Japanese-Americans who lived in the stables and barracks in the parking lot.
Today, many lower-level backstretch workers at Santa Anita make about minimum wage and live in the stables, rent-free, so they can work around the clock.
On Thursday morning, the Santa Anita stalls overseen by trainer Hector Palma buzzed with activity. A horse covered in a heat-therapy blanket munched on hay while another stuck its head out of the stables, its legs wrapped with cooling bands. Nearby, two workers bathed a horse, with one man washing its tail with soap and another running his fingers through the animal's mane.
Palma, an 82-year-old trainer, began working at a Mexico City racetrack at 13 and came to the U.S. in 1959 to work in American stables, where the pay was better.
Palma struggled for more than 10 years as an immigrant living in California illegally, earning very little at the tracks. He worked nearly every backstretch job, working his way up to become one of the few Latino trainers at Santa Anita. Now, he employs nearly all Latino workers and has helped at least 30 gain citizenship and work permits, he said.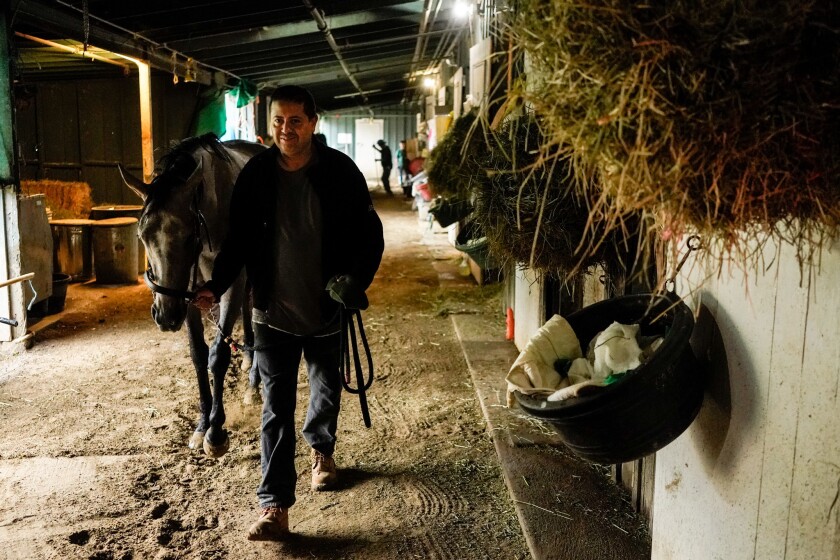 Palma worries about his employees amid the controversy and thinks the politicians and media don't understand their situation.
"They focus on the fatalities. It's the first thing they talk about," Palma said. "They never talk about the people who take care of them and love them. … There's no one who suffers more than us when a horse is injured. We take care of these horses better than some take care of a child."
Jenine Sahadi, a retired horse trainer who runs a nonprofit for backstretch workers in California, said they are hard-working people faced with a lot of uncertainty.
"There's been a level of ignorance," Sahadi said. "It's a complicated industry, and most people don't understand it. Media in general has contributed to the panic by the lack of information."
Dagoberto Lopez, who hails from Mexico, said he owes much to his job at Santa Anita. His bosses helped him earn a work permit, and last year he became a U.S. citizen. He lived at the park before starting a family, and his job helped him provide for three children.
"If it closes, we'll all have nothing," Lopez said.
Lopez said he wishes people understood how much backstretch workers love the horses. When one of the horses under his care, Goldencents, won the Santa Anita Derby and two Breeders' Cup races a few years back, he felt just as proud as when his son graduated high school.
That son, Jayro Lopez, 23, who works at Santa Anita during the summers while attending Cal State Long Beach, laughed.
His father, he said, was not exaggerating.
---
The stories shaping California
Get up to speed with our Essential California newsletter, sent six days a week.
You may occasionally receive promotional content from the Los Angeles Times.