At evacuation centers, many ask whether their future is in Santa Rosa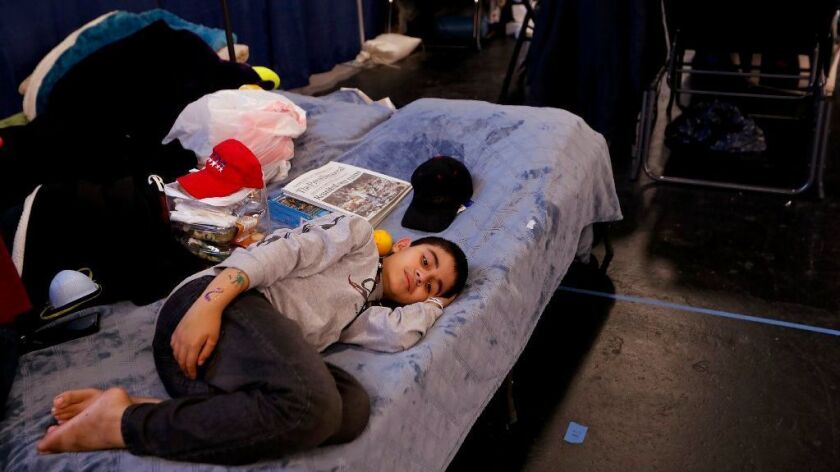 Reporting from Santa Rosa —
Sitting on a bed inside an evacuation center, Imelda Flores had nothing to do but think. Her Santa Rosa home had been spared by a massive wildfire, but her son's caretaker wasn't so lucky.
"I don't know if I'll be able to find another nurse now," she said. "I don't have anyone who can understand his situation."
Her 12-year-old son, James Lopez, was born with one bad lung, a weak immune system and requires a machine to pump food into his stomach; if done improperly, it could lead to an infection. Because of his health problems, her son needs a nurse by his side at school.
Flores looked at James on the bed next to her. A blue face mask lay between them.
"I may need to go to school to personally feed him," she said. "I may become his nurse."
As firefighters anticipate full containment of the Sonoma County wildfires this week, residents like Flores are anxious about how they will find affordable housing while others find themselves overwhelmed at having to start over.
"We have an opportunity to move forward," Flores said. "We didn't lose our home, and I'm compelled to help others."
The mother and son have been staying at the Grace Pavilion on the Sonoma County Fairgrounds for two weeks now. She said the first three days at the evacuation shelter were difficult.
"People were waking up screaming, some were crying, and some people would storm in here, desperately looking for relatives," she said. "It was just difficult and sad."
But amid the chaos, she said, Red Cross volunteers at the shelter helped ease her worries by providing them clothing and other essentials. She said Lopez's doctor and nurses from UC San Francisco Medical Center came by to check on the young boy.
Though the shelter is now mostly empty, Flores said she has decided to stay longer because lingering smoke from the massive fires could endanger her son's health.
"He is prone to getting sick," she said. "A cold can turn into pneumonia."
Even when things clear up, she feels she can't let her guard down.
"He'll still have to wear a mask a few more days," she said.
There have been 18 large wildfires in Northern California, displacing about 100,000 people and destroying about 7,700 homes and other buildings since the blazes began Oct. 8, according to the California Department of Forestry and Fire Protection.
Some fires merged as more than 10,000 firefighters struggled to establish containment lines and prevent the spread of the flames.
On Thursday, light rain helped firefighters battle the flames, which have scorched more than 240,000 acres, killed 42 people and caused more than $1 billion worth of insured losses.
In Sonoma County, the Nuns fire was reported to be 90% contained Sunday evening after burning 56,556 acres; the Tubbs fire, which is the most destructive wildfire in California history, was 94% contained after burning 36,807 acres; and the 17,357-acre Pocket fire was 87% contained.
In Napa County, the Atlas fire was 93% contained Sunday evening after burning 51,624 acres and killing at least six people.
And in Mendocino and Lake counties, the 36,523-acre Redwood fire was 97% contained and the Sulphur fire 97% after burning 2,207 acres.
Across from the pavilion at the Sonoma County Fairgrounds, Terry Andrew, 63, sat with his girlfriend, Marjorie Roush, 59, and her mother, Marjorie Sparaco, 92, at a special Red Cross shelter set up for pet owners.
The couple said their mobile homes were spared, but they couldn't return to the Journey's End Mobile Home Park because there is no power, gas or water. Almost all of the park's 160 homes were destroyed.
"It was sad going in there to see the mobile home park," Roush said.
The couple said a neighbor had alerted them about the fast-moving fire encroaching from the Napa area. They didn't think the fire would reach deep into town until Andrew woke up and saw the flames had gotten closer.
"I didn't think we were going to get out," Andrew said, adding that he had to help Roush move her mother, who uses a wheelchair, from the mobile trailer into a vehicle.
At the shelter, the couple said it's been difficult having to lift her mother to use the restroom. Sometimes, her mother yells out to them whenever they're away.
"She doesn't know where she's at and when we tell her, she forgets," Roush said.
The couple have managed to find a two-bedroom home, which they say they will move into Monday; but they had to dip into their savings, taking out $5,000 to make first and last months' rent. They said rent will be about $2,000 a month, leaving them with only $1,000 to work with from social security benefits.
They still have to buy furniture for their home and a T.V. for Roush.
"I love T.V.," she said.
Lying on the ground, Andrew's dog, Homer, slept, ignoring the loud parrot from across the room.
Nearby, Forrest Smith, 53, a paratransit bus driver for the city of Santa Rosa, lay on a cot while his dog, Jazz, licked his cheek.
"She doesn't think I'm clean enough," he said, smiling.
Smith was living in a hotel, trying to find a new place to live when the wildfire swept through the storage unit where he kept all his belongings.
"Whatever I have is in my truck," he said.
On the day of the fire, Smith said he and other bus drivers help evacuate people from retirement homes. Smith, alone, helped evacuate six people. Since then, he hasn't been working much. He's volunteered at the shelter, cleaning cots, throwing out trash and doing anything else to keep his mind from thinking about his situation.
"How am I going to find a place for me and my dog," he said.
Outside, sitting on a folded chair, Steve Champ, 61, who has been homeless for more than 10 years, could only feel sad. Unlike other residents, he lost his bicycle and an orange tent where he slept. He had a few photos of his family in a zip-lock bag that the fire destroyed.
"I have them up here though," he said, tapping his head with his index finger.
Champ said he doesn't know where to even begin. Having to start over is even harder when you're homeless.
He said he had found a new sleeping place at Coffey Park when the wildfire swept through the neighborhood. The community was left in ruins. Also gone was Champ's tent, which he considered home.
"I didn't have a chance to grab anything," he said.
Unlike other residents, Champ said he will have to seek help at homeless shelters and other religious organizations.
Until then, he said: "I'll let God guide me — all of us."
For more Southern California news, follow @latvives on Twitter.
---
The stories shaping California
Get up to speed with our Essential California newsletter, sent six days a week.
You may occasionally receive promotional content from the Los Angeles Times.