Tijuana model died while pursuing her dreams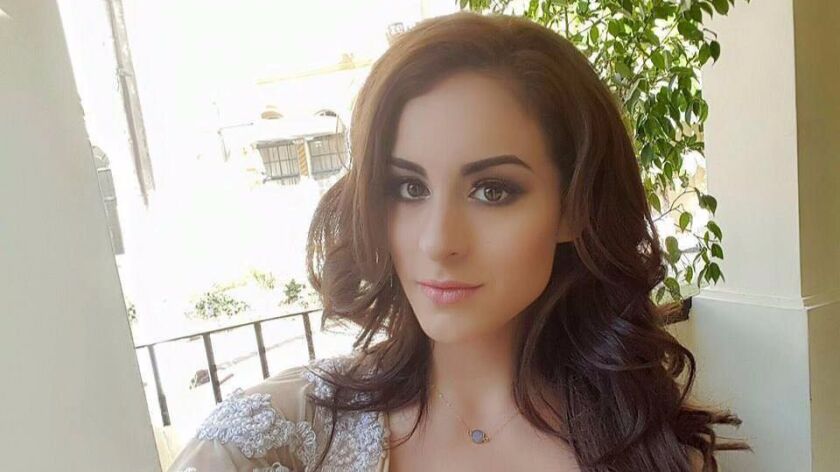 Reporting from San Diego —
Stephanie Rivera was excited about the future when her life came to an unexpected end last week in San Diego, friends said. Beautiful, disciplined and focused on her career, the Tijuana-born model had much to live for.
"She was getting up there finally," said her friend Lali Amador, who at one time shared runways with Rivera in Tijuana, and more recently had been part of the same circle of friends in San Diego. "She was making the big transition from being a Mexican model to being a U.S. model."
A former Miss Earth Baja California, Rivera, 26, died Wednesday following critical injuries sustained on Nov. 5 after she was ejected from a speeding 2016 Lamborghini that caught fire after crashing into a palm tree on North Harbor Drive.
The driver was Michael Llamas, 33, founder of a hemp products empire. He died at the scene.
Amador and other friends believe that Llamas would have been a recent acquaintance. Joaquín Meza, who directs the Miss Earth Baja California pageant, said Rivera never mentioned Llamas when she met him on the weekend before the accident.
"We were close, she would have said something, she would have said he was her boyfriend, or her suitor," Meza said. "But she didn't."
Rivera was part of a growing circle of modeling talent emerging in Tijuana, said Claudia Muñoz, owner of the Tijuana-based Portafolio Modeling Agency. She said she stood out for her professionalism and commitment.
"Always when you asked, she would be there," Muñoz said. Disciplined and professional, "she wanted to go far," Muñoz said. "But she also had a really good heart, she wasn't one of those girls who are prima donnas."
Muñoz said she began working with Rivera three years ago. One time, she sent Rivera to Cabo San Lucas to record a tourism promotion program. Another time, she sent her north of the border for a modeling job at Los Angeles Fashion Week.
Friends said Rivera was born and raised in Tijuana. She attended the Autonomous University of Baja California, studying business administration, but fell some credits short of what was needed to obtain a degree, according to the school's records.
Passionate about modeling and fluent in English. Rivera lately had been spending much of her time north of the border, working and making connections. "Doors were beginning to open," Muñoz said.
One friend in San Diego was Marc Chase, owner of a Sorrento Valley-based dealership specializing in racing and collectible cars. They dated briefly in 2015, and had remained in touch, he said.
Chase recalled the time he invited Rivera to a charity event in Del Mar: She showed up, even though she had the flu. "She was just that kind of person, that went above and beyond the call of duty to fill her obligations and commitments," he said. "She was just a trouper; most girls would have called and canceled."
Even as she was making her way north of the border, Rivera kept in close contact with Tijuana friends such as Meza, the pageant director, and helped him promote causes such as beach clean-ups and stage benefits for women with cancer.
Marco Ledezma said she volunteered her talent for a program, Fashion Against Poverty, to raise funds for the Lucas Family Foundation, which works with children in Tijuana living in conditions of extreme poverty.
"She was a real model, somebody that girls in the region could look up to," Ledezma said. "She was always concerned about others."
---
For reporting and exclusive analysis from bureau chief John Myers, get our California Politics newsletter.
You may occasionally receive promotional content from the Los Angeles Times.