Tijuana shoplifting ring hit U.S. malls for $20 million in luxury goods, authorities say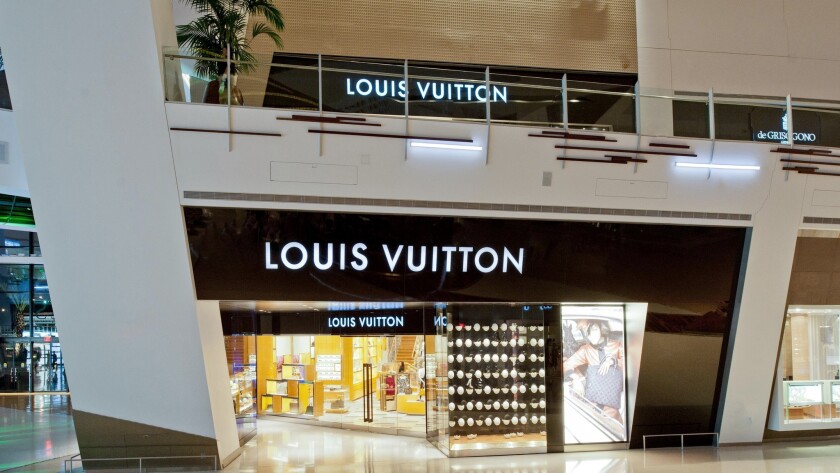 San Diego —
For at least the past decade, Tijuana vendors put in special orders for designer merchandise, dispatching teams of shoplifters to malls around the country to steal more than $20 million in loot that could be resold at lower prices in Mexico, according to an indictment unsealed in San Diego federal court Wednesday.
The highly organized shoplifting ring targeted malls around San Diego County — from Fashion Valley to Horton Plaza to Plaza Bonita — and as far away as Washington, Illinois, Oregon and Maryland, prosecutors said. They used sophisticated techniques to lift everything from Louis Vuitton shoes to Victoria's Secret lingerie to Abercrombie & Fitch clothing.
And when necessary, the suspected thieves used violence — allegedly knocking down an infant in a stroller and breaking a loss prevention officer's arm — to get away with their crimes, the U.S. attorney's office in San Diego said.
On Wednesday, more than 250 law enforcement officers spread throughout the county with warrants, arresting at least 14 people by the afternoon and searching three homes in Lemon Grove, Chula Vista and San Diego.
A San Diego federal grand jury indicted 22 people in the scheme. Three of those arrested were already in custody. Some remain fugitives.
Agents seized about $30,000 in cash as well as about a dozen trash bags bursting with new clothing with tags and security devices still attached. Numerous brands were represented in the haul, including Guess, Express, Hollister, Calvin Klein, Puma, Armani and Adidas, authorities said.
Piles of new Louis Vuitton shoes, as well as jewelry and perfume, were also confiscated.
Sara Portilla, who manages a boutique in Tijuana, and Maria Angelica Mendez Valdivia, both San Diegans, are accused of fencing the stolen goods in the store and at Mexican swap meets with the help of Jose de Jesus Mora, said David Shaw, special agent in charge of Homeland Security Investigations in San Diego.
At times they would make specific requests for special items, such as an order for Tommy Hilfiger clothing, or for items not found in stores in California, according to the indictment.
The shoplifting crews were organized by team leaders, who would scout stores and choreograph the heists using cellphones and hand signals, prosecutors said. "Blockers" would distract store employees or shield the movements of the "mules," who would use metallic-lined "booster" bags to hide the merchandise and defeat store security sensors.
The 38 thefts in the indictment range from June 13, 2008, when one defendant is accused of trying to drive over an Abercrombie & Fitch employee in National City, to July 27, 2017, when several defendants stole about $5,500 in merchandise from an Abercrombie store in San Diego.
The thieves typically stole thousands of dollars in merchandise each time, including $5,000 from an American Eagle store in Visalia, $4,500 from a Victoria's Secret in Escondido, $10,600 from a Tommy Hilfiger store in San Clemente and $6,700 from a Las Vegas Victoria's Secret, the indictment alleges.
Some of the thefts got physical.
Sergio Manuel Montano Nava is accused of knocking over an infant in its stroller and injuring the father to flee after stealing merchandise from a Hollister store in Schaumburg, Ill., in November 2009. Jose Damazo Herrera, Robin Macias and others are accused of driving vehicles through a crowd in November 2012 during their getaway from another Hollister store theft in Fashion Valley Mall in San Diego.
In March 2013, a suspected thief allegedly grabbed a loss prevention officer by the throat and threw her to the ground while running from an Abercrombie & Fitch store at the Plaza Bonita Mall in National City.
Others are also accused of intimidating a witness from talking to law enforcement, including throwing a rock through a car window, prosecutors say.
"They're not just shoplifting," said David Shaw. "They're using violence to get what they want."
The stolen merchandise was then sold in Mexico, prosecutors allege. For example, in October 2013, Mendez had more than $482,000 in merchandise that had been lifted from at least 57 stores, bound for south of the border, the indictment alleges.
The indictment includes charges of conspiracy and receiving and possessing stolen goods. Seven defendants are also charged with being in the U.S. illegally.
"The mall is supposed to be a safe place for families to shop, eat and enjoy themselves," Acting U.S. Atty. Alana Robinson said in a statement. "Instead, a prolific and violent group of thieves has stolen millions of dollars in merchandise as well as peace of mind from mall employees and customers. With today's action, we are protecting customers and businesses both physically and economically, and we are restoring and preserving the safety of our community gathering spots."
Davis writes for the San Diego Union-Tribune.
ALSO
Does the LAPD treat celebrity burglaries differently from the average home break-in?
A man offered to pay for an alleged shoplifter's stolen goods. Then he was attacked with a hatchet
Deputy accused in Alameda County jail abuse scandal strangled an inmate until he fell unconscious, prosecutors say
---
The stories shaping California
Get up to speed with our Essential California newsletter, sent six days a week.
You may occasionally receive promotional content from the Los Angeles Times.