Storm slams into Southern California, bringing flood risk, snow, mudslide warning
Animated infographic shows how debris flows and deep-seated landslides happen
A new rainstorm moved into Southern California on Thursday, prompting the National Weather Service to issue a flood advisory for much of Los Angeles County through 9:15 a.m.
Forecasters said southern and eastern Los Angeles County would be hardest hit by the storm.
It's the latest of a series of storms to dump rain on the region, which has been hard hit by six years of drought. December saw a series of storms, and the weather service said downtown L.A. is now at 150% of rainfall for the season.
Officials warned of potential mud flows in areas affected by wildfires last year and heavy rains in the afternoon, when there will be a slight chance of thunderstorms. There have been reports of road flooding in Altadena, the weather service said. Storm debris caused delays for Metro commuters on the Gold Line in Pasadena on Thursday morning.
The snow level was expected to drop to 3,500 feet, causing potential problems — including icy conditions — for the Grapevine north of Los Angeles.
Laurel Canyon Boulevard in the Hollywood Hills was closed Wednesday afternoon after a home's rear balcony collapsed onto the road.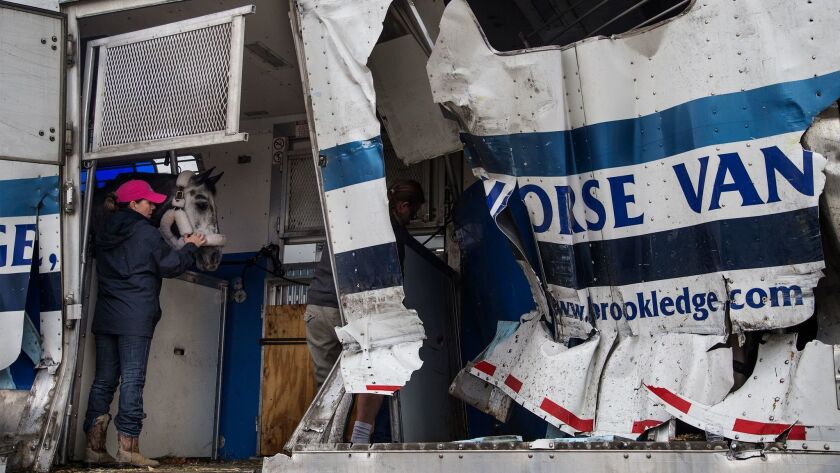 No one was injured but the building was red-tagged, displacing the residents, officials said. Homes on either side of the property were yellow-tagged by Los Angeles' Building and Safety Department, meaning residents can stay in them but can't go into their backyards until the city determines it's safe.
The earth underneath the home, in the 8100 block of Gould Avenue, was saturated and gave way, sending a 9,000-pound slab of concrete and a retaining wall sliding 20 feet down to Laurel Canyon Boulevard, the Los Angeles Fire Department said.
In Northern California, officials began assessing the damage from the most powerful series of storms in recent years.
The storms drenched the Bay Area and created blizzard conditions in parts of the Sierra Nevada over the last week. The storms dramatically boosted the Sierra snowpack — a key source of water for California — to 158% of normal and made a significant dent in the state's six-year drought.
But the weather systems also left a path of destruction. The storms are being investigated as likely causes of at least four deaths.
Numerous Northern California and Nevada rivers flooded, forcing thousands to flee their homes. While the storms were beginning to taper off Wednesday, officials said they are still on high alert.
"The ground is saturated," said Edan Weishahn, a meteorologist in the National Weather Service's Reno office. "They can't handle any more water, so any more we get, it's all runoff into the streets."
In Guerneville in Sonoma County, the Russian River flooded from the combination of melting snow and more than 12 inches of rain that have fallen since early last week across the region. Hundreds of Sonoma County residents were displaced as the waters peaked at 37.7 feet, said Jennifer Larocque, a spokeswoman for Sonoma County's Transportation and Public Works department.
Forecasters expect another series of storms to hit California next week.
ALSO
Is the great California drought finally quitting?
Southbound 15 Freeway in Riverside area closed after shots fired during pursuit
Ex-USC football player pleads guilty to drug trafficking, gambling scheme
---
UPDATES:
9:05 a.m.: This article was updated with information about Metro delays due to debris.
6:45 a.m.: This article was updated with information on icy roads and a flood advisory.
This article was originally published at 6: 05 a.m.
---
The stories shaping California
Get up to speed with our Essential California newsletter, sent six days a week.
You may occasionally receive promotional content from the Los Angeles Times.