Street vendors launch citywide effort to clean up sidewalks
The "Street Cleanup Caravan," made up of Los Angeles street vendors, cleaned up sidewalks in four prominent vending neighborhoods in the city. The group wants to show local officials the positive role vendors can play in keeping sidewalks safe and c
Natalia Garcia was cold. Her contact lenses chafed dryly against her eyes and the breeze from the rush-hour traffic wasn't helping. As the morning sunlight caused the 87-year-old street vendor to blink, the cleanup was just beginning.
"I wish I had my sunglasses," Garcia said, dabbing her eye with a napkin.
On Monday, Garcia and two dozen other street vendors set about cleaning up sidewalks in four Los Angeles neighborhoods. In a city where they are both praised for their work ethic and reviled by those who see their labor as simply illegal, the vendors wanted to do something everyone could agree on: help keep L.A's sidewalks safe and clean.
The event, called the Sidewalk Cleanup Caravan, comes as vendors wait on a city report that will propose an ordinance that would legalize street vending amid fears that the Trump administration would use even misdemeanors — such as from street vending — to arrest and deport immigrants in the country illegally. Few jobs in L.A.'s large informal economy are as visible as street vending.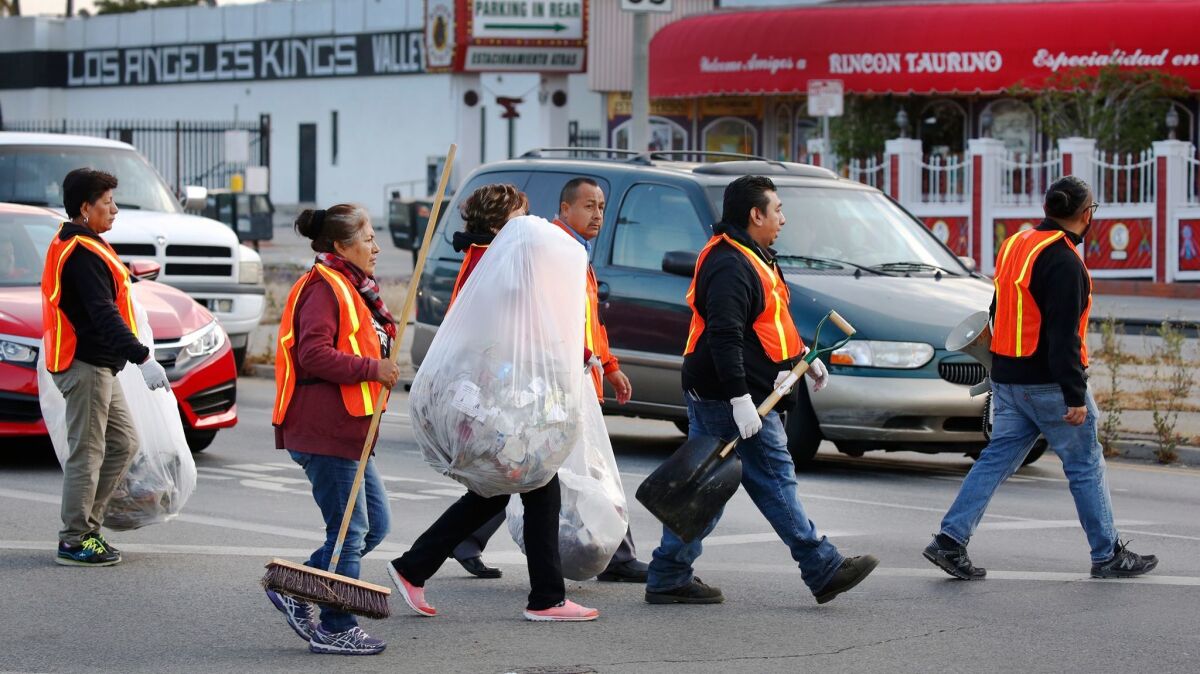 In February, the City Council voted unanimously to decriminalize street vending. It is still illegal, but no longer subject to a misdemeanor charge. The move was made before Homeland Security Secretary John F. Kelly instructed immigration officers to widen the net as part of the executive order on illegal immigration that President Trump signed during his first week in office.
Carla De Paz, an organizer with the Legalize Street Vending Campaign, said the street vendors are eager to work with the city and hope the ordinance is applied citywide rather than in specific neighborhoods.
"We don't want arbitrary limits, but if they end up happening I think special districts could help where there is a lot of vending," De Paz said.
The idea for Monday's cleanup event came from a coalition of street vendors from across L.A. as a response to ongoing criticism that vendors don't pick up after themselves and their customers.
The group visited and cleaned sidewalks in four prominent vending neighborhoods: Panorama City, MacArthur Park, South L.A. and the Piñata District in the downtown area.
As he swept trash, Marcus Hart, 46, said he struggled for years to find a steady job after he was released from prison eight years ago.
"No one wants to hire an ex-convict. I applied at markets. I did odd jobs, I did recycling," said Hart, the only black street vendor at the event. "You basically have two options; you can make a living legally or illegally."
Street vending was far more appealing than other alternatives.
Two years ago Hart started selling at MacArthur Park. Though he isn't Latino, or an immigrant, like most of the other vendors, Hart said he dealt with many of the same issues they did.
"What affects them affects all of us; black vendors, white vendors," he said. "It's important we stand together."
To read the article in Spanish, click here
For more Southern California news, follow @latvives on Twitter.
---
The stories shaping California
Get up to speed with our Essential California newsletter, sent six days a week.
You may occasionally receive promotional content from the Los Angeles Times.