A string of armed robberies at Trader Joe's has police investigating whether they're linked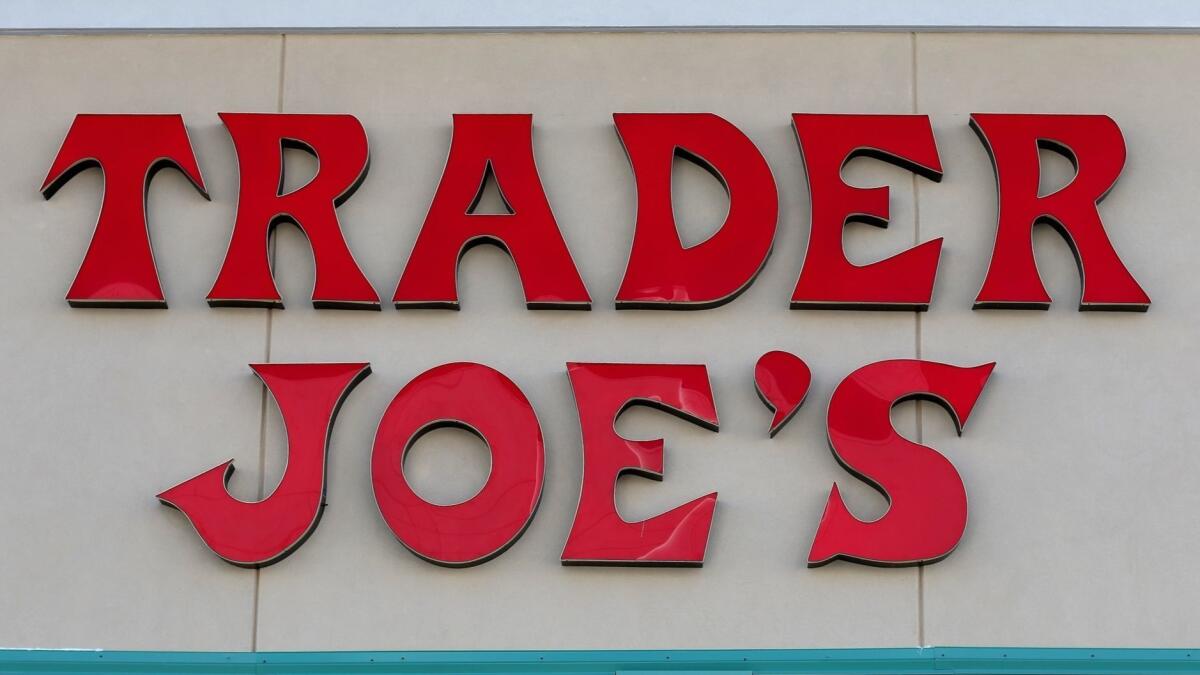 The two men who walked into a Trader Joe's in Culver City were not interested in Chocolatey Cats Cookies or lemon elderflower soda.
As one man took a position at the door, the other brandished a gun and forced the store manager to fill a white leather bag with about $4,800 in cash. The robbers fled on foot, said Culver City Police Lt. Randy Vickrey.
The April 12 robbery was one of at least seven of Trader Joe's grocery stores in the Los Angeles area in recent months, authorities said.
In Long Beach, a Trader Joe's store on Bellflower Boulevard was robbed twice in two weeks. The first robbery took place at about 8:30 p.m. on Feb. 15; police said a suspect pulled a gun on a store employee, demanded money and fled on foot. The store was robbed again in a similar fashion at the same time of day on March 2.
In Los Angeles, police are investigating four armed robberies at Trader Joe's in the last month, said Capt. Billy Hayes, head of the agency's Robbery-Homicide Division. In the L.A. cases, Hayes said, a group of three or four people walk into the stores, identify an employee and then "go for the money," he said. The suspects have escaped on foot, he said. Like the robberies in Long Beach and Culver City, Hayes said, the hits in Los Angeles also occurred in the evening.
No injuries have been reported in any of the robberies. LAPD investigators believe the Los Angeles cases are connected because of the target and the behavior of the suspects. Authorities are investigating whether the Culver City or Long Beach robberies are also linked.
It's not clear why thieves are targeting Trader Joe's, police say, or how regularly these robberies occur. Los Angeles Times archives show that a Trader Joe's was robbed in Palms last year, and Trader Joe's locations in the Eagle Rock and Palms neighborhoods were robbed in 2010 and 2011, respectively. In 2000, 16 Trader Joe's locations throughout Southern California were robbed over a period of a few months, according to Times archives.
Authorities have asked anyone with information about the robberies to call a police department or submit tips to a hotline at 1-800-222-8477.
Police have not made arrests in any of the cases. In Culver City, Vickrey said, detectives had to seek surveillance footage from nearby businesses because the Trader Joe's store didn't have any.
"Unfortunately, Trader Joe's does not have security cameras," Vickrey said, referring to the Culver City locations.
Vickrey's detectives encountered a similar issue last year, when a Trader Joe's on Slauson Avenue was robbed. No security footage was available, and that case is still under investigation. It was "hard to tell" if the same suspects were involved in both robberies, Vickrey said.
The suspects in the latest robbery in Culver City have been described as two men in their 20s, both about 5-foot-8, one with large earrings and a scar under his eye, the other wearing a white t-shirt.
Culver City police talked to Trader Joe's about installing cameras after last year's robbery, Vickrey said, but the company said it didn't want their customers to feel as if they were under surveillance while they shopped.
Kenya Friend-Daniel, a spokeswoman for Trader Joe's, said security cameras and guards are present at some Trader Joe's locations, but she declined to say how many stores had these measures in place because she said disclosing that information would compromise the security of its employees and customers.
"We will not hesitate to take the necessary steps to help ensure that our customers are and feel safe," Friend-Daniel said.
The company provided photos and composite descriptions to authorities investigating this latest string of robberies, Friend-Daniel said.
It's not clear why some Trader Joe's stores do not have security cameras. Bob Dilonardo, a retail security consultant for more than 40 years, called the lack of cameras "extremely unusual."
Companies sometimes decline to install cameras to provide customers with a less intrusive shopping experience, Dilonardo said. But the decision comes with costs, because it could increase the likelihood of a robbery.
"Criminals don't live in a vacuum. When they discover a situation that's easier, rather than more difficult, they take advantage," Dilonardo said. "Thieves are aware of (camera systems) and know where everything is."
Jonathan Underland, a 27-year-old former Trader Joe's employee, half-jokingly offered a different theory.
"It could be that everyone's just so super nice there."
Twitter: @frankshyong
Sign up for Essential California for news, features and recommendations from the L.A. Times and beyond in your inbox six days a week.
You may occasionally receive promotional content from the Los Angeles Times.