He keeps Orange County's smallest trains running on time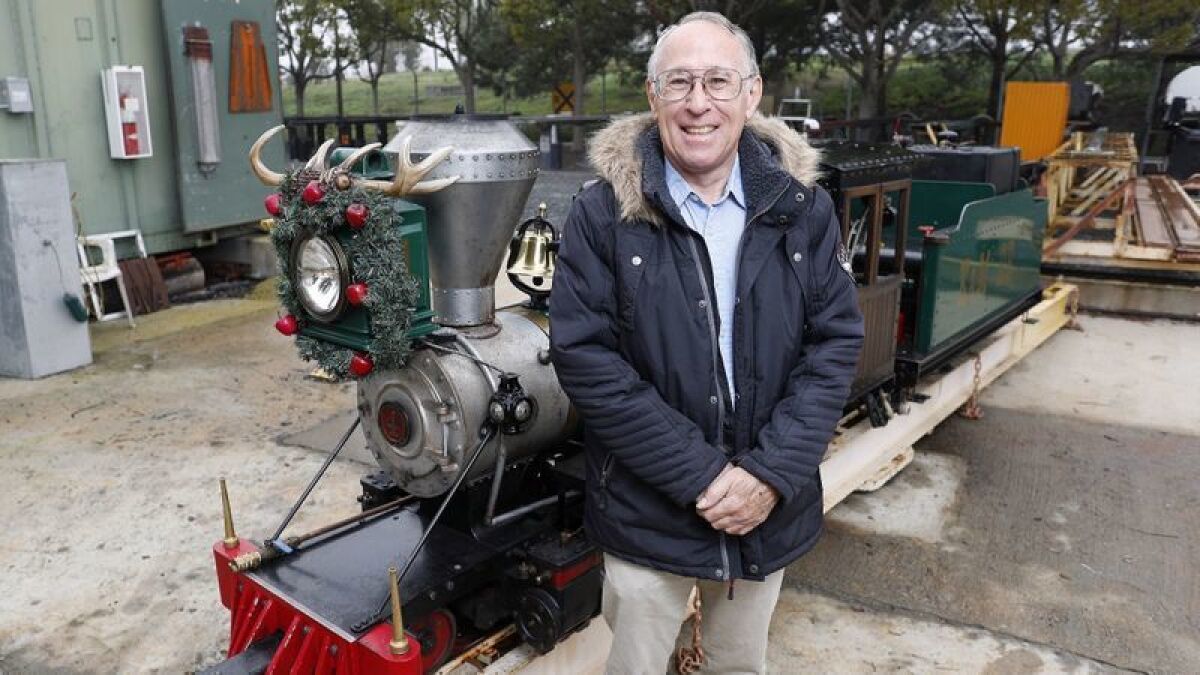 For as long as he can remember, Kenneth Matassa has been riveted by the rails.
As a youngster, he could often be found messing about with model trains or circling tracks around a tree in his family's yard.
Asked how he fell into the hobby, though, and one might be met with a shrug.
"I can't tell you," the 72-year-old said during a recent interview.
Whatever the reason, the fascination has followed him throughout his life. That passion pushed him to start what is now the Orange County Model Engineers, the nonprofit group that operates and maintains the popular railroad in Costa Mesa's Fairview Park.
Today, more than 30 years after the club hammered in its golden spike, Matassa, who remains a board member and its vice president of facilities, travels from his home in Santa Ana each week to volunteer.
While he's long served as stationmaster of the Model Engineers' Mackerel Flats and Goat Hill Junction Railroad — helping count passengers and make sure they safely board — it's his willingness to tackle other tasks, such as cleaning the restrooms, that inspired City Councilwoman Arlis Reynolds to tout him as an "unsung hero."
"You'll see Kenny every public run weekend, and many days in between, spending the whole day on his feet — welcoming visitors to the train station, announcing the train rules, helping passengers board the trains, and overseeing other operations and activities throughout the day," she said in an email.
For all the reasons Matassa is involved with the Model Engineers, public recognition doesn't even come close to topping the list.
"It's good camaraderie … model railroading is my No. 1 hobby and just the fun of being out here in the open," he said. "It keeps me busy and active. It gets me exercise, instead of sitting around like a couch potato all day."
The Model Engineers started construction on its first loop of track in 1989. Now, the nearly 200 members operate a 7.5-inch gauge railroad with more than 5 miles of track on the eastern side of Fairview Park, along with an on-site maintenance yard, gift shop and restroom.
"It's not a model railroad; it's a real railroad," Matassa said. "We're outside, we have all the problems that full-size railroads do and have to contend with — weather, vermin, track wearing out, that sort of thing. So it's constant, steady work."
And, he points out, the responsibility for maintaining all the club's facilities falls on the shoulders of volunteers who donate their time and energy.
"The environmentalists like us because we're stewards of the site, and the public likes us because of the trains," he said.
The stories shaping California
Get up to speed with our Essential California newsletter, sent six days a week.
You may occasionally receive promotional content from the Los Angeles Times.