Trump accuses California police of being soft on street gangs, and cops fire back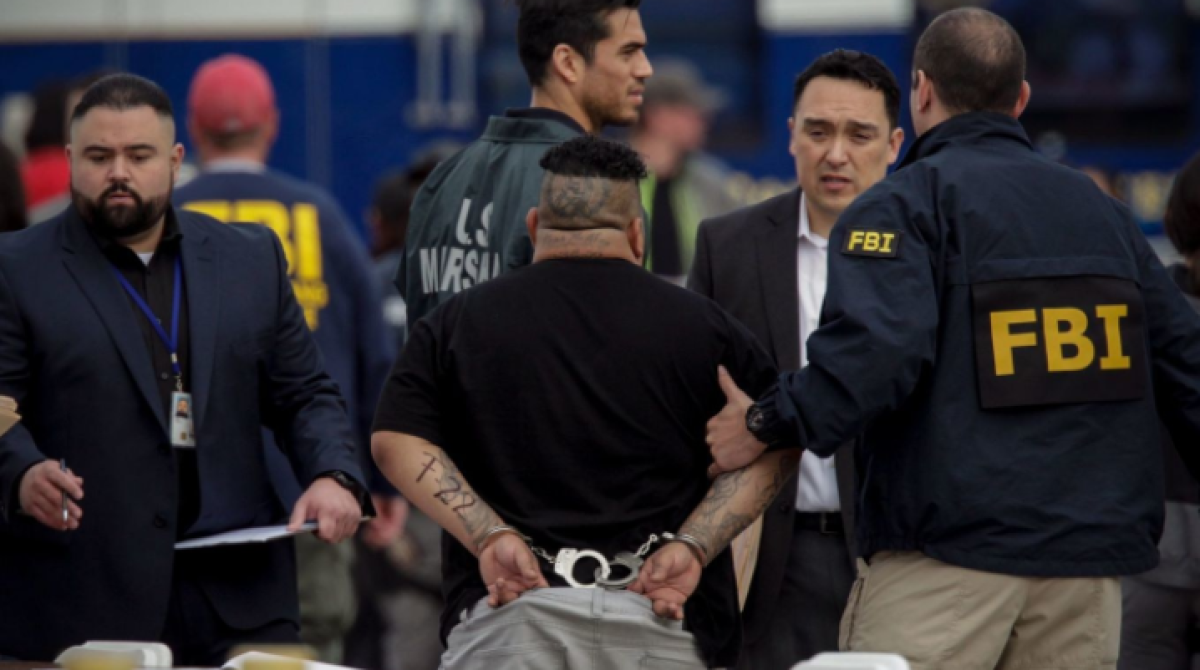 President Trump on Thursday accused California law enforcement of being soft on street gangs and suggested he might pull immigration agents out of the state, prompting a strong rebuke from local officials who said the president doesn't understand their war on gangs.
Trump's remarks are an escalation of a yearlong battle between his administration and California on a variety of topics including illegal immigration and law enforcement. Trump has criticized California for being a "sanctuary" for those here illegally, and federal officials have vowed immigration crackdowns in the state.
On Thursday, Trump stepped up the war, predicting that gang members would wreak havoc if federal authorities withdrew from Los Angeles and other parts of the state.
"I mean, frankly, if I wanted to pull our people from California, you would have a crime mess like you've never seen in California," Trump said. "You'd be inundated. You would see crime like no one's ever seen crime in this country. And yet we get no help from the state of California. They're doing a lousy management job, they have the highest taxes in the nation, and they don't know what's happening out there."
Los Angeles officials expressed puzzlement and concern over Trump's comments, saying local police have made significant strides against gang violence in recent years.
"Nobody takes gang enforcement more seriously than I do or the Los Angeles Police Department does," LAPD Chief Charlie Beck said in an interview Thursday. "I believe that we're better at it than anybody in the nation."
Los Angeles was the birthplace of infamous gangs like the Crips and the Bloods, inspiring countless movie renditions. Today, it is far safer than it was during the height of the gang wars.
Street gangs are still active, with more than 60% of the city's homicides classified as gang-related last year.
But gang members are no longer a fixture on street corners and in city parks — due in part to the efforts of the LAPD and other local agencies, who sometimes partner with federal officials but handle much of day-to-day gang enforcement on their own.
LAPD officers chat up gang members to obtain inside information. Older men who have left the gang lifestyle work with police detectives to prevent disputes from escalating into killings.
Homicides in Los Angeles have declined nearly fourfold in the last few decades, with 282 people killed last year, compared with 1,094 in 1992.
The tactics of the LAPD and other law enforcement agencies to crack down on gangs — notably gang injunctions that restrict where and when gang members can congregate — have prompted criticism from some community groups and civil libertarians.
"I think they do too much," said Alex Alonso, a gang expert and adjunct professor at Cal State Long Beach. "They cast a large net over the quote-unquote gang problem and criminalize a lot of youth who shouldn't get involved in the criminal justice system."
Last year, the L.A. city attorney's office announced that thousands of Angelenos whose movements, clothing and even relationships were tightly restricted had been freed from the gang injunctions. The move came after an audit found that many on those lists were no longer active gang members and no longer posed a threat to the community. Over the last two decades, Los Angeles had enforced injunctions against 79 separate gang sets, encompassing roughly 8,900 people.
In his remarks Thursday, Trump singled out the Mara Salvatrucha gang, also called MS-13, as well as the role of Immigration and Customs Enforcement officers in combating gang violence.
Gang members "come in, they're smart, they actually have franchises going to Los Angeles. No help from the state of California," Trump said.
In the past, Trump has seized on crimes allegedly committed by MS-13 members as evidence that deportation efforts should be stepped up.
ICE officers focus on deporting immigrants who are in the country illegally and do not usually work on criminal matters.
After federal officials arrested over 200 MS-13 members around the country last November, Trump called for police and immigration officials to be "rough" with suspected gang members to get rid of "animals" he described as terrorizing communities.
The MS-13 gang, which has ties to El Salvador, was formed in Los Angeles decades ago.
Last May, a task force led by LAPD and FBI officials arrested 21 MS-13 members for crimes including murder and racketeering. The lead defendant, Jose "Porky" Balmore Romero, oversaw the gang's drug trafficking activities, collecting "taxes" through extortion and splitting the proceeds with the Mexican Mafia, the federal indictment alleged.
But in Los Angeles, MS-13 is not the force it once was. It does not crack the top five of the city's most active gangs, Beck said.
Connecting MS-13 to immigration enforcement is "a false narrative," he said.
At one point, authorities tried to tamp down MS-13 by deporting members to El Salvador. But the deportees joined forces with anti-government rebels and sneaked back into the U.S., creating "a much stronger, more deadly gang," Beck said earlier this month. Sending them to prison for the rest of their lives in the U.S. is a more effective strategy, he said.
There are 700 to 800 MS-13 members in Los Angeles, compared with more than 1,000 in 2011, according to Beck.
The chief stressed that he still considers gang violence a serious problem and that there is still important work to do.
"That doesn't mean that we can't get better…it just means that we have been experiencing this on the front line for literally 100 years in the city of Los Angeles," he said. "And because of that, we have developed some strategies that I think are very effective, and one of those strategies is not mass civil deportation."
Alex Sanchez is a former MS-13 member who left the gang nearly two decades ago. He credits the drop in violence in Los Angeles to enforcement by local police as well as efforts to steer youth away from gangs.
Sanchez, 45, who is an anti-gang activist and executive director of Homies Unidos, added most young gang members are U.S. born.
Sal LaBarbera, a longtime LAPD detective who retired in 2015, said he often worked with federal officials, citing a joint operation with the FBI that helped solve 32 homicides.
But if federal agencies were to leave California, the LAPD could pick up the slack — "I don't think it would be the end of the world," he said.
Local agencies like the LAPD and the Sheriff's Department "have their finger on the button" of gang activity, he said, pointing to a decrease in crime in the MacArthur Park area over the past 15 years.
"Look at it, now we can walk our dogs," he said.
Mather and Chang reported from Los Angeles, Parsons from Washington. Times staff writers Nicole Santa Cruz and Joel Rubin contributed to this report from Los Angeles. Staff writer Cindy Carcamo contributed from Santa Ana.
The stories shaping California
Get up to speed with our Essential California newsletter, sent six days a week.
You may occasionally receive promotional content from the Los Angeles Times.