Trump's crackdown sparks fear and anger among immigrants here illegally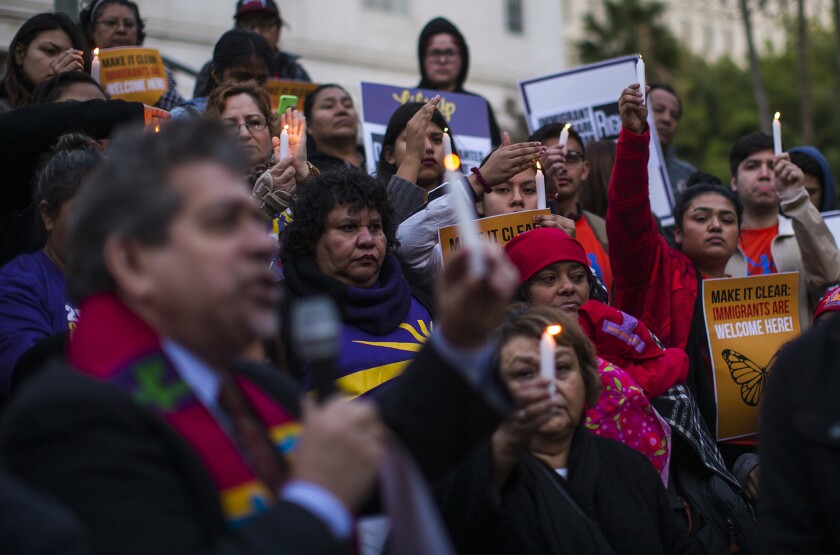 President Trump's planned crackdown on illegal immigration has sparked fear in parts of Los Angeles, where until recently, those here without proper papers said they felt relatively safe.
"Should we keep the Statue of Liberty or maybe take it down for a while?" asked former Councilwoman Veronica Guardado of Maywood, a small, predominately Latino immigration city south of downtown L.A. "In my city alone, the people who are there, who are undocumented, pay taxes. They pay into the system. When immigrants come here, they're not just sitting on the sidelines doing nothing. They come to work."
Details about Trump's crackdown remain unclear. On Wednesday, the president signed two executive orders designed to begin building a wall along the border with Mexico, add lockups for detaining immigrants who cross the border illegally, enhance enforcement powers for border agents and strip federal funding to cities that refuse to cooperate with immigration enforcement.
According to a draft document reviewed by The Times, under the new order, the federal government would threaten to withhold funds from so-called "sanctuary cities" that limit cooperation with immigration officials.
More than 400 jurisdictions across the country have some sort of sanctuary policy, including Los Angeles, San Francisco and about 40 others in California.
Inside Sheila's flower shop in Cudahy, surrounded by Valentine's Day gifts, Olga Torres, 44, and Susan Flores, 45, weren't feeling the love.
The women were watching Spanish news about Trump's executive order.
"We're worried," Torres said while staring at the television. "We don't know what's going to happen.
"It's hard enough to find work without documents, and now I'm sure it's going to be even harder," she added.
Torres, who is in the country illegally, said she's happy to be living in a sanctuary city like Cudahy, where life isn't too stressful.
"I feel secure living here, and you live life like everybody else," she said. "I feel respected by the police.
"It's a sanctuary. The word says it all," she added. "And [Trump] wants to end that."
Flores said she empathizes with her friend Torres.
"I spent three years without documents," she said. "I know what it's like to be walking around always in fear.
"If you're in this city, you're fine, but if you go elsewhere, you don't know what people's attitudes are toward immigrants," she added.
The women, however, fear that living in a city that won't cooperate with immigration officials will lead to roundups like those in the 1980s.
"So far, nothing like that has happened," Torres said. "I hope nothing like that happens."
Torres said she and her husband will do their best to try to find work and live without worrying too much about immigration officials.
"Best thing to do is just not to do something that will put in you in a situation where you might get deported," she said.
Supporters of the president praised his tough stance, saying illegal immigration harms the nation and should stop. They also say immigrants here illegally drive down wages and take jobs from American citizens.
But in southeast Los Angeles County, the view is different.
Maria Ruiz, 55, sat quietly at the Maywood Riverfront Park watching her granddaughter climbing a playground animal sculpture.
Ruiz, who divides her time between Mexico and Maywood, said she couldn't understand why the president was threatening to punish cities because they're not cooperating with immigration officials.
"I think it's unfair," Ruiz said. "I support what they're doing. The city will be fine. They'll find a way to make up for the loss."
Not far away, drinking a Monster energy drink, Hernan Hernandez, 51, of Compton, said he doesn't agree with the president's action.
"If the president wants to deport illegal immigrants, he can technically do that, and I have no issues with that," he said. "But I find it to be a sad thing if he wants to withhold money from cities, because they're entitled to it.
"We all pay taxes. When I get my paycheck, the federal government takes a piece of it, so the city deserves it."
Hernandez said he doesn't understand why there is so much animosity toward immigrants.
"People just want to blame immigrants for X reason when all we're really doing is working," he said. "It's not right."
ALSO
El Paso and Juarez know what happens when a wall divides two cities
After Mexico balks at paying for the wall, Trump says it'd be better 'to cancel the upcoming meeting'
Draft of Trump plan to halt refugee flow to U.S. causes alarm, but some welcome the idea
---
The perils of parenting through a pandemic
What's going on with school? What do kids need? Get 8 to 3, a newsletter dedicated to the questions that keep California families up at night.
You may occasionally receive promotional content from the Los Angeles Times.