Trump finally finds a part of California he likes — Orange County — even as it grows bluer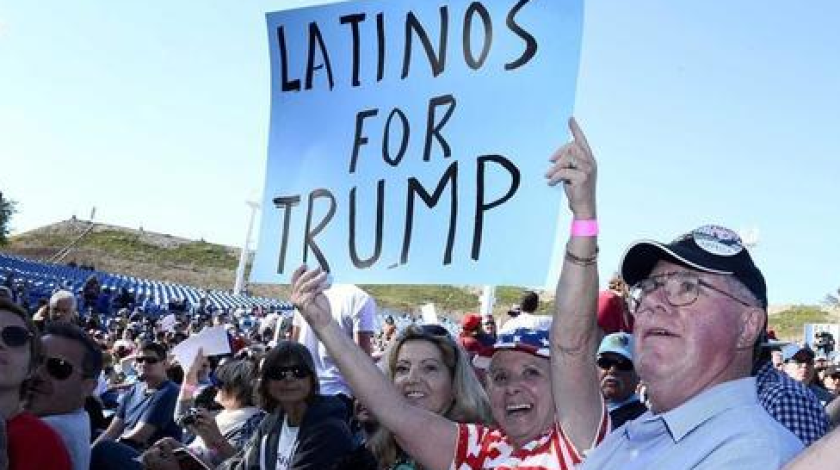 President Trump appears to have finally found a part of California he likes — Orange County.
Trump has famously tweeted his anger at California, which has emerged as his political nemesis on issues such as climate change and illegal immigration.

For the record:
7:15 p.m. March 28, 2018
An earlier version of this article misspelled Orange County Supervisor Shawn Nelson's first name as Sean.
But Orange County in recent weeks has pushed back at the "sanctuary state" movement embraced by Gov. Jerry Brown and other Democrats, and that has prompted cheers from Trump.
"My Administration stands in solidarity with the brave citizens in Orange County defending their rights against California's illegal and unconstitutional Sanctuary policies," he said on Twitter.
The all-Republican Orange County Board of Supervisors voted to try to join the Trump administration's federal lawsuit against California over its immigration laws, including Senate Bill 54, the landmark "sanctuary state" law that prohibits local law enforcement in many cases from alerting immigration agents when detainees who may be subject to deportation are released from custody.
Elected leaders in tiny Los Alamitos voted last week to attempt to exempt their city from SB 54. Yorba Linda voted to send a supporting amicus brief to the federal lawsuit. Other cities in the county, including Buena Park, Huntington Beach and Mission Viejo may follow suit.
More cities now appear poised to join the movement.
Two Huntington Beach city councilmen said they want to follow the lead of Los Alamitos and other cities in an effort to "seek relief" from state mandates that expand protections for immigrants who are in the country illegally.
Huntington Beach Mayor Mike Posey said in a statement that he and Councilman Erik Peterson want Surf City to discuss Sacramento's sanctuary state bills Monday.
"In order for the city to maintain our superior record of public safety, we have been exploring options to ensure your safety and maintain local control, while at the same time, fulfill our oath of upholding the Constitution," he said.
In Newport Beach, City Councilman Kevin Muldoon is calling for similar action. "As a result of its own political posturing, Sacramento has put us in an awkward position," Muldoon said.
Orange County has long been synonymous with political conservatism, but its politics are changing.
Growing Latino and Asian populations have placed whites in the minority. Hillary Clinton in 2016 became the first Democratic presidential candidate to win there since the Great Depression. And the party is hoping to flip several Republican-held congressional districts that voted for Clinton.
The gap between Republicans and Democrats in the county has been narrowing for years. In the mid-1990s, Republicans outnumbered Democrats 52% to 32%. Now, of the county's roughly 1.5 million active voters, about 37% are Republican and 34% are Democrat.
But Trump found common ground on the issue of immigration.
Trump's comments about California on Twitter are generally critical. He has attacked politicians such as Brown and Democratic U.S. Sen. Dianne Feinstein, Rep. Adam B. Schiff (D-Burbank) and former Republican Gov. Arnold Schwarzenegger. Not to mention Steph Curry of the Golden State Warriors. He's offered praise for allies such as Reps. Devin Nunes (R-Tulare) and Kevin McCarthy (R-Bakersfield).
But few issues have raised his ire about the Golden State more than immigration.
"California's sanctuary policies are illegal and unconstitutional and put the safety and security of our entire nation at risk. Thousands of dangerous & violent criminal aliens are released as a result of sanctuary policies, set free to prey on innocent Americans. THIS MUST STOP!" he wrote earlier this month.
In February, Trump predicted that gang members would wreak havoc if federal authorities withdrew from Los Angeles and other parts of the state.
"I mean, frankly, if I wanted to pull our people from California, you would have a crime mess like you've never seen in California," Trump said. "You'd be inundated. You would see crime like no one's ever seen crime in this country. And yet we get no help from the state of California. They're doing a lousy management job, they have the highest taxes in the nation, and they don't know what's happening out there."
Some Orange County officials said they are glad to back Trump.
"California has decided to poke the president and his administration in the eye, and I'd rather they just not involve us," Orange County Supervisor Shawn Nelson said in an interview Tuesday on "Fox and Friends."
To read this article in Spanish click here
Zint and Davis write for Times Community News.
---
UPDATES:
2:30 p.m.: This article was updated with proposals in Newport Beach and Huntington Beach to seek exemptions from California's sanctuary state law.
This article was originally published at 11:10 a.m.
---
For reporting and exclusive analysis from bureau chief John Myers, get our California Politics newsletter.
You may occasionally receive promotional content from the Los Angeles Times.