Former USC medical school dean saw patients after using meth, investigators allege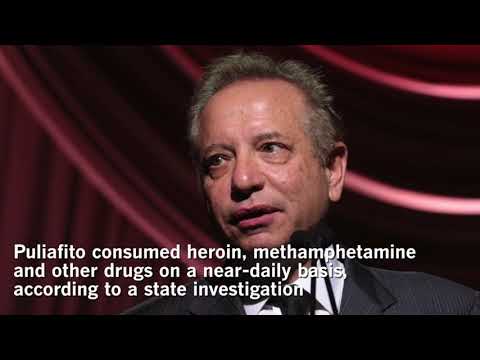 Former USC medical school dean Carmen Puliafito saw patients after using meth, investigators say. (Oct. 19, 2017)
For more than a year while he was dean of USC's medical school, Dr. Carmen Puliafito abused drugs on days he worked as an eye doctor in university facilities and "would return to his medical office to see patients within hours of using methamphetamine," a state investigation alleges.
Puliafito consumed heroin, methamphetamine and other drugs on a near-daily basis at the Keck School of Medicine campus and in other locations, and the physician supplied drugs to other people, including a teenager and a patient in an addiction treatment facility, according to a filing that details the results of an investigation conducted for the Medical Board of California.
A Los Angeles Times investigation in July first sparked the state probe. It may have serious implications for both Puliafito, who could lose his medical license, and the reputation of the university that kept a troubled person in one of its most important and sensitive posts.
Arthur Caplan, the founding head of the Division of Medical Ethics at New York University's Langone Medical Center, called the medical board filing describing Puliafito's alleged misconduct a "grim litany" and said it ranks among the worst cases against a physician that he had seen.
"It's one after another after another of reprehensible conduct," Caplan said.
Puliafito, a once-renowned ophthalmologist who resigned as dean last year, could not be reached for comment. The attorney representing him before the medical board did not respond to a message seeking comment.
USC received complaints about Puliafito's drinking and abusive treatment of colleagues, but administrators have said they were stunned by revelations of his drug use.
"As we have previously stated, until July of this year no university leader was aware of any illegal or illicit behavior by Carmen Puliafito and to date there have been no issues or complaints related to patient care. Once the university was aware of his illicit behavior, he was immediately removed from his patient care role and he is no longer employed by the university," USC spokesman Charles Sipkins said Wednesday in a statement.
In the filing, medical board Executive Director Kimberly Kirchmeyer portrayed Puliafito as both an addict and an enabler of addiction. Between February 2015 and November 2016, Puliafito used drugs with a circle of addicts, prostitutes and other criminals. The conduct persisted after he stepped down as dean in March 2016 and continued practicing medicine as a member of the faculty, according to the dates outlined in the filing.
After The Times report, investigators interviewed people who partied with Puliafito and reviewed photos and videos of the physician using drugs and socializing with the group.
Puliafito, who earned more than $1 million a year at USC, bought drugs for group members, the filing states.
Among those to whom he furnished drugs was Huntington Beach teenager Charles Warren, according to the filing that identifies the teen as "C.W." Puliafito purchased methamphetamine and pipes for smoking the drug for Warren when he was 17, according to the filing.
In an interview with The Times, Warren, now 19, said that he had never tried any drugs beyond marijuana when the physician gave him methamphetamine. He recalled visiting Puliafito in his dean's suite at USC and then accompanying him to a campus parking structure to smoke methamphetamine.
Over the course of 18 months, Puliafito also provided methamphetamine, gamma-hydroxybutyrate (GHB) and heroin to Warren's 22-year-old sister, Sarah, according to the filing. The Times has previously written about Puliafito's presence in a Pasadena hotel room in March 2016 when Sarah Warren suffered an overdose and was rushed to a hospital.
Sarah Warren told state investigators that around the time of her overdose, Puliafito stashed a bag of heroin, methamphetamine and GHB in a hotel stairwell, according to the filing. The state investigation found that before her overdose, Puliafito covered some of the costs of inpatient rehab for Sarah Warren — identified as "S.W." — but "also sent her drugs of abuse" while she was in treatment.
She told The Times that Puliafito mailed her drugs, hidden in packets of Skittles candy. At one Malibu rehab center, he delivered methamphetamine to her camouflaged in a sunglasses case, she said.
The Warrens and their parents have retained high-profile lawyer Mark Geragos in connection with their contact with Puliafito.
USC banned Puliafito from campus and university medical facilities in the wake of The Times report. He voluntarily surrendered his medical license last month in the midst of an investigation by the state Department of Consumer Affairs, which conducted the inquiry on behalf of the medical board. In the accusation filed in Sacramento last week, Kirchmeyer, the medical board's executive director, asked the board to hold a disciplinary hearing to revoke or suspend Puliafito's license.
Obtaining and using drugs occupied "a great deal of time" in Puliafito's life, the filing states. While tasked with overseeing hundreds of medical students and thousands of faculty members as dean, he spent "nearly every day, including business days, using drugs and driving to see" Sarah Warren, according to the filing.
Investigators found that Puliafito wrote prescriptions for both Warrens for various non-addictive drugs and introduced Sarah Warren around campus as his niece. He maintained a secret compartment in his car to hold drugs, the investigators found.
He and his acquaintances often partied at hotels, and "as a result of unruly conduct and behavior, including room damage due to drug use," Puliafito was banned from hotels in Pasadena and elsewhere, according to the filing.
Sign up for Essential California for news, features and recommendations from the L.A. Times and beyond in your inbox six days a week.
You may occasionally receive promotional content from the Los Angeles Times.